11 Things You Need To Know Today (June 21)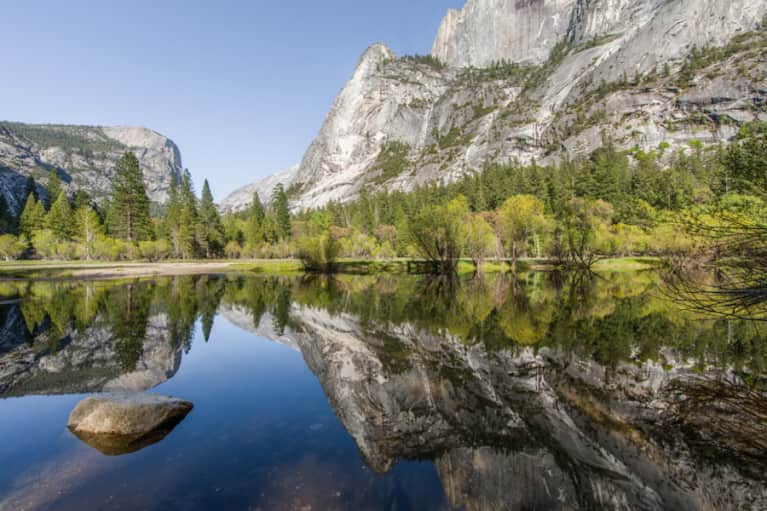 1. Want to see the effects of climate change? You don't need to look further than our national parks.
On a recent trip to Yosemite, President Obama acknowledged the harsh toll of global warming on the renowned natural landscape. "Make no mistake. Climate change is no longer just a threat. It's already a reality," he said of Yosemite's drying meadows and melting glaciers. (PBS)
2. Would you pay $16 for a cup of coffee and a good cause?
A businessman in Oakland, California, is teaming up with fancy coffee purveyor Blue Bottle to support the coffee industry in his native war-torn Yemen. By charging $16 per cup (which also includes a cookie) for this Yemen-grown coffee, he attempting to bring awareness to the region and its farmers. (Triple Pundit)
3. A sex-toy company built a better condom that we can't wait to try.
Swedish "intimacy company" LELO (they're known for their vibrators) has invented a new condom—called the Hex—that's thinner, stronger, less likely to break, and potentially more comfortable than those currently on the market. The brand hopes that they'll get more couples to wrap it up rather than having risky unprotected sex. (Tech Insider)
4. Kellogg's is investing a ton of money in healthy food startups.
We millennials care about what we put in our bodies—which is why it's no surprise that Kellogg's is making big moves to become a more health-conscious company. The cereal giant just announced the launch of a new $100 million fund, called eighteen94 capital, which will invest in startups that are pioneering new ingredients, foods, and packaging. (mindbodygreen)
5. Despite being better for the environment, LED lights are facing some dark opposition.
The bright, energy-efficient LED bulbs contribute to light pollution and their glare can prove distracting for drivers. Not to mention they've been shown to emit a blue light wavelength that messes with the body's hormone production. Most LED streetlights are now being phased out of major cities like New York. (Science of Us)
6. Need birth control? There's an app for that.
In the hopes of making contraception more accessible, a number of new apps and websites now provide prescriptions to women after they answer questions online or via video. (NYT)
7. The global medical community may soon see transgender people in a different light.
The World Health Organization's International Classification of Diseases manual is set to be updated in 2018, and a WHO working group has recommended that gender identity issues be redefined as conditions "related to sexual health." (They're currently listed as mental health disorders.) Experts say the current grouping implies there's something wrong with being transgender and hope the change will help reduce the stigma faced by trans people. (Mother Jones)
8. Craft beer drinkers are healthier than their Bud-swilling counterparts.
A new study, which surveyed 1,978 booze lovers, found that craft beer aficionados have a healthier lifestyle than average beer drinkers. They exercise more, drink less, and care more about eating local. They also think of beer more as an indulgence than a habit. Translation: They savor it instead of chugging it. Congrats! Your snobbery has finally paid off! (mindbodygreen)
9. There's a guide on how to teach kids about healthy body image, from elementary school to high school.
Starting in elementary school with a list of movies and discussion questions, going all the way through high school with self-esteem workshops and role-playing exercises, the Teacher Network provides incredibly useful tools for teachers who want to nurture healthy body image in their students. (The Guardian)
10. A Zika vaccine is now ready for human trials.
The FDA just gave approval for two companies to test a vaccine on humans that would protect against Zika infection. The vaccine, called GLS-5700, has already shown promise in animal studies, but it will likely still be a while before one is ready for widespread use. (NBC)
11. Holding grudges isn't just bad for your emotional health. It could hurt your physical health, too.
Chronic anger can negatively affect your heart rate, blood pressure, and immune system, making you more susceptible to heart disease, depression, diabetes, and more. The connection between health and forgiveness seems to grow stronger with agetoo. So, learn to let things go for the good of your health. (Johns Hopkins Medicine)