Kellogg's Is Investing $100 Million In Healthy Food Startups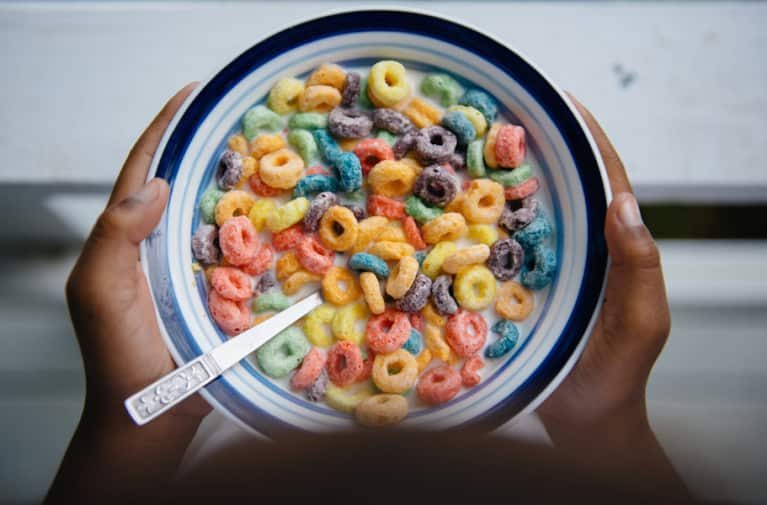 Kids these days, am I right? Always partying, never taking care of themselves.
Well, actually, no, that's not right at all. We millennials don't drink that much, like to exercise, and prefer organic produce to McDonald's. In fact, even though it requires zero effort, cereal doesn't even do it for us anymore.
We want to know where our food comes from. We want to know what each ingredient is and why it's there. So, even though we get a pang of nostalgia when we spot Toucan Sam and Tony the Tiger at the supermarket, we no longer bring 'em home with us.
Which is why it's no surprise that Kellogg's is making big moves to become a more health-conscious company.
Today, the cereal giant announced the launch of a new $100 million fund, called eighteen94 capital, which will invest in startups that are pioneering new ingredients, foods, and packaging, Fortune reports. And back in August, the company announced that it aimed to abandon the use of artificial ingredients, colors, and preservatives in its cereal and snack bars by the end of 2018.
"As consumer preferences move toward more diverse tastes and trends, the pace of innovation in the packaged food industry continues to intensify," said Gary Pilnick, vice chairman of Kellogg, in a press release. "By investing directly in the most promising entrepreneurs and ventures, we can increase greatly our access to game-changing ideas and trends that could become significant sources of growth for us."
This major move follows the lead of Kellogg competitor General Mills, which "has made a handful of startup investments in recent months, including backing cottage cheese maker Good Culture, plant-based food maker Beyond Meat, and kale chips brand Rhythm Superfoods," and Campbell Soup, which launched a $125 million venture capital fund to invest in healthy food startups in February.
Venture capital investment in food startups—particularly those with an emphasis on nutrition—has been on the rise in recent years. And as consumers continue to choose juice over junk, we don't see any signs of this trend slowing down—especially with the support of big players like Kellogg's.