People Who Favor This Kind Of Beer Are Healthier
mbg Contributor
By Emi Boscamp
mbg Contributor
Emi Boscamp is the former News Editor at mindbodygreen. She received a BA in English and minors in Spanish and Art History from Cornell University.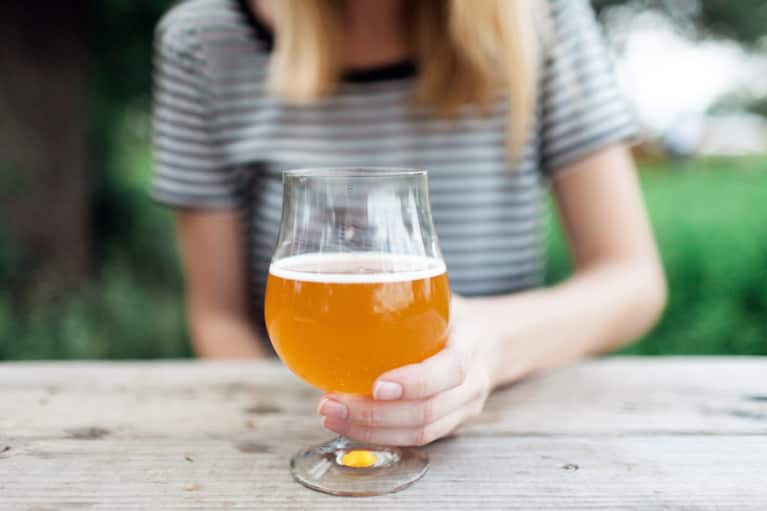 Congratulations, craft beer snobs: Your snobbery has paid off. A new survey from The Harris Poll says that you're healthier than the Bud-swilling bros you scoff at.
The survey, which surveyed 1,978 booze lovers, found that craft beer aficionados have a healthier lifestyle than average beer drinkers. They're more likely to frequently exercise and consume beer in moderation. Instead of sucking watery, lukewarm beer down a funnel, craft beer drinkers like to savor their beer, thinking of it more like a special treat.
About half of all craft beer drinkers report that they only drink alcohol on the weekends, whereas 60 percent of regular beer drinkers consume alcohol all week long.
The healthy habits translate to food, too. Seventy-three percent of normal drinkers said they read nutrition labels compared to 80 percent of craft beer buffs. Twenty-seven percent said they seek out local foods to support local businesses, while only 21 percent of average drinkers reported doing the same. Eighteen percent of craft beer drinkers and 14 percent of average drinkers said they count calories—and speaking of calories, craft beer devotees are a lot more knowledgeable about the calorie content of all kinds of booze compared to average drinkers.
And when it comes to exercise, craft beer drinkers tend to care a little bit more about the development of a beer belly. Nearly 60 percent of craft beer lovers say they exercise several times a week, compared to just 52 percent of regular beer drinkers.
The survey also noted that more craft brew enthusiasts prefer to work out in groups—maybe because they want people to gush to about their new favorite small batch brew from Brooklyn. But this makes us wonder: Could beer workouts be the next big boutique fitness fad? I mean, there are already a bunch of places around the country offering classes that combine yoga and craft beer. How about SoulCycle and Sierra Nevada? Barry's and Ballast Point? Craftsman and Crossfit?
Anyway, even if you refuse to buy into the sometimes-elitist craft beer culture, you might stand to learn something from it—if not the "perfect" ratio of hops to malt. Think of beer as an indulgence instead of a habit—and you might be a little bit healthier.