Why Taking Your Dog To Work Can Heighten Your Wellness Practice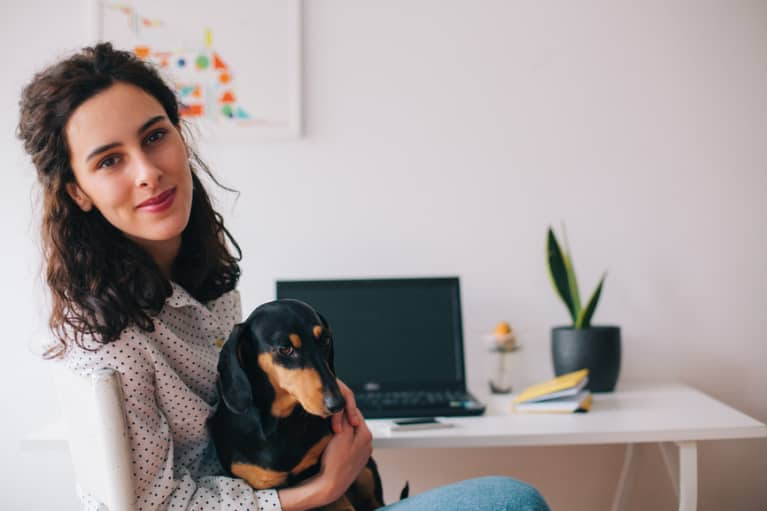 Our editors have independently chosen the products listed on this page. If you purchase something mentioned in this article, we may
earn a small commission
.
Peter Block, a writer on organizational life and author of Stewardship, among other books, once said to me, "Have you ever noticed, you come back from a two-week vacation—maybe you've gone to some beach someplace, and you've gotten plenty of sleep, you feel deeply relaxed and restored. You come back to work, maybe the first day you're like, 'Oh, I feel great! I'm so relaxed.' But something happens by about day two in the afternoon, where it's as if a brick wall is falling on top of your head."
His comment to me was, "We have to find a way to build reflection into the workplace." But the big question is how. How do we actually stop and reflect at work? How can we explore being present in the midst of having a to-do list 50 items long?
Dogs touch our hearts...in a way that answering emails and figuring out budgets just never will.
Human beings need to digest their experiences. We can't just pile on more and more and expect to feel relaxed, present, here. Instead, we're filled beyond the brim—and we don't make good decisions when we're filled beyond the brim. What's more, we don't have the capacity to really connect with other people when we're in this state, either.
So how do we build reflection into our work life? One of the great ways that, very organically, reflection has come to be part of my company, Sounds True, is that we bring our dogs to work. It may sound a bit out there, but hear me out:
Many years ago, I had a dog named Toby.
Toby would turn his head and look so sad when I would leave to go to work. This look I'm talking about when you leave is just like, "Oh my God. You're ruining my whole world. You're killing me."
I couldn't bear it, so I said, "OK. Get in the car. You're going to come to work with me." That started it—because of course, it only took a few hours before someone said, "Hey, can I bring my dog to work?" And I imagined their dog having a similar expression on their face, and I was like, "Yeah! Let's bring the dogs to work!"
Of course, then we had to figure out how these dogs would get along with one another, how this would work for people with allergies, and more. Part of our employee handbook addresses the requirements for bringing your very well-behaved dog to work, including, "three poops and you're out." (Although we don't always enforce it.)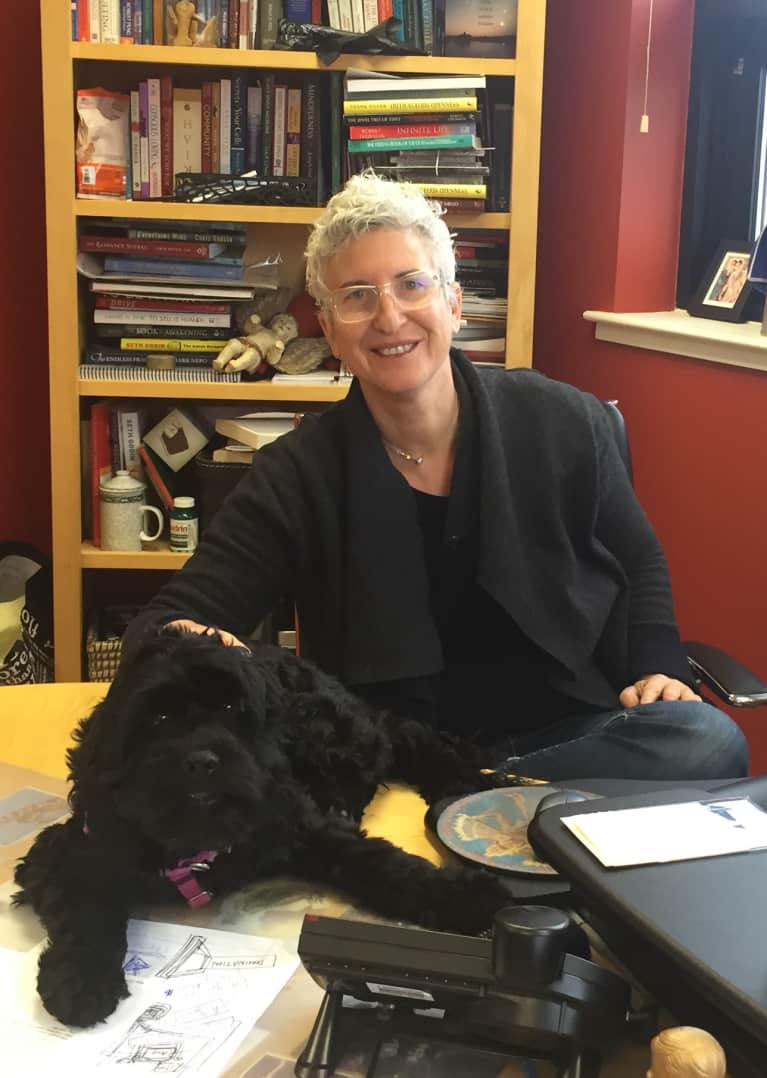 Dogs in the office inspire reflection in two ways.
First, they need to be taken outside. You leave your desk and you're outside, and you have all the benefits of a smoking break without the nicotine. You're outside, you can look at the sky, you can breathe deeply, you can do a quick mini-meditation, you can walk around the block—it's a natural pause introduced into your crazy busy day.
Second, dogs humanize the workplace. Dogs touch our hearts, often in a way that people don't. There's something about stopping while I'm at work and saying hello to one of the many dog friends I've made here that connects me to my heart—in a way that answering emails, making decisions, looking at contracts, figuring out budgets, and sitting in meetings with coworkers just doesn't. It's something completely different when you pet a dog's belly and that dog licks your face with all of its weird dog saliva. It connects me to what I really care about—that quality of contact and connection.
Make it work in your workplace.
The whole point here is to build workplace cultures that are true to you and to the people you work with and to what's happening in your life. This is not a recipe. This is not a blueprint. I'm hoping to inspire you to think about what would build reflection into your work life. How would you do it? How can you create gaps at work? How can you get outside? How can you not be sedentary at work? How can your heart crack open in the midst of your workday? How can you do that? What would be true for your particular circumstances? That's what's important.
Adapted from Being True: What Matters Most in Work, Life, and Love by Tami Simon. Copyright ©2016 by Tami Simon. Published by Sounds True.