13 Things You Need To Know Today (June 17)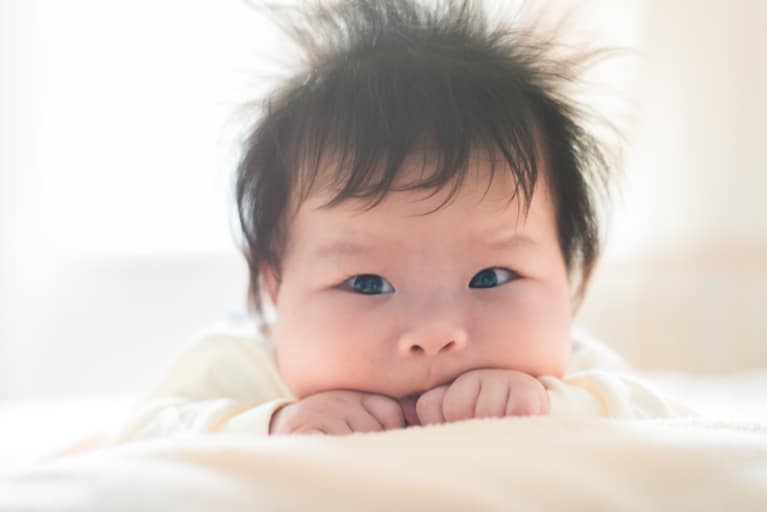 1. Antibiotics can have unintended effects on babies' health.
In a new study, researchers took a look at how a baby's microbiome develops and stays healthy. They found that more exposure to a mom's microbes, such as through vaginal birth or breastfeeding, was associated with more diverse, robust microbiomes. But antibiotic treatments had a negative impact, decreasing the richness of the microbiome. The researchers recommend using antibiotics only when absolutely necessary. (Quartz)
2. This might be the most fashionable foam roller you'll ever see.
The "Shapes Bundle" from Outdoor Voices features a minimal, cork-based foam roller, block, and triangle and was designed in partnership with some other fancy people. Apparently antimicrobial and slip- and sweat-resistant, the set will cost you a cool $150—but it might be worth it. (Racked)
3. Last week, Greenland was warmer than New York City.
Temperatures in Greenland—the epitome of a cold, icy tundra—reached 75 degrees Fahrenheit last week. Considering the average temp for this time of year is 44 degrees, this is cause for concern. Thanks, global warming. (Grist)
4. Would you like a side of wood pulp with that?
A few months back, word got out that certain cheeses are made with wood pulp. Now, food scientists are experimenting with new ways to use the unorthodox ingredient to add texture in everything from yogurt to muffins. (Quartz)
5. You'll never guess why men don't often accept parental leave.
Just kidding. It's pretty obvious. According to a new study, even men who are offered parental leave are scared to accept it because they fear doing so will hinder their chances of getting a promotion or moving forward at work. More than a third of respondents reportedly said that they thought taking leave would "jeopardize their position" at their companies. (Bloomberg)
6. Women who work too much are tripling their risk of many life-threatening illnesses.
Apparently, women who average 60-hour-plus workweeks over three decades triple their risk of developing cancer, diabetes, heart trouble, and arthritis. So, put down the phone and step away from your inbox. Your life might actually depend on it. (ScienceDaily)
7. Can turmeric lattes cure the common cold?
Not really. While turmeric has some great benefits, fighting off colds isn't really one of them. Luckily, good old-fashioned lemon, ginger, garlic, and echinacea can help you out in the cold department. But if you want to keep sipping your turmeric latte for the anti-inflammatory benefits and because it looks great on Instagram, go right ahead. (Huff Post)
8. Amy Schumer probably likes yoga pants more than you do.
She's just, like, so down to earth. She's totally just like us. At least that's the picture Jonathan Van Meter wants to paint of her—because, in his Vogue profile of the comedian, he emphasizes that Schumer wears yoga pants not once but twice (!). But seriously, aside from her #relatable fashion choices, the profile does give us even more reason to love the 35-year-old stand-up comedian, writer, actress, producer, and overall feminist pioneer. (mindbodygreen)
9. Should you intentionally get Zika before trying to get pregnant?
With a vaccine for the virus years away, some people are wondering if there's a DIY route: Might it make sense to self-immunize by contracting Zika before you try to conceive so you're protected from future infections? Probably not. Most health experts say the controversial strategy is dangerous and not proven to be effective. (ELLE)
10. This is why you should be freezing your coffee beans.
According to a new study in the journal Scientific Reports, freezing coffee beans helps produce a tastier cuppa joe. Grinding beans that are cooler in temperature produces a more uniform particle distribution. This uniform grind, in turn, will result in a smoother flavor. Just be sure to store your beans in an airtight (no, like, really airtight) container so they don't get freezer burn or freezer smell. (mindbodygreen)
11. Parents should probably keep their mouths shut about their kids' weight.
A new study recommends that moms and dads avoid making comments about their children's weight and bodies—even if they're well-meaning—since the remarks can have negative repercussions on kids' confidence for years afterward and contribute to eating disorders. (NYT)
12. Dieting has become about morals, which makes it even worse.
Let's face it: We're all tired of the diet industry in general, but the new wave of diets have made foods "good" and "bad," which just continues to make people feel lousy. (The Guardian)
13. LGBT people are more likely to be victims of hate crimes than any other minority group.
Of 5,462 "single-bias" hate crimes perpetrated in 2014, nearly one-fifth were against sexual orientation or perceived orientation. We've still got a long way to go, people. (The Cut)