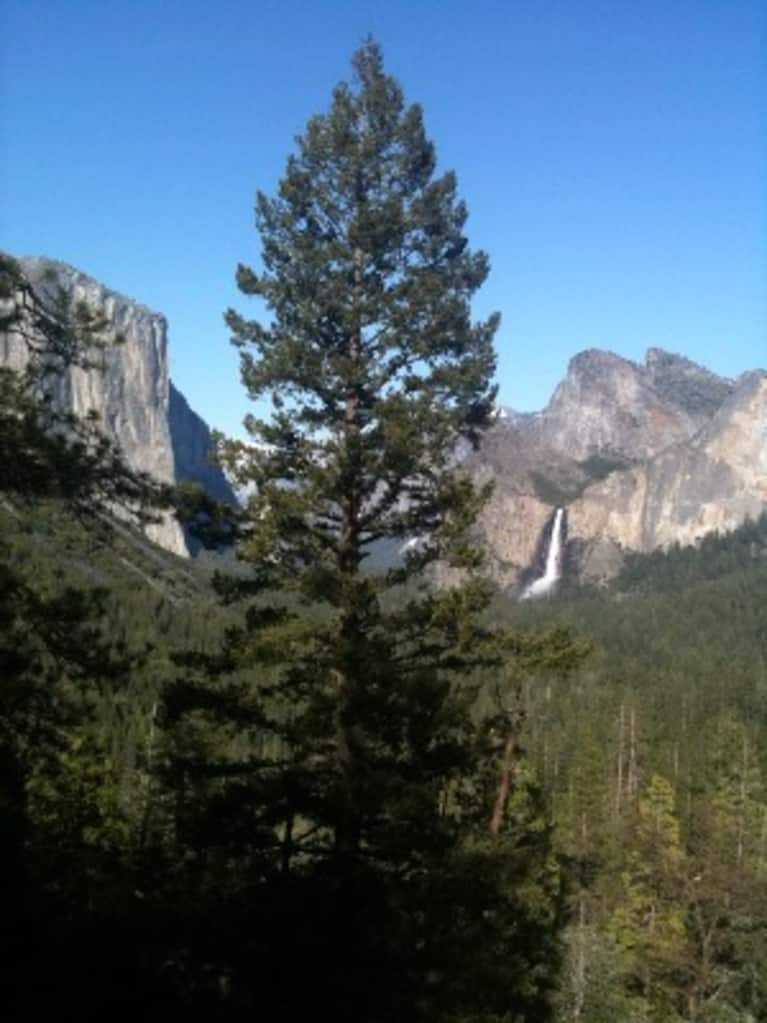 Every time I go into the natural world, I am offered an opportunity to listen. The wind and water play the music, we all hear it, but who will listen?
I have decided to rekindle the fire and search for some peace with a trip to the valley. No not Burbank, Yosemite Valley. A walk in the Sierras is a reawakening of sorts for me. A way back to simpler truths, that can often set me free.
As I hike up from the valley, the wind picks up, and a light sprinkle of mist begins to fall. Can I listen? I have come to Yosemite for a break. I teach yoga, and as of late, am feeling burned out, and wondering if I should continue teaching at all. I truly enjoy teaching, but often feel that my peaceful approach and laid back vibe are not what many people really want. I have been comparing myself to others, and it is not doing me any good. When you look for your true self in others, your true self will continue to move farther and farther away. Less heart, more mind, usually not a good outcome.  Mother nature has always had a way of handing me my true self. Sometimes it is a gentle nudge, sometimes a strong shove. This message was a gentle nudge. More like a zephyr really!
A fog in the valley has silenced the morning, leaving the sheer granite walls the freedom to touch the sky. As I begin the climb up in elevation, I reflect on the past few days in the park. I have seen two coyotes, a few deer, numerous flowers and birds, and an occasional butterfly. I am aware of the sense of renewal a walk in nature makes me feel. The wind carries my cares off to a place of no importance. Here in this high valley, the spring is in full bloom, leaving different shades of green splattered across its landscape with the occasional bright white blossom of a dogwood to bring it all into perfect harmony. Each bird a song, each flower a prayer, and the butterflies seem to flutter in complete freedom. I see why a butterfly is often referred to as a flower in flight. The steady slow climb uphill allows my mind and body to connect through the breath. Nothing forced or even thought of, it just naturally happens. I climb up the steep incline, taking in the view. From my perspective, the natural world looks like a pinwheel spinning in the wind.  Far too much for me to actually take in.  I continue to climb the twisting trail as it weaves through the trees. Finally needing rest, I stop, and sit. My new vantage point is from the top of a huge toppled Douglas Fir. I continue to notice nature's movements all around me, the leaves twitching and floating in the wind,  squirrels scampering in the undergrowth, and giant white puffy clouds floating overhead, all indifferent to my presence. I have walked my way into the high country and have chosen to sit on an old huge tree stump.  A life that once stood, now falling. I can become immobile like the tree I am resting upon, or I can illuminate my heart with faith, and press on. Life is full of choices, and I am facing a big one.
I have no real idea how long I sat on that tree, or how I decided to return to the trail and travel the path down to the valley, past the cascading waterfalls that beautify this sanctuary. I will say that if I had to spend forever in this place, it would not be time wasted. As I wander down the trail, the birds sing songs to reassure me that all is fine. The flowers show me their individuality, inspiring me to embrace my own, and the butterflies remind me that true freedom lies within one's mind and ultimately one's heart. Most of all, I now feel that loneliness only stays in the hearts of those that have forgotten the connection to their creator. I know I will always carry my acceptable burdens, I just hope for the strength to choose my path like a butterfly, each one unique, full of freedom, a flying flower of sorts.
"Be faithful to that which exists nowhere but in yourself -- and thus make yourself indispensable."
-- Andre Gide