Sweet Potato Noodles With (Dairy-Free!) Bolognese Sauce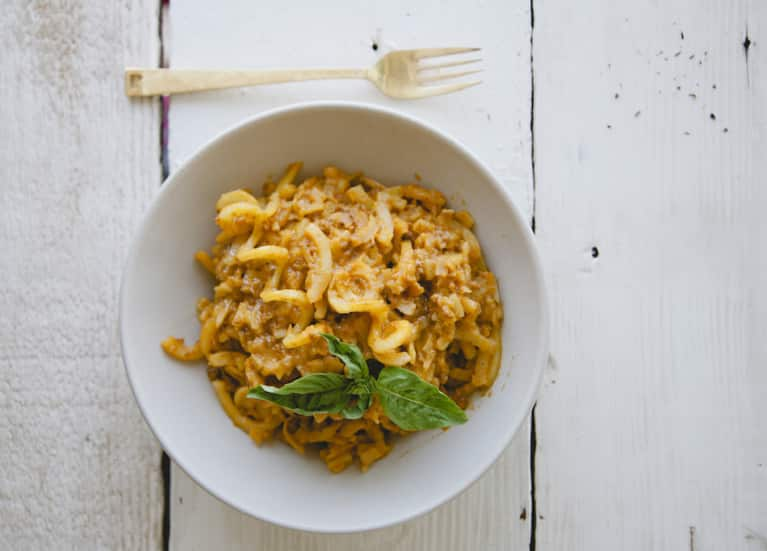 Bolognese is a classic, slow-cooked Italian pasta sauce traditionally finished with heavy cream. This recipe swaps in pine nuts for the cream, making it a Paleo and vegan powerhouse recipe.
When I married my Italian sweetheart, there were several Italian pasta sauces I attempted to "health hack."
This Bolognese is the product of about five years of experimentation, but let me tell you, it was worth it! Every taste-tester loves this variation of the classic pasta, including my sweetheart. I recommend pairing it with spiralized sweet potato noodles, although zucchini noodles or another pasta will taste lovely as well.
Serves 4 to 6
For the sauce
2 tablespoons coconut oil or olive oil
1 onion, chopped
4 carrots, chopped
2 celery ribs, chopped
1 tablespoon apple cider vinegar
1 can crushed fire-roasted tomatoes (I like Muir Glen)
1 teaspoon Himalayan pink salt
½ teaspoon fennel seeds
½ cup pine nuts
1 tablespoon oregano
1 pound cooked ground beef or bison (optional)
4 to 8 zucchini or 3 to 5 medium or large white sweet potatoes
Preparation
1. Pour oil into cast-iron pot over medium heat. Add onions, carrots, and celery. Sauté until onions are golden brown and carrots are softened. Add apple cider vinegar to the pot. Stir well.
2. Add tomatoes and cook 10 to 15 minutes stirring constantly. Add salt and fennel seeds. Place all contents in blender with pine nuts. Blend on high until smooth. Add olive oil if needed. Stir in oregano. Add cooked ground beef or bison, if using.
3. To prepare zucchini or sweet potato noodles: Wash vegetables. Cut a flat edge on each end of zucchini or sweet potato. Place vegetable in spiralizer and begin to crank. When you are finished spiralizing all vegetables, pour 1 to 2 tablespoons of oil into the pot. Turn on medium to high heat.
4. Add spiraled vegetables and gently stir until cooked. Zucchini takes about 7 minutes, and sweet potato noodles take about 10 to 12 minutes.