Amy Schumer Probably Likes Yoga Pants More Than You Do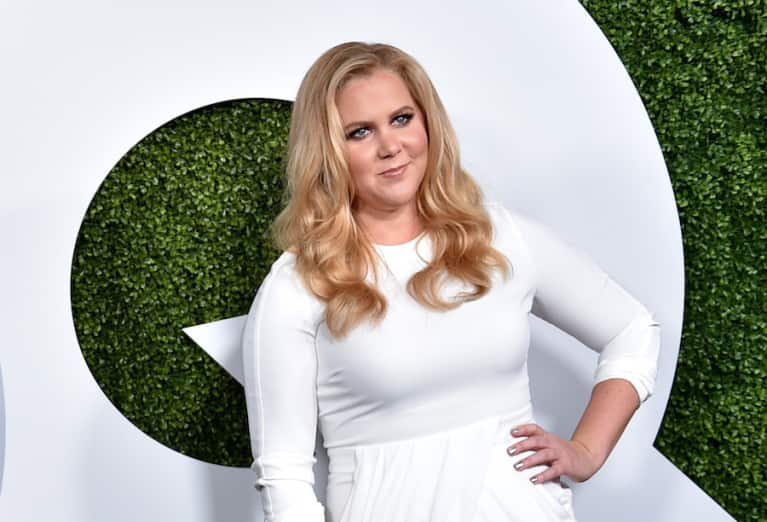 Amy Schumer is just, like, so down to earth. She's totally just like us. At least that's the picture Jonathan Van Meter wants to paint of her—because, in his Vogue profile of the comedian, he emphasizes that Schumer wears yoga pants not once but twice.
First, on a Thursday morning in late April, "in a lounge there to board Schumer's rent-a-jet as she heads off on tour for the weekend," she dons "yoga pants, a plaid flannel shirt, and an orange ski hat."
So. Cool.
Then, another day on the plane, wearing "yoga pants and [a] navy-blue puffer," she says, "I don't think [fashion is] stupid; there's no moral reasoning ... It's just not my thing.
"I just have this sense of entitlement that I should be able to feel comfortable at all times, like I could go to bed at any moment in what I'm wearing."
Which, of course, means Schumer is athleisure's biggest fan. She's one of us.
But seriously, aside from her #relatable fashion choices, the profile does give us even more reason to love the 35-year-old stand-up comedian, writer, actress, producer, and overall feminist pioneer.
Her ambition is, quite frankly, inspiring.
"I wouldn't know what motivates Tina Fey and Julia Louis-Dreyfus," Schumer said. "This insatiable drive. I have it too. Sometimes I feel like they're hustling, they want something, and they're not going to stop until they get it, and they play the game. I am very into making up my own rules. Like, I don't want to play the game and succeed at it. I want to redefine it. That's the only way I can deal with it. Maybe that's naive."
And she's ushering in a new era of "normal humans" over "mean girls."
[Having her every move be documented and judged] is probably why her comedy has connected with so many on such a deep level: Being blunt does not necessarily equate with being mean. To Schumer's mind, it is the phoniness of snobby politeness that is the true bitch. "I think the reign of the mean girls is ending," she says. "I think people are gravitating toward a more honest, more normal human."
She says, "the feedback that reaches me is so equal in appreciation and outrage that it doesn't feel overwhelming in either direction," but that doesn't mean she doesn't have feelings. After all, she is a human being (if that wasn't already made clear by the whole yoga pants thing).
In response to whether trolls ever get to her, she said, "Some days it does. Some days there will be a bunch of Web sites dedicated to trying to get me to just shut my mouth, or I'll walk into a greenroom and someone had a caricature artist draw me and it's with a martini glass, looking like a linebacker with Jay Leno's chin. That can get to me. I'm not without that vulnerability."
In addition to her Comedy Central series, and a movie with Goldie Hawn set to be released in 2017, Schumer has also been working on a memoir, The Girl with the Lower Back Tattoo, which will be released in August. (Read an excerpt of the book here!)
You can expect the same unapologetic honesty that characterizes her series and comedy shows. "I have this innate need to say things that I think are important for people to hear," she told the magazine. "And I can't stand injustice, so even if it makes people uncomfortable, I'm not afraid enough of conflict to keep my mouth shut."
Stay comfortable (in those yoga pants) as you make other people uncomfortable, Amy. It couldn't make us any happier.