Yoga Festivals 101: How To Pack, Plan & Have The Time Of Your Life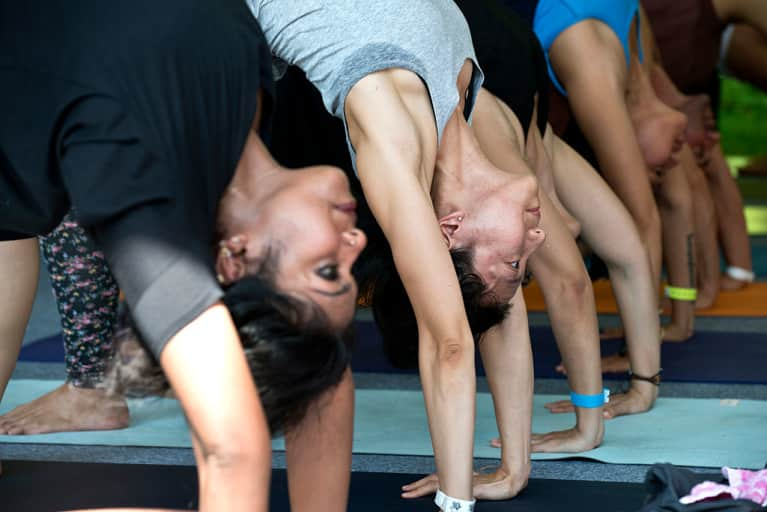 I've taught at yoga festivals, conferences, and events everywhere from Nantucket to Indonesia, Maine to L.A., Texas to Cape Cod. At the end of each day, I see some students emerge feeling great—energized, uplifted, and excited to take their new tools and techniques home with them—while others straggle out, utterly exhausted, in pain, or sometimes even unable to finish the day. So, as we head into the summer festival season, here are my top five tips for surviving and thriving at an all-day (or multiday) yoga fest.
1. Don't try to do asanas all day long.
It's a natural impulse to want to "get your money's worth" out of the price of a festival pass, but it's a rookie mistake to sign up for class after class after class of vinyasa/power yoga/hard-core flow. Just. Don't. Do. It. Instead, take this opportunity to rethink what yoga is and how to get the best return on investment.
Mix your days up with lectures on anatomy, Ayurveda, chakras, pranayama, yoga philosophy, the chance to participate in a drum circle, singing bowls, learning more about meditation, or getting a massage. You'll not only leave the day feeling fabulous; you'll be able to actually enjoy whatever classes you do take because you won't be falling asleep on your mat out of complete physical exhaustion.
2. Be the (wo)man with a plan.
Research the events well ahead of time and sign up for a diverse array (see Tip 1) of classes that intrigue you. What are you interested in learning more about? Read presenters' bios. Which resonate with you? Which are in alignment with your style of practice and approach to yoga?
Make sure to sign up early—they do sell out, and you don't want to get there and find that the class you were *most* interested in is already at capacity.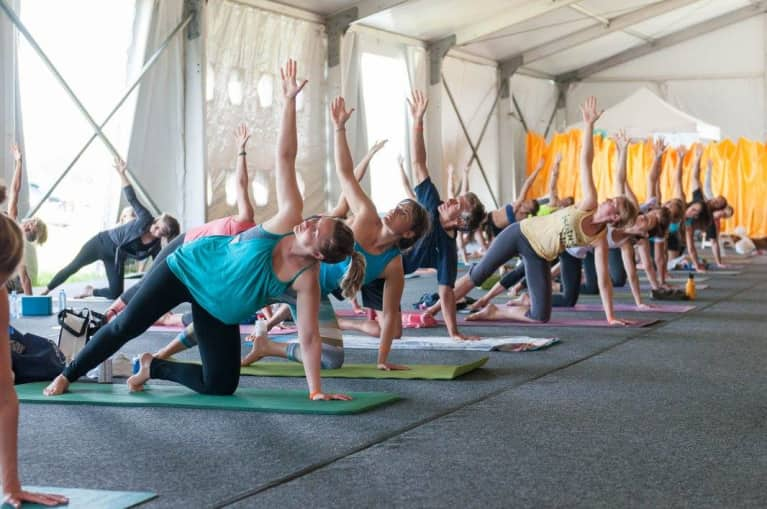 3. The early bird gets the savings.
Take advantage of early-bird offers. Presenters often have access to friends and family codes to save you money. You can save in other ways, as well: Post on social media to see which friends are also going, and carpool or share accommodations.
Look at the festival website for hotel and restaurant recommendations. And if you have questions, ask ahead of time. It can get kind of intense on the event weekend, and organizers may not be able to respond as quickly.
4. Pack the essentials (but save room in your bag for new gear!).
Don't leave home without a water bottle, mat, sunscreen, and the props you like to practice with. (For me, that's blocks, blanket, and a bolster—I live by the creed of "more props are better.") If you forget something—and even if you don't—there's usually an amazing lineup of vendors with products that yogis will want to know about.
I almost always come home with something new, and I love having a memory attached to it. "Oh, I got these yoga pants at the festival last year!" Bonus: humble-brag potential.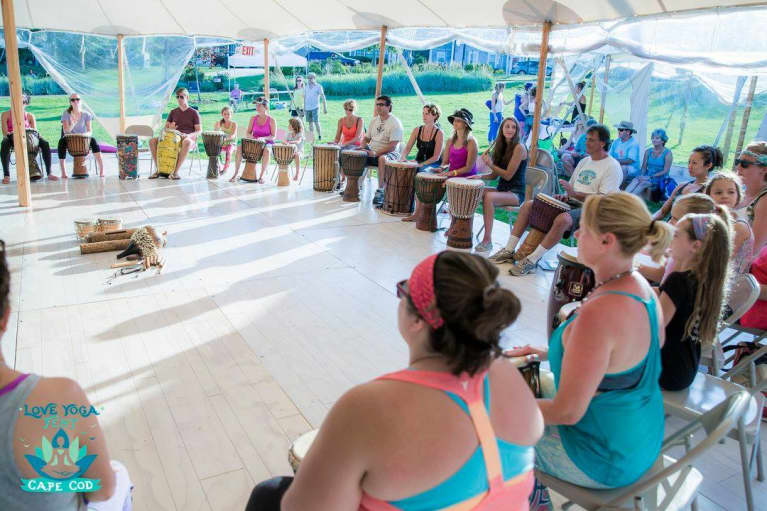 5. Stay open to possibility.
I was standing in line to pay for lunch at the farm adjacent to the Nantucket Yoga Festival three years ago. A woman in a sundress asked if I was involved with the festival (maybe the yoga clothes gave it away) and we fell into conversation. She wasn't attending, but came back the next day to get a signed copy of my book. We stayed in touch. Since then, she's completed her yoga teacher training and become a good friend.
If I had been checking my phone or focused on "just getting lunch," we both would've missed out on a cool opportunity. You never know who you're going to meet or where it could lead. Stay open to possibility on and off the mat.
Regardless of where your yoga journey takes you this summer—whatever road trip or distant destination—remember that your practice on the mat has most likely provided the best preparation: Stay grounded yet open to possibility and fully present to your current needs instead of caught up in what you think you should do. Then take a deep, full breath and enjoy!