What Runner & Olympic Hopeful Becky Wade Eats In A Day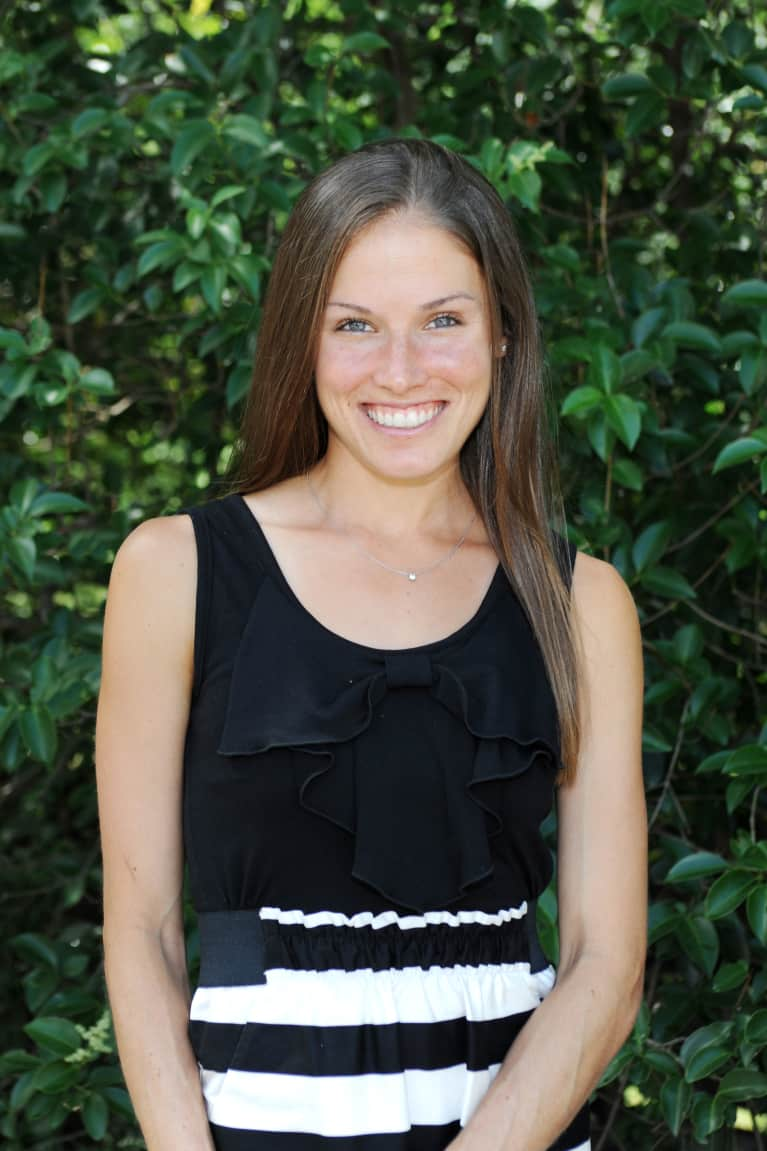 Our editors have independently chosen the products listed on this page. If you purchase something mentioned in this article, we may
earn a small commission
.
Becky Wade is a professional long-distance runner who competes for Asics and logs up to 120 miles per week. She's competing in the Olympic Track and Field Trials July 1-10, in hopes of representing Team USA in Rio this August. Here's what a typical day in her diet looks like.
As a professional runner, food is naturally a massive part of my life. If I'm not running or eating, I can usually be found whipping up something in the kitchen, finding inspiration from my cookbook collection, prepping for a dinner party with friends, or wandering around one of the five grocery stores and markets I hit every week.
While I gravitate toward a balanced diet of colorful, fresh, and varied foods—the kinds that make me feel satiated and strong during long workouts—I don't count calories or restrict any food groups, and I'm not above a glass of wine with dinner or a heavily frosted cupcake after a solid day of training. I'm also a very adventuresome eater—traveling around the world for a full year cemented that trait in me—and I love to experiment with unfamiliar ingredients and take advantage of the amazing restaurant scene in Houston, where I live and train.
During marathon season, I consume fluids and gels during my long workouts (in the form of Clif Hydration Electrolyte Drink and Clif Shot Energy Gels, as I'm fortunate to be sponsored by Clif Bar) to keep my energy stores steady and kick-start the recovery process.
My eating habits change during track season since my events (3,000-meter steeplechase and 10,000 meters) don't require as much volume as the marathon. I still rehydrate with the electrolyte mix—Houston can feel like a sauna in the summer months—but I don't consume other calories during workouts. I also eat a little bit less throughout the day, as well.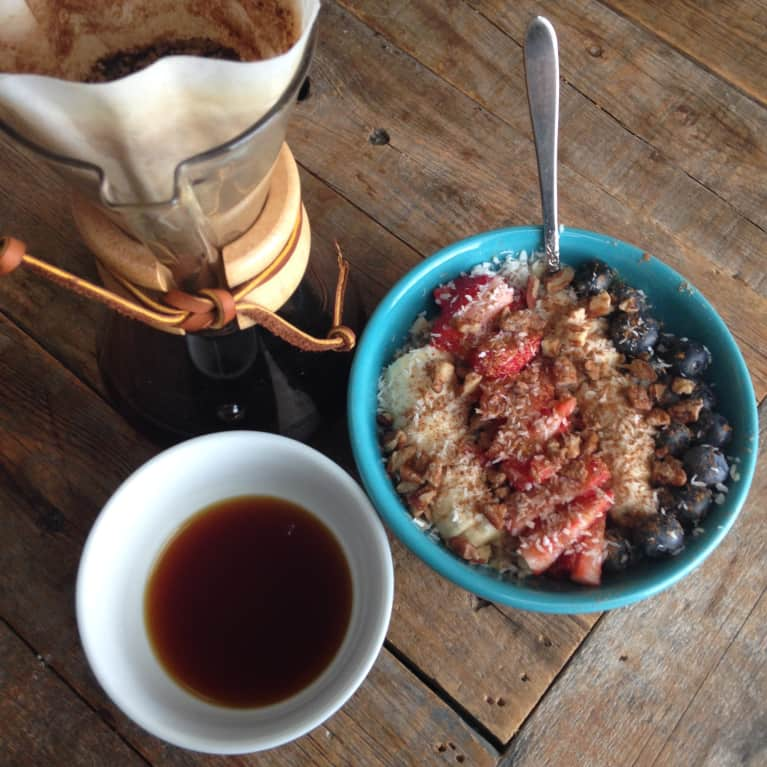 Because I run once or twice every day, my training sessions dictate the timing and contents of my meals.
I'm a naturally early riser, so my standard breakfast falls between 6 and 7 a.m. and consists of a cup of pour-over coffee and a heaping bowl of oatmeal (½ cup of oats, 1 spoonful of peanut butter, bananas, strawberries, dates, almonds, coconut flakes, vanilla extract, cinnamon, cardamom, and milk).
I begin drinking water from the moment I wake up and stop about 60 minutes before my run. I love the stillness of mornings and find I think most clearly in the early hours, so I've used this time between breakfast and my first training run to organized for the day, respond to emails, and work on my travel and running narrative, Run the World (out July 5!)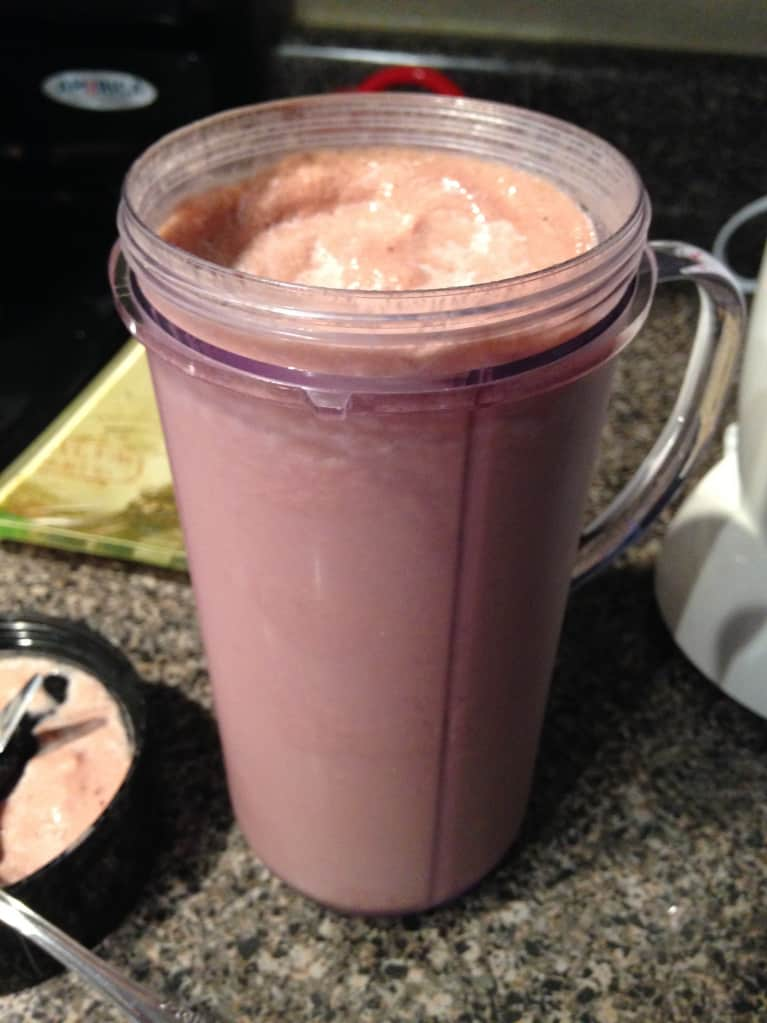 About two to three hours after I've had a full meal, I feel ready to run. Everyone is different, but that is my sweet spot where I'm sufficiently energized but not too full.
A hard workout during track season typically entails a 20-minute warmup, some light stretching and drills, intervals on the track that total 8 to 10 miles, and a 20-minute cool down.
As soon as I finish the workout (and often before I even begin cooling down), I start sipping on a smoothie, which is one of the more easily digestible and appealing things after a hard effort.
My standard recipe is a frozen banana, a handful of frozen berries, a scoop of chocolate protein drink, a tablespoon of peanut butter, a cup of milk, a few ice cubes, a shake of cinnamon and ginger, and sometimes a handful of spinach or kale.
When I'm organized, I make this smoothie a night in advance, freeze it, and take it out when I wake up. By the time I'm ready to drink it, it's still chilled but mostly thawed.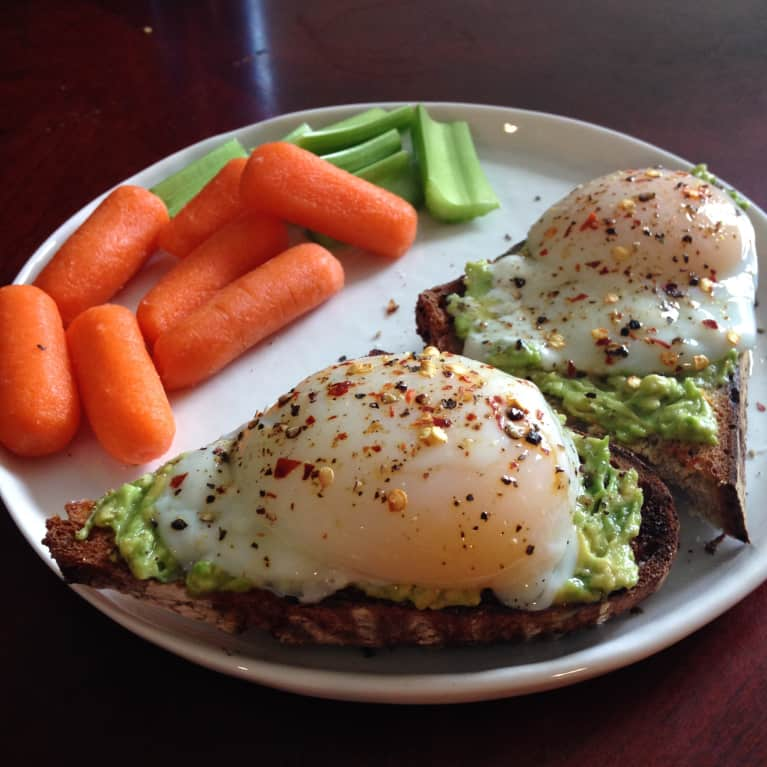 For lunch, my boyfriend (also a competitive runner) and I typically have toast with toppings such as 60-degree eggs (using the sous vide, or "under vacuum," method) and avocado; scrambled eggs and cheddar; mashed avocado and honey; chicken, brie, and fig jam; or chicken, pesto, and roasted vegetables.
In the last year, I've become an avid bread baker, so the foundation of our toast is normally one of my sourdough experiments (some of which are better than others). On the side we have raw veggies and hummus, usually a piece of fruit, and always more water or electrolyte mix.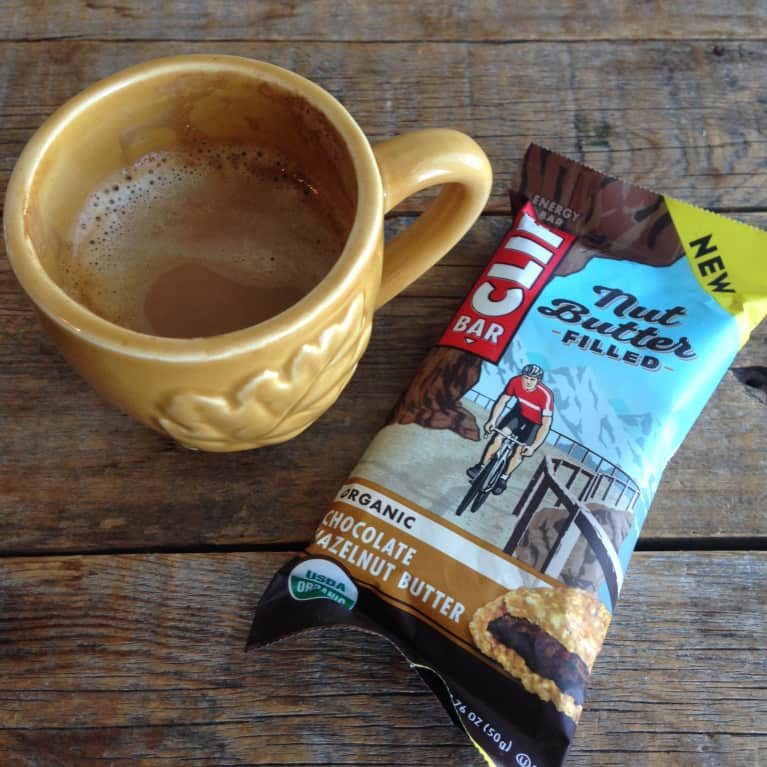 I build a nap into my daily schedule, usually right after lunch, which I consider to be as crucial to my training and recovery as my nighttime sleep.
I've always had a hard time sleeping at night, so I depend on naps of between 30 and 60 minutes to revive me before my second run. Around 3 p.m. most days, my boyfriend (who happens to be a coffee connoisseur) makes me some sort of espresso drink; when I have 90 minutes or less until my next run, it's usually one without much milk, like a macchiato (two shots of espresso and a dollop of foamed whole milk).
With it I have some variety of a bar — I trust this combination to fuel me up just enough before I head out the door again but not to sit in my stomach.
My second run is typically 30 to 45 minutes at a comfortable pace, with the purpose of shaking the stiffness out of my legs and leaving me in a good state for the next day.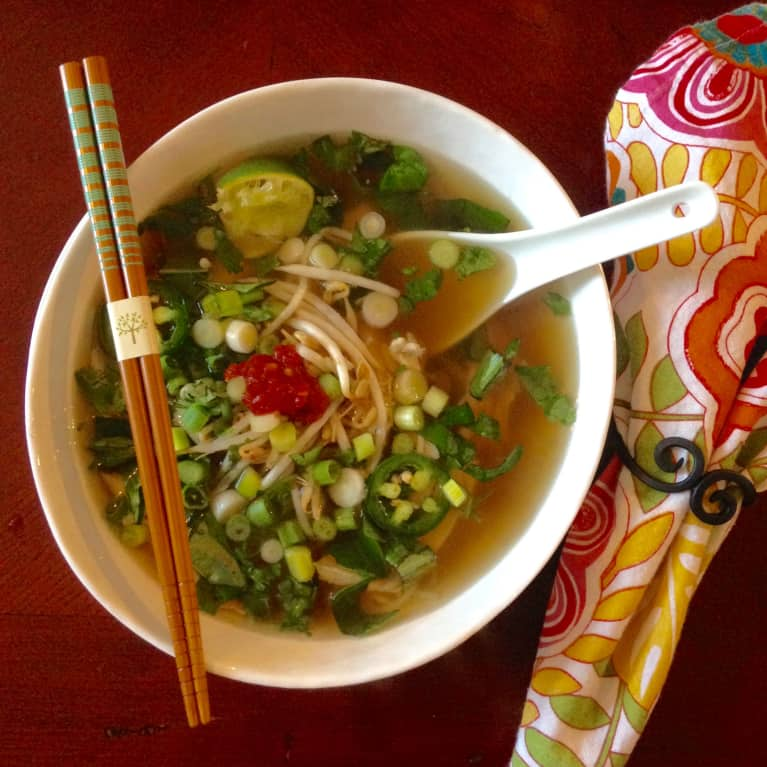 After a full day of training, recovering, and writing, dinner is my opportunity to slow down and get creative in the kitchen.
We don't repeat exact meals too often, but lately we've been on a pho (Vietnamese soup) kick. In this bowl we included homemade chicken stock, boiled and shredded chicken, vermicelli noodles, bean sprouts, green onions, cilantro, basil, lime, fish sauce, and chili garlic paste.
The flavorful broth, fresh ingredients, and spicy kick combine to make a nourishing and filling meal while also serving as a great hydration source. I sometimes have a glass or two of wine with dinner—big, bold reds like Cabernet are my favorite—and when the craving strikes, I'll end with a home-baked dessert or a trip to our favorite fro-yo spot.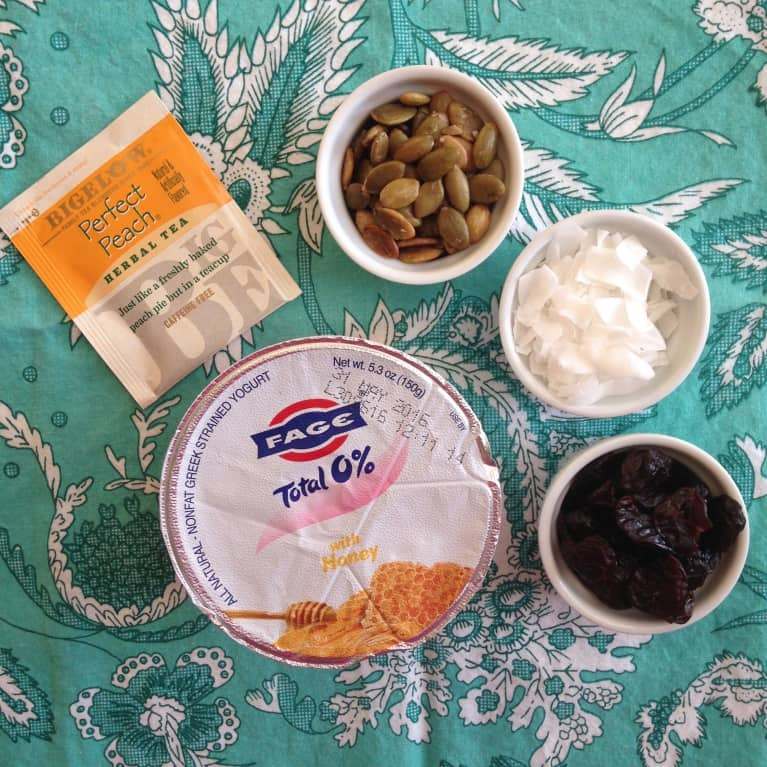 After dinner, I try to get a little more writing done and save time to relax completely, a very hard thing for me to do. My boyfriend and I love watching documentaries—currently we're on Season 2 of Chef's Table, which I highly recommend—so when all of my work is done for the day, I'll make some tea, stretch out on the couch, and make my way to the floor for some light stretching while we watch.
When 8 or 8:30 rolls around, I find myself hankering for a snack, and I know that if I don't have a little something before bedtime, I'll wake up hungry in the night.
My go-to concoction is Greek yogurt with dried cherries or figs, pumpkin seeds, coconut, honey, and cinnamon, which I like to wash down with a glass of skim milk. This snack contains a lot of protein, which I think is helpful for the rebuilding process I'm asking my body to undergo as I sleep.
Clearly, food is a very important and pleasurable aspect of my lifestyle as a professional runner. When I traveled the world for 12 months after graduating from college, living with runners and coaches in nine major destinations, I was fascinated to learn how my running counterparts from other cultures fuel for training and enjoyment too.
In Run the World, I include a recipe or two from each destination, which I encourage you to test out if you're a passionate runner, chef, traveler, or foodie.