What Plant-Based Food Blogger Kate Gavlick Eats In A Day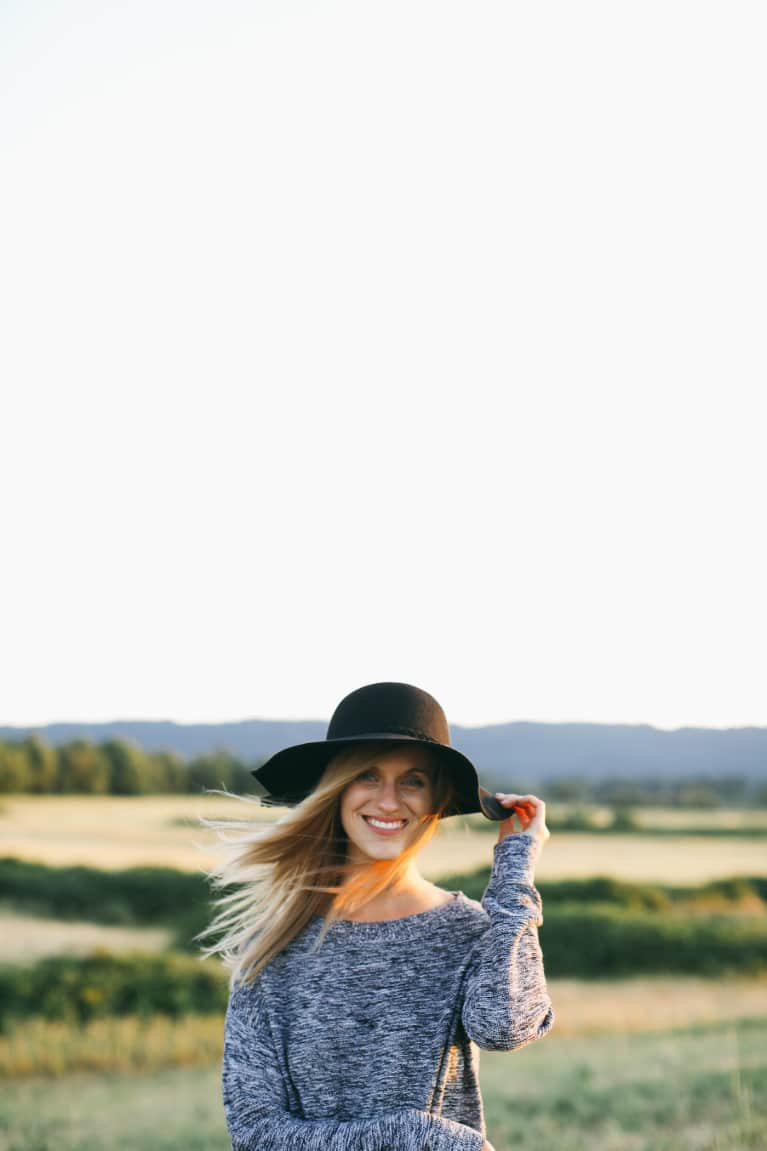 As a master's of nutrition student, Portland-dweller, nut-butter addict, exercise class fiend, wellness warrior, farmers market stalker, and big believer in balance, I was absolutely thrilled when mindbodygreen asked me if I'd like to share what I typically eat in a day.
Although, as a graduate school student with a semi-crazy schedule, sometimes typical is anything but. I've been known to have Salt & Straw ice cream (their vegan coconut ice cream is always divine!) as a pre-dinner snack with girlfriends and big bowls of steamed kale for breakfast on rainy Portland mornings.
The most important things to me when it comes to nutrition and nourishment is balance in all things (I live by the 80/20 rule), consuming real and whole foods, listening to your body, eating with the seasons, and taking time to be present and mindful with food.
So, throwing typical out the window, here is what I consume in a day:
5:45 a.m. to 6 a.m.: Rise & Grind (or Shine!)
As a crazy morning person, I always wake up early to fit in an exercise class of some sort to start my day. Either yoga, barre, spinning, CrossFit, or anything else that can wake me up without the need for a shot of espresso.
Coffee comes later, friends.
Prior to working out, I'll drink a large 24-ounce glass of room-temperature water to wake up my digestive system and hydrate my lovely little cells.
If the intended workout is going to be a little more intense (read: cardio or CrossFit), I'll have a banana with a spoonful of almond butter.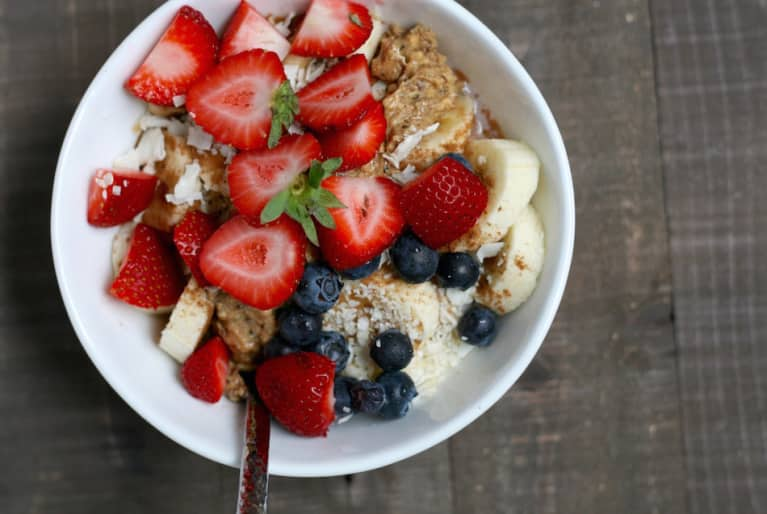 Post-exercise, it's breakfast time and my absolute favorite meal of the day.
I'm a big believer in having a hearty breakfast in the morning filled with healthy fats, complex carbohydrates, and protein to stabilize blood sugars, prevent future hangry outbreaks, and keep me feeling energized throughout the morning on crazy days.
I'm a huge fan of overnight oats and at the beginning of the week I prep them in Mason jars so they'll be ready to grab and go. My recipe is always a form of plant milk like hemp, coconut, or almond with rolled oats, chia seeds, lots of cinnamon, and a pinch of sea salt.
I love to top my oats with seasonal fruits like berries and figs for some digestive-loving fiber, along with a scoop of nut butter, unsweetened coconut flakes for healthy fats, brazil nuts for a selenium boost, and any other nut, seed, or superfood I may have on hand.
Like I said, a hearty breakfast.
I'll also enjoy a cup of organic fair-trade coffee with a splash of homemade almond milk and a scoop of collagen peptides for joint, skin, and cell health. I'm a total coffee lover, and like I said: balance in all things.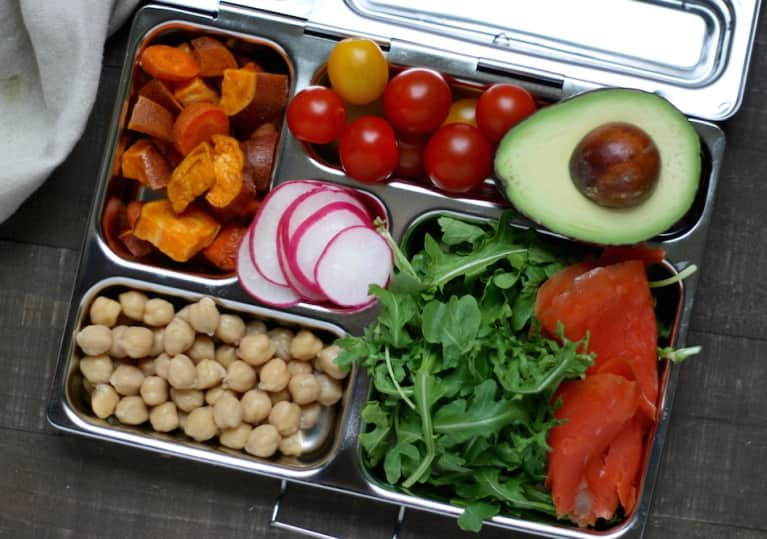 With a breakfast like that, I'm typically not hungry until midafternoon. If I'm at home, I'll enjoy a big bowl of nourishing goodies drizzled with tahini, apple cider vinegar, and olive oil.
If I'm in class or on the go, I'll bring along that big bowl of nourishing goodies in lunchbox form. For lunch, I usually eat some sort of greens, grains or beans, hummus, raw vegetables, smoked salmon, grilled chicken, avocado, kimchi, hard-boiled eggs, roasted vegetables, or anything else that I may have batch-cooked at the beginning of the week.
As a time-crunched student, batch cooking saves my sanity and makes lunch and dinner so much easier throughout the week.
I'll typically cook a grain like quinoa, roast sweet potatoes and any other veg, hard-boil eggs, prep overnight oats, roast or grill salmon or chicken, chop raw vegetables, and prepare beans all on Sunday or Monday night.
I've come to find the act of batch cooking in leggings while dancing around my too-tiny Portland kitchen very therapeutic.
4 p.m.: Farmers Market Run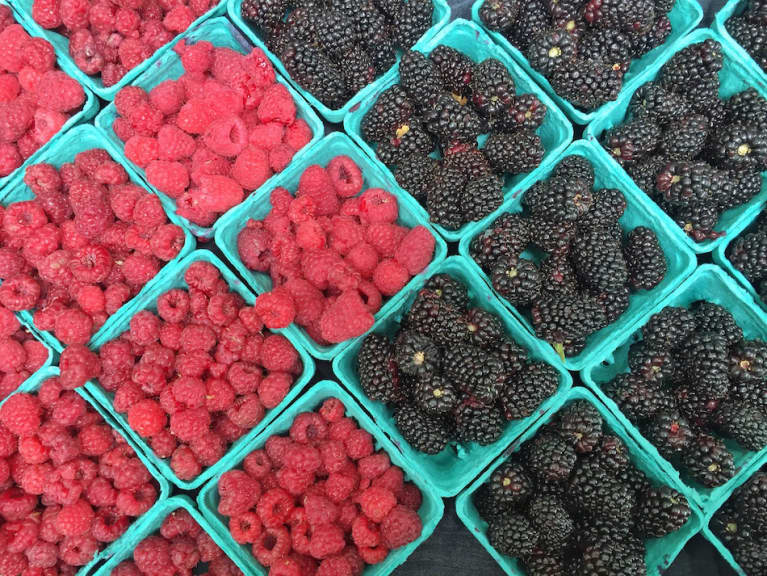 I'm so incredibly lucky to live in a place where local, organic food is abundant year round.
Typically, a different farmers market throughout Portland is open every day of the week, so I have ample time to stock up on seasonal goodies and local specialties.
After class, I'll usually hit up my favorite farmers for drop-dead gorgeous and delicious berries and other seasonal fruits, organic pasture-raised eggs, wild salmon, fresh greens like kale and arugula, beans, and nuts.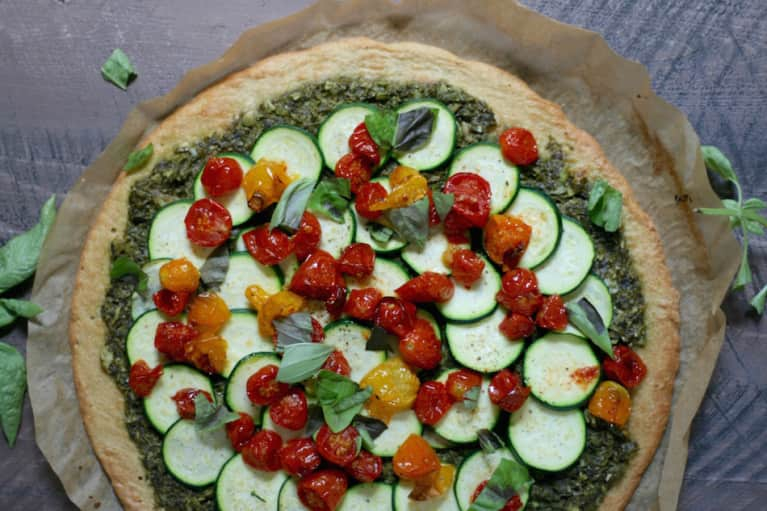 Dinner can be anything from delicious bowl meals with girlfriends at a local Portland café (Prasad is my favorite); to homemade pizza with quinoa crust, pesto, and roasted tomatoes; to avocado and eggs on toast; or collard green tacos with grilled chicken and avocado.
Usually, this meal is much smaller than the other two, as I don't like to overload my digestive system before going to sleep.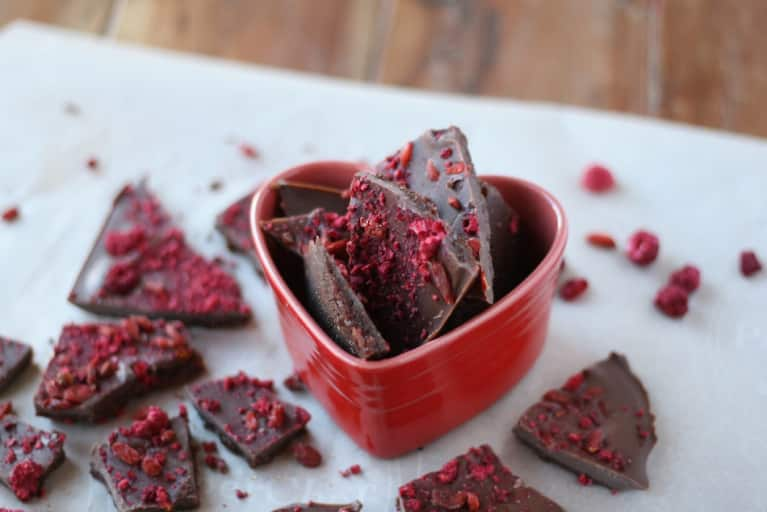 If I'm still a bit hungry or I need to satisfy a sweet tooth, I'll reach for a homemade chocolate goodie of some sort.
I always keep raw chocolate bark, date and nut bliss balls, and sweet potato brownies in my freezer and refrigerator for a sweet treat.