53 Fun Things To Do This Summer (That Don't Involve Alcohol)
mbg Contributor
By James Swanwick
mbg Contributor
James Swanwick is an Australian-American investor, entrepreneur, speaker, former SportsCenter anchor. He is the creator of the 30 Day No Alcohol Challenge, co-founder of Swanwick Sleep, and host of The James Swanwick Show podcast.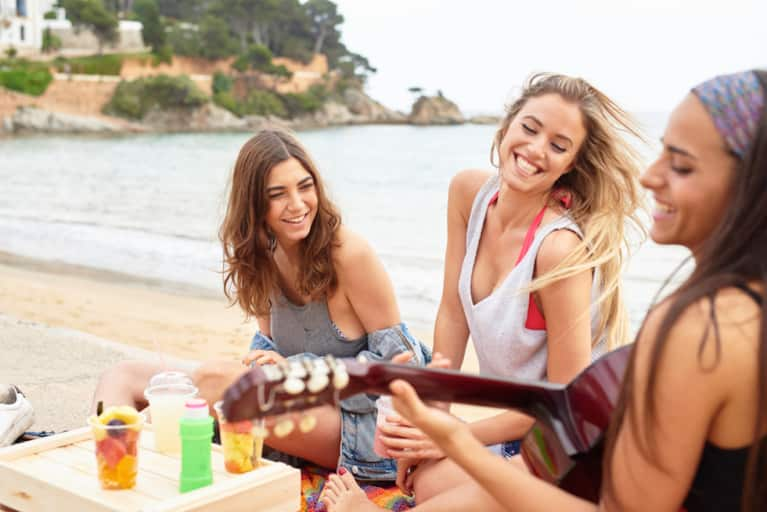 On March 12, 2010, I woke up with a hangover in a hotel room 20 minutes outside of Austin, Texas. I splashed some water on my face, walked next door to an IHOP, sat down, and prepared to eat a greasy breakfast.
After almost 20 years of social drinking, my mind and body said, "It's time for a break, James." I never felt like I had a drinking problem. But my weight had increased steadily over the years to an unhealthy 218 lbs.
So I took a 30-Day No Alcohol Challenge. I never drank again. I found that the pros of being alcohol-free far outweighed any temporary pleasures from drinking.
I've gone from feeling tired, sluggish, and irritable to getting my dream job hosting a TV show, starting successful businesses, attracting amazing platonic and romantic relationships and feeling like I have limitless energy.
Can I still socialize without drinking alcohol? Hell, yes! I have more fun not drinking than I ever did when drinking.
After I stopping drinking, I realized that nobody really cares. Until, at least, they start seeing you looking amazing and happy. Then they start asking you for advice on how they can reduce or quit alcohol, too.
Many want to improve their relationship with their kids. Or lose weight. Start that dream new business. Save money. Attract the dream partner. Travel. Others want new experiences. Here are 53 fun activities to try this summer instead of drinking:
Write down a scary goal and a date when you're committed to achieving it.
Go for a nature hike (weekend mornings are best).
Sign up for a challenging event—whether it's a 10K or something more challenging like an Iron Man, SEALFIT Kokoro, Spartan Agoge, or the Sahara Marathon.
Attend at least one educational seminar.
Smile—it's easier to smile than frown. When you smile, your body feels different and the world reacts back positively to you.
Read, read, read. Biographies give great perspective.
Hate reading? Sign up for Audible. I double my productivity listening to books when cooking, eating, cleaning, and driving.
No money? Join your local library.
Start a side business. Research successful entrepreneurs in your field—find out what makes them successful and make an 18-month transition plan by replicating what worked for them.
Rather than taking a sick day, take a wellness day. You should be rewarded for taking good care of yourself.
Grow some herbs (the legal kind). There's something amazing about growing your own food.
Get smarter through daily brain training games like Lumosity.
Join a men's group or women's group.
Start a blog.
Take a course in writing, art, or photography.
Try yoga or Pilates.
Join CrossFit, boot camp or another specialized gym program.
Start meditating using an app like Headspace.
Start a 15-minute morning routine of breathing, stretching, visualization, and journaling.
Phone an old friend.
Go mountain biking.
Learn a martial art like Brazilian jiu-jitsu.
Declutter your home.
Get a massage.
Go for a weekly sauna session.
Learn a musical instrument.
Take singing lessons, even if you can't sing.
Write notes for your loved one and leave them around the house.
Attend a sporting event.
Join a book club.
Coach the local junior sports team.
Host social events, like a poker tournament.
Revisit your favorite childhood board game, like Monopoly, with friends.
Join a local public speaking group.
Learn to play chess.
Take a healthy cooking class.
Reflect on what your passions and values are and what you were placed on this earth to do.
Take an improv class.
Go to a comedy club.
Donate your time to a nonprofit organization, such as a soup kitchen.
Adopt a pet from a shelter or look after someone else's for a day.
Spend time playing or drawing with kids.
Teach someone else how to go for 30 days without alcohol.
Write a handwritten note to someone who's powerfully affected your life.
Learn a language.
Go to the beach.
Take up carpentry.
Visit an old folks' home.
Volunteer at an animal shelter.
Plant a flower or a tree.
Develop a relationship with a local farmer.
Learn how to grow your own vegetables.
Take time to think, strategize, and ponder about your health, wealth, love, happiness—not what color car or size of TV you should buy.