A 60-Second Breathing Exercise To Eliminate Doubt + Strengthen Intuition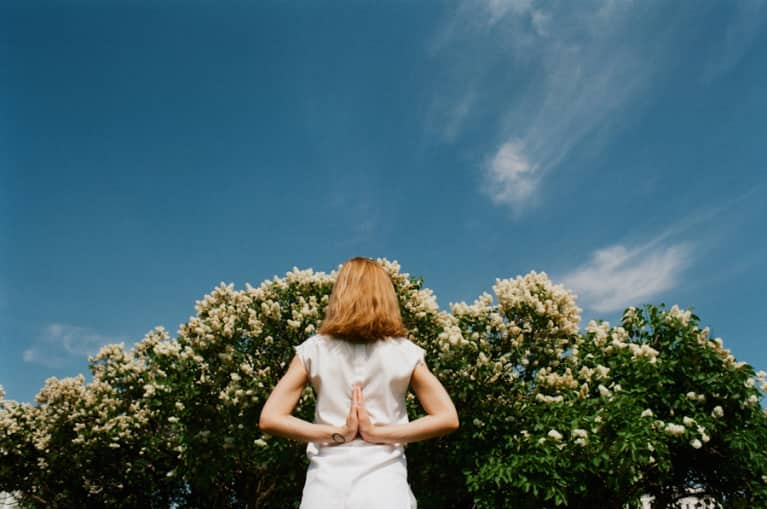 We are all deeply and humbly intuitive.
Intuition is a "sense" we've had since birth, but a few layers (or stigmas) have likely been placed over it over the years. Let us cultivate, nourish, and trust this connection to our higher sense through a dynamic breathwork exercise.
I encourage you to stay focused on feeling centered in the simplicity of this breathwork and not concerned with achieving a "good" strong breath. This exercise is less about finding a powerful breath than it is about the mere act of breathing. Focus on the union of being here now to activate a space for intuition to grow. Remember that where attention goes, energy flows, so stick with the intention of releasing old air for new. Let's get started!
Find a comfortable spot—a car or bed is fine—sitting, standing, or lying down, with your eyes gently closed or looking down right in front of you an inch or two.
Visualize releasing the jaw, shoulders, heart, stomach, and hips. Now physically let them drop downward into a supported (rather than supporting) space. Once you physically feel more relaxed and present, focus directly on your breath. Visualize the lungs inflating; the top third, middle, and then very bottom of the lung filling with air. Let your breath follow this visualization, breathing in deeply—1, 2, 3—all the way into the lowest part of your lung.
You can choose to hold your breath for a moment here. Doing so oxygenates the body and opens the connective space to "now," helping the heart stay open to the current vibration of life, where intuition lives. A clear sense of the present moment can help strengthen your connection to your inner voice.
Pausing the breath also helps calm the louder side of the mind—the one that speaks over our intuition. It creates a more centered, balanced focus of "being and doing" at once.
After your moment of pause, begin to exhale following the same 3, 2, 1 rhythm that you used to inhale.
Start settling into this rhythmic, peaceful flow: three to five seconds of inhale, a moment's pause, then three to five seconds of exhale.
Once this 1, 2, 3…3, 2, 1 breath is done for 30 seconds, take your hand and place it palm-down on your stomach with your pinkie finger near or touching your navel. Visualize your breath moving deep into your belly. Push your stomach outward into your hand, connecting more physically to your gut...your gut instinct...your deepest well of power and strength at your core.
As you end your minute of breathwork, visualize the connection between the gut and the heart. Visualize connecting these parts as a union, breathing into the space within them.
You can say to yourself, I am calm and I am open.
To top this visualization off, connect to your higher wisdom in the newly balanced space in your mind. Remember that gut instincts need the wisdom of the centered mind's eye to know intuition. This is a relationship priceless in its strength of union.
Let your breath-filled light shine on—happy breathing!