Forget The Tie: 5 Ways To Connect Authentically This Father's Day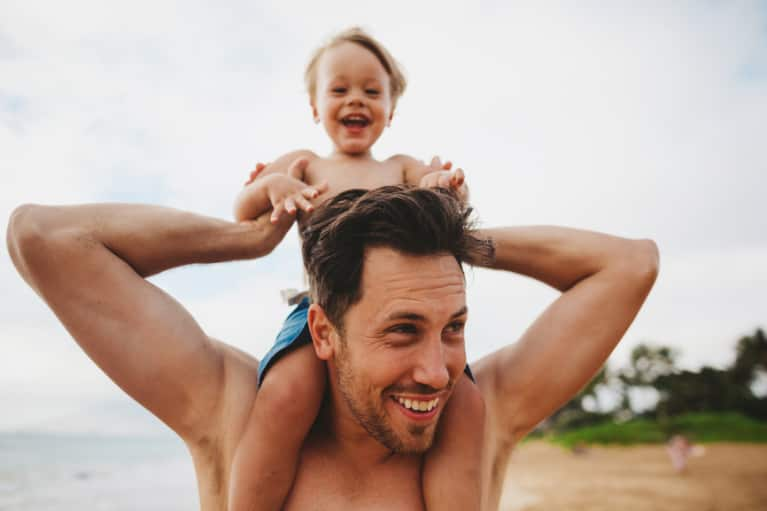 It is rumored that Ben Affleck recently dressed up as Batman for his son's superhero-themed birthday party, which must have scored super-cool points on the playground. But don't worry, dads; you don't need to don a bat suit for your kids to know you are the superhero in their lives. The special relationship between father and child—the "dad effect"—refers to the profound impact it has on children when fathers spend quality time with them. The positive long-term effects on their well-being, happiness, and self-worth are astounding.
In honor of Father's Day, we've rounded up five active ways for kids and dads to spend quality time together. They're guaranteed to strengthen bodies and bonds!
Healthy habits start at home, and role modeling is one of the most influential methods parents have for setting behavioral examples at any early age. So even if your morning gym routine is usually done solo, Father's Day is a great time to pass on your love for fitness and hit the gym as a family, showing your kids you value a healthy lifestyle. Have kids on the younger side? Opt for an at-home workout and teach them some of your favorite body-weight exercises. Kids can safely do body-weight exercises as soon as they have body control and can follow simple directions.
2. Get out of your comfort zone.
Passing on the things you love to your children is wonderful and helps build family traditions, but experiencing something for the first time with your children can be extra special. So instead of same ol' same ol', plan something that's completely new! If fishing is your go-to, maybe you up the ante with something a bit more physical—like taking a dual surf lesson or challenging each other to a game of racquetball. Getting out of your comfort zone will create a lasting experience you'll be sure to remember for years to come.
Going to a ballgame is no doubt an American tradition for fathers and their children. But instead of heading to the stadium, where you'll just sit for hours, head to the batting cages for a few rounds or even to the backyard for some fielding practice. Participating in sports together encourages more one-on-one engagement and is a great way to bond over exercise.
4. Find a Father's Day 5K.
Father's Day 5K "races" have become almost as popular as the pre-Thanksgiving Turkey Trot. Neighborhoods all over the country are hosting these endurance events as a perfect way to get fit with your kids and celebrate all of the fathers in your community. Have kids too young to run? They make great cheering squads and love making signs that are sure to melt your heart. You may even set a PR knowing who is waiting for you at the finish line.
5. Enjoy the great outdoors.
Sometimes when we're physically together we can still be distracted by televisions and text messages. Ditch the smartphone, find a hiking trail, and get out into nature with your loved ones. Being in the woods (or at the beach, out on the water, you name it) with no distractions opens up space to connect on a deeper level; it brings about a peacefulness and sense of well-being. Getting your heart rate up is just a bonus.
Alright, dads: Make this year an extra-special one and enjoy a well-deserved healthy family celebration! Happy Father's Day to you all.
Related reads: