This Touching Post About The Orlando Shooting Is Going Viral For Good Reason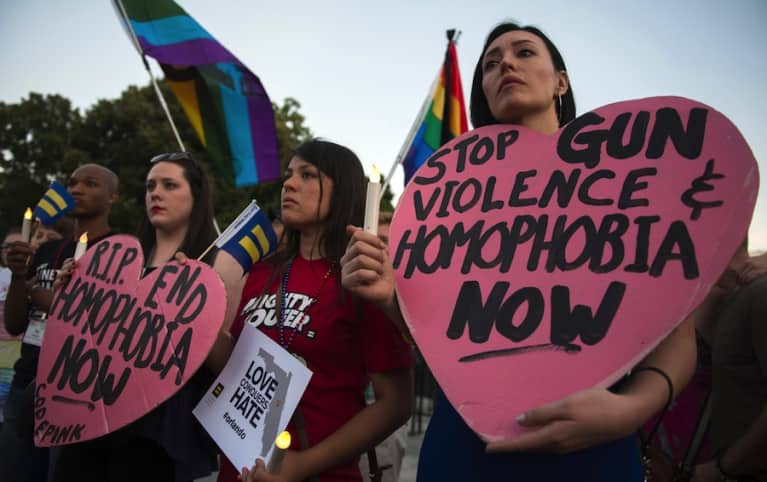 Earlier today, a member of the mindbodygreen community, Dr. Lissa Rankin, shared a Facebook post that puts the pain and frustration of this weekend's Orlando attack into words. We know her message of love will resonate with you like it did with us.
From the bathroom at the Pulse nightclub in Orlando, where a terrorist opened fire, 30-year-old Eddie Justice texted his mother. "Mommy I love you. In the club they shooting. Trapp in the bathroom. Call police. Im gonna die."
His mother texted back, "Calling them now. U still there? Answer your phone. Call me. Call me."
Eddie replied, "Call them mommy. Now. Im still in the bathroom. Hes coming. Im going to die."
Eddie was among the 50 people who didn't make it.
This touches my heart. Notice that Eddie's texts began with "Mommy I love you." In the end, in those final moments when we know we're about to exit this plane, all we care about is love. When those 50 people were facing the end, I guarantee you they weren't thinking about how much they hated the terrorist. They were thinking about all the people they'd never see again in this human realm and how much they'll miss being here with their beloveds.
Can't we remember the love now, before we're in those last moments? Can't we just stop hurting each other, stop positioning for what we think is "right," stop defending our hearts and closing off our capacity for compassion? Can't we just open our hearts, not just to those we lost in Orlando, but to all of those who have lost their way as a result of this misguided culture?
We cannot simply point fingers at the perpetrators and go on a rampage, trying to contain the "bad guys." Perhaps the "bad guys" are victims too. What had to happen to these humans to make them do the kinds of things that humans do to one another? If the spiritual traditions of all religions are true and we are all connected in Oneness, then we are all responsible for tragedies like this. Yet we have a choice.
I know it sounds naive, like magical thinking, but I believe in real life magic and I can see a future where we care for the billions of people on this planet, each one as unique cells in one human body. It all starts with compassion, with opening our hearts to the suffering of others. Hatred, revenge, and judgment don't help. They only feed the story of separation. We must begin this revolution of love with loving ourselves and one another the way God loves us—unconditionally and with total acceptance. We cannot separate ourselves from the perpetrators and make them "other."
We are all in this together.