Daisy Ridley Gets Refreshingly Honest About Her Struggle With Endometriosis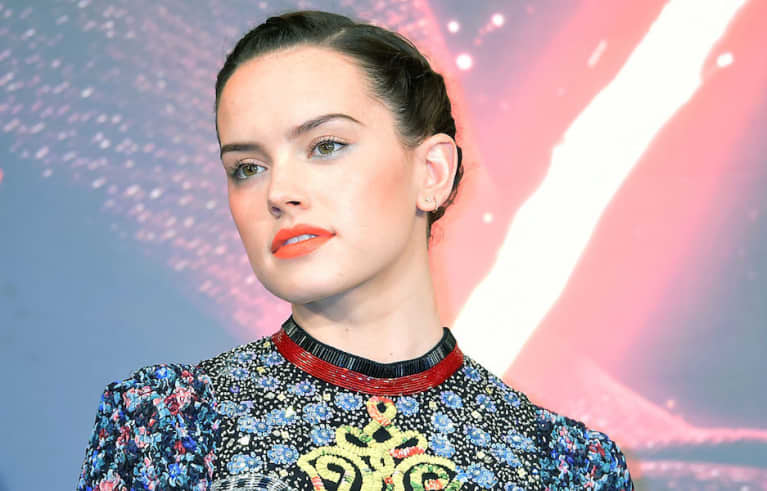 Daisy Ridley seems invincible in Star Wars, but we really had no idea just how invincible she was—until now.
In an Instagram post uploaded on Thursday, the 24-year-old actress spoke out about her struggles with endometriosis and polycystic ovary syndrome, both of which have caused her a whole lot of acne.
"At 15 I was diagnosed with endometriosis," she wrote. "One laparoscopy, many consultations and 8 years down the line, pain was back (more mild this time!) and my skin was THE WORST. I've tried everything: products, antibiotics, more products, more antibiotics) and all that did was left my body in a bit of a mess. Finally found out I have polycystic ovaries and that's why it's bad. I can safely say feeling so self conscious has left my confidence in tatters. I hate wearing make up but I currently don't want to leave the house without it on."
Ridley is the latest celebrity to publicly address her battle with endometriosis, an often painful chronic condition in which tissue that normally lines the inside of your uterus grows outside your uterus. Lena Dunham opened up about her experiences in her Lenny Letter in November, and Padma Lakshmi did so both in the same issue of Lenny Letter and in her recent memoir Love, Loss and What We Ate.
In the post, Ridley explained that she has been able to find the right treatment for her acne, but that she wanted to post all of this to remind women to listen to their bodies.
"My point is, to any of you who are suffering with anything, go to a doctor; pay for a specialist; get your hormones tested, get allergy testing," she urged. "Keep on top of how your body is feeling and don't worry about sounding like a hypochondriac. From your head to the tips of your toes we only have one body, let us all make sure ours our working in tip top condition, and take help if it's needed."
Though she rose to fame very quickly—jumping from unknown British actress to the lead star of the third-highest grossing movie of all time—she's managed to keep a very real outlook on life. In April, Ridley took to Instagram to talk about about how over-filtering on social media can take a toll on people's self-esteem, and in March, she used the platform to respond to a meme which body-shamed her for being too thin.
Daisy Ridley: the real Force that's been awoken.