I'm A Bootcamp Instructor: Here's How To Get The Most Out Of Every Workout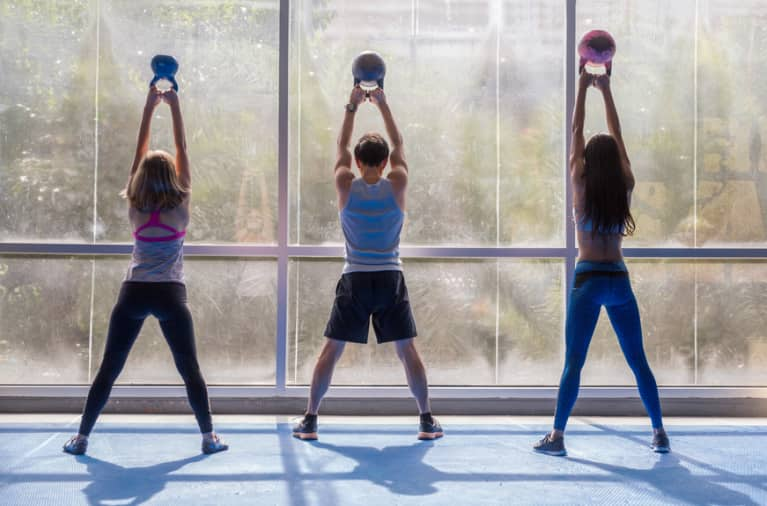 If you're not getting what you expect out of a fitness class, it could be for a couple of different reasons. It could be that the class or the instructor just isn't the right match for you. Or it could be that the class is too easy or too difficult for your current fitness level. But more often than not, I find that the biggest problem holding people back in a group-fitness setting is their attitude. And so I always tell my friends and clients: Before you give up on a class, give it the MOOMBA approach.
MOOMBA stands for My Only Obstacle May Be Attitude. It starts with between our ears—our heads. When we can change our attitude and perspective, we can change our bodies. Instead of saying "I can't," say "I can." Keep saying it. Keep trying. Bet you'll get closer and closer to your goals. Think more about changing your thinking and less about changing your aesthetics. Inevitably, if you change your thinking and follow these four important tips, your body has no choice but to follow.
We tend to get in our own way while in class. I can't run that fast, we think. I can't lift that much. My legs will get bulky if I do that much weight. This instructor is crazy. Sound familiar? Stop. Stop. Stop. Less is more in a class setting. Stop thinking; start doing. Good things will happen.
Trust your instructors. They are there for a reason. Trust it. Just do it. Trust them. Even if you think a different way, trust them. (Because you stopped thinking, right?) Also, trust yourself. You can do it. If the instructor asks for a certain speed you don't think you can do, rather than giving up, give in. Give it a shot or get as close as you can to that speed. Soon you'll hit that speed, and even sooner your body will change.
It can get scary sprinting at a speed you never have before on a treadmill, or lifting a weight you've never lifted, or trying a new and difficult yoga pose. It's supposed to be scary. It's that fear you want to power through. Allow yourself do something you didn't think you could do in class. That's why you are in that workout class—to overcome that fear and to embrace it. That's where the moment of clarity comes, the "ah-ha" moment, your growth. Be brave to unlock your true, real potential. Because it's there.
I like to take myself to a speed where I think I'll fall off the treadmill. For real. Sounds crazy, but it's not. I know I won't fall off. But it scares me. And when I run scared, I become a witness to myself. I watch myself do something I didn't think I could do. That's where I become more confident. That's where my motivation to continue to push myself comes from: fear. Working through that fear is where we grow.
4. Listen. React. Commit.
If you have ever taken a class with me at Barry's Bootcamp, you will hear me repeat these words often. That's your only responsibility in class. Listen to what the instructor says. React immediately. Commit 100 percent. Then see what happens. You don't know. We don't know what we can and cannot do. We think we do (remember, we aren't thinking). But we really don't, so if we just listen, react, commit, the possibilities are endless.
This translates to the real world, too. If you can push your body to new places by changing your thinking while working out, imagine what you can do in your personal life, at work, etc. It's probably easier in the real world, too. In the gym, you have to run hard and lift hard. But when class is over, you're stress-free, endorphins are flowing, and whatever it may be that you have going on in your life seems to be a little bit easier to handle. I try to work out often, and I try to work out hard. When I do, I feel as if life and everything involved in life just becomes simpler.