11 Ways To Forge Meaningful Connections Anywhere You Go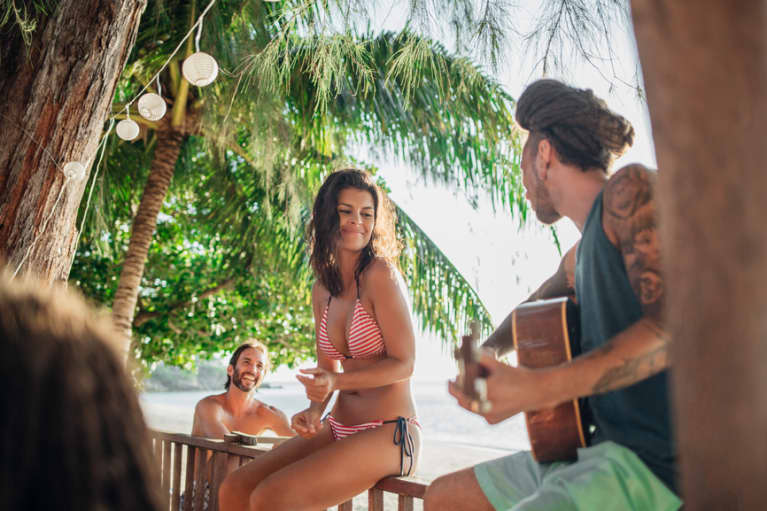 Connection matters. Real connection is what makes life juicy.
As human beings we are biologically programmed to build relationships and feel like we're part of a community with whom we gather and share experiences. For some, community means their pick-up soccer team; for others, it's a church or spiritual group. It might be a knitting circle or a group of friends that gathers to drink wine and, if they remember, talk about books.
For most of us living in the modern world, our tribe consists of the people we choose to spend our time with and the connections we build around shared interests, passions, and worldviews. On a deeper, psychological level, genuine, meaningful connections to others make us feel seen, heard, celebrated, and part of something bigger than our own mini-dramas and individual stories. They invoke a sense of belonging. These connections help orient us back to a place of giving and being of service, which, Gandhi says, is the "best way to find yourself."
I recently left my beloved community in Western Massachusetts to move to Bali. Among my New England tribe of farmers, activists, yogis, artists, and poets I felt a communal appreciation for the sense of abundance we felt in one another's presence, the sense of adventure and connection and always-enough when we gathered together to sing songs around campfires, share potluck meals, and open up our homes and hearts to each other.
When I arrived in Bali I went through a period of grief and separation, missing this homespun connection I'd built with my tribe back home. After a few weeks of passing up the endless array of social events for Skype calls with my core group of women back home, I realized that the clichéd saying was ringing true in my life: "Your vibe attracts your tribe."
For so many of us who leave a good thing and find ourselves in a new place, staring in the rearview mirror can prevent us from inhabiting all the magic that surrounds us. Here are eleven crucial tips for attracting your new tribe in a new place:
1. Believe you're exactly where you're supposed to be.
The first step of meeting your new people is trusting that you have landed where you are supposed to be, that the universe is on your side, and that they're out there. Choosing to believe will create a sense of kindness and receptivity in you that sparks the emotional vibration of connection with those around you.
2. Lay off the social media.
Nothing screams "No thanks, not interested" like scrolling through your phone at dinner with new friends. FOMO with your old tribe is your biggest mental and emotional block from connecting to the people around you now. Turn off the phone and embrace where you are now.
3. Be curious about people.
Taking a genuine interest in the people you meet will open the door for them to be interested in you. This, in turn, will create a mutual interest and connection that can be fostered over time.
4. Do your research and go out.
Even if you'd really rather make a huge bowl of popcorn and snuggle up to watch Grey's, make the conscious decision to find the local go-to spots in your new place. Check out cafés or bars where you can find live music or kirtan singing. Putting yourself into physical locations that emit a vibration you're interested in gives the magical forces of serendipity something to work with.
When we feel disconnected, our bodies tend to contract and withdraw as a way to make us feel safe and protected. Yet one of the most crucial elements of building new friendships is embodying our openness to connection. A little kindness goes a long way. Hold the door for someone walking into the café. Offer to put someone's blocks away after a yoga class. Smile.
Join a gym, buy a yoga membership, join a recreational soccer team or local hiking club. Moving together with other people is an instant way to laugh, break the ice, and form strong bonds.
7. Spend time away from your partner.
If you've made the big move with a loved one, talk with each other about intentionally spending time apart as you go out and forge new connections based on your individual interests and hold each other accountable to follow through. Ultimately this will strengthen your relationship (and give you both twice the contacts in a new place.)
One of the most liberating things about moving to a new place is that you get to try on all the parts of you that haven't yet been developed and make them your new "thing." Never tried salsa dancing before? Find some local lessons! Go to the local outdoors shop and talk with someone about local hiking groups. Putting yourself out there in a spirit of curiosity, lightness, and openness will attract people that want to support you in your new ventures.
One of the best ways to feel purposeful connection in a new place is to offer your time and energy to be of service. Whether that's helping out a local orphanage or survival center, oftentimes those couple of hours spark interesting conversation that leads to light-filled friendships down the road.
10. Be generous with your time.
When we're in our normal rhythm and routine, it's easy to feel like we have places to go and people to see. One of the magical things about being in a new place is the perspective we gain for life happening all around us. Recognize that an afternoon working in a café could turn into an hourlong conversation with a perfect stranger. Learn to appreciate these moments as blessings, not hindrances to you getting things done.
It takes time to feel like your friends have become your tribe. Appreciate the time you spend getting to know people, even if they won't become your core crew. Savor the belly laughs and heart connections you begin to make with the ones who will, even if they don't happen as often as you'd like. Let time work for you.
Related reads: