A Sexual Assault Survivor Responds To The Stanford Rape Case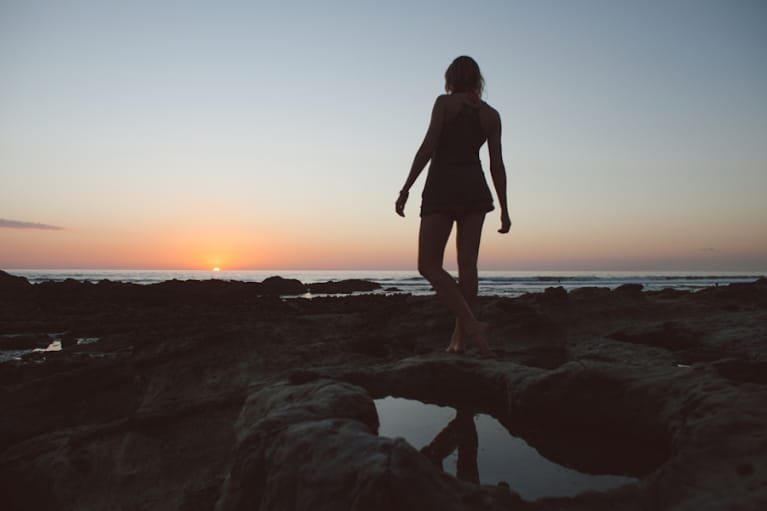 Back in September, the night before my article, I Didn't Realize I Was Sexually Assaulted. Here's Why I'm Sharing My Story Now, was published online, I woke up every hour to check the time. In between tosses and turns, I decided that I would allow myself to check the website at 6am. When the time came, I gingerly opened my laptop.
I held my breath and read through the essay. I hadn't yet had my morning cup of coffee, but I was jittery like I'd already had three. I arrived at the final sentence, and then exhaled audibly. I took a moment to let it sink in: how raw and vulnerable this now made me. But I remained calm.
Then, when my eyes found the comments section, my heart rate resumed its theatrical rhythm. As a frequent consumer of online media, I braced myself for the worst: judgmental words, profanity, and hateful comments. But, to my surprise, the comments were overwhelmingly kind and supportive. What was even more surprising was the number of women who shared their own stories of sexual assault.
My phone began buzzing on my dresser—and it didn't stop for the rest of the day. My inbox filled with messages—some from women I knew, some from women I had lost touch with, and several from women I had never met. These women bravely shared their stories with me. The sheer number of women who wrote to me about their own sexual assaults was both empowering and devastating. That was when I realized just how common sexual assault is, and how it is likely much higher than the current statistic—1 in 6 American women—because so often women don't report their rapes.
I was inspired by their resilience and courage, but also saddened by how little support most of the women had. Many of them experienced victim-blaming by friends, family, intimate partners, and medical and law enforcement services. The most troubling example occurred from two different women who reported their assault to the police, and the feedback they received was: "Pretty girls like you need to be careful" and "You shouldn't put yourself in those situations."
In the majority of these stories, self-blame was also a dominant force—which is understandable when we live in a world where victims are criticized, scrutinized, and rarely receive justice.
When I was coping with my assault, reporting never occurred to me as an option. I felt like there would be no justice as the details I had were all very foggy from the alcohol. At the time, I was hardly able to remind myself that I was not to blame, and the last thing I felt capable of was convincing a court. I have immense appreciation for those who report their assaults and I believe it is incredibly important, but the stories I heard just reinforced the devastating degree to which we as a society are failing survivors of sexual assault.
This failure has been captured perfectly by the recent Stanford case, in which Brock Allen Turner, a young student from Stanford, raped an unconscious woman, and was given no more than a slap on the wrist. His prison sentence was just reduced from an already lenient six months to a mere three months.
The survivor of Turner's assault shared her experience in a powerful letter she read aloud in court to her attacker. In it, she describes the traumatic experience of coping with the aftermath of the assault and the injustice she experienced in court.
Adding to this horror was the statement Turner's father made about how his son should not pay such a "steep price" for "20 minutes of action," clearly more concerned with the wellbeing of his son—who brought this upon himself—than the person whose life his son changed forever.
Many people are justifiably outraged by his light sentence. The judge appeared to be more concerned with the impact the sentence would have on the perpetrator's swimming career than on the survivor's life. It is hard to imagine a situation where more evidence could be generated to convict an individual of sexual assault, given that two men actually witnessed Turner violently assault the unconscious woman.
High profile cases such as this one are understandably very discouraging to other sexual assault survivors—particularly survivors of nonviolent sexual assault. Most sexual assaults are nonviolent and are also perpetrated by someone the victim knows. If the most a court can do for a violent scenario like this is a three month sentence, how would they support survivors in other less-violent sexual assault scenarios?
In her heartbreaking letter, the anonymous survivor of Turner's brutal attack captured what we all need to take away from this experience: "I want the judge to know that he ignited a tiny fire. If anything, this is a reason for all of us to speak even louder."
My hope is that we are able to use this horrific example of injustice to create changes to support survivors of sexual assault. Rape is the only crime where the victim has to prove that he or she was wronged. And most importantly, the message I want to send is one to other survivors who are following this case: As hard as it is, do not get discouraged by this. The more we talk about this issue, the closer we are to making much-needed change.
If you're seeking more information about sexual assault and/or rape culture, here are some helpful links: