A Sautéed Zucchini + Arugula Salad Satisfying Enough To Have As Your Entrée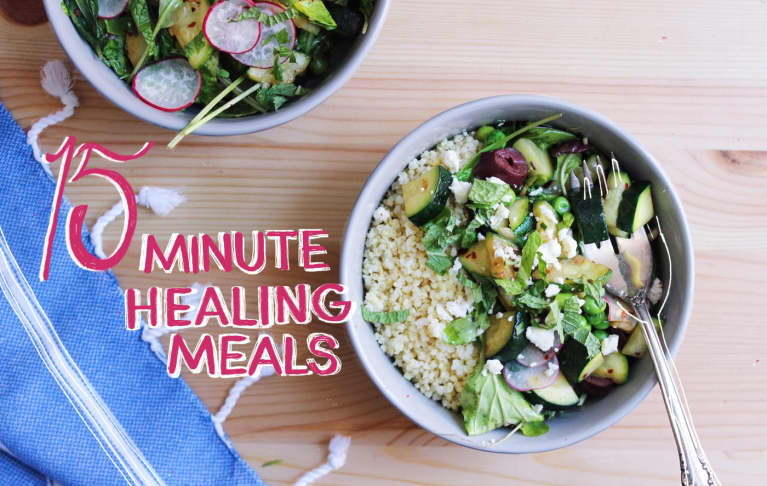 My perfect weeknight meal is packed with vegetables and whole foods, fills me up, and tastes delicious—all while being easy enough to put together quickly.
15-Minute Healing Meals are about feeding yourself well with minimal effort. These recipes are designed to inspire you to cook something wholesome without interfering with everything else you've got going on.
Note: While some meals may take a little longer to cook, we try to make sure that all hands-on time is kept to 15 minutes, to make your mealtimes as relaxing, restorative, and nourishing as possible.
This warm salad is the ideal meal for a summer evening—quickly sautéing vegetables makes it feel more substantial (and slightly easier to digest) than an all-raw salad, and you spend minimal time in a hot kitchen.
Fiber-filled zucchini takes on the flavors of olive oil, chili, and garlic easily. Arugula is a great green to use for its peppery flavor and its liver-supportive properties, and when combined with manganese-rich millet, along with peas and mint, you've got a vitamin- and plant-protein-packed salad.
Thinly sliced radishes, fresh herbs, torn olives, and crumbled feta cheese are used as garnishes to make this meal-size salad extra tasty and texture-rich.
Swap the millet for quinoa if you'd like, or top the salad with a poached egg or cooked chicken if that's your jam.
Warm Sautéed Zucchini Salad With Millet
1 cup cooked millet or quinoa (½ cup uncooked)
Olive oil
2 medium zucchini, cut lengthwise and in half lengthwise again, then sliced into 1-inch pieces
2 garlic cloves, finely chopped
1 cup frozen peas, thawed
Pinch of chili
2 handfuls of arugula
4 radishes, sliced thin
Olives (Kalamata or black), pitted and cut into small pieces
¼ cup fresh mint leaves, torn
¼ cup crumbled feta cheese
Juice of ½ a lemon
Salt and pepper
If your millet isn't already cooked, get that going in a medium pan, according to the package instructions (it will take about 15 to 20 minutes).
Heat olive oil in a large, high-sided skillet. Add zucchini slices and spread out in the pan so they have room to cook. Season with a pinch of salt. Cook for about 3 minutes, tossing once or twice (you want the zucchini to get a little golden in places).
Add garlic and toss to combine in the pan. Let cook for another minute until garlic is fragrant. Add peas, and stir to combine. Remove from heat.
Stir chili, arugula, radishes, and olives into the warm pan.
Serve mixture over millet and top with fresh mint, feta, lemon juice, and cracked black pepper. Add another drizzle of good olive oil if you want. Toss once more to let ingredients mingle a little more.