3 Ways To Celebrate International Yoga Day — Off The Mat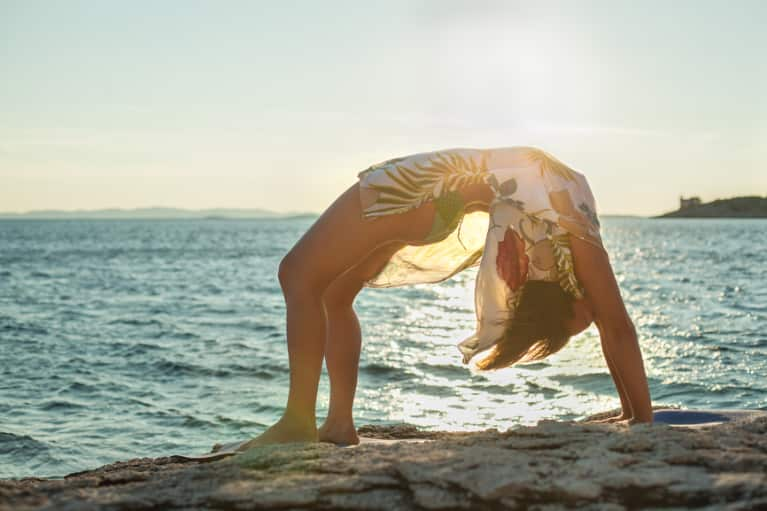 When I first stepped onto my yoga mat over a decade ago, I never thought yoga would lead me to the continent of Africa. I originally practiced yoga for the physical benefits, and it was the physical elements that initially kept me coming back to my mat. It was a way for me to gain flexibility and strength and help enhance my professional basketball career.
But as the teachers I practiced with planted little "nuggets" of philosophy in my head, I became more intrigued with the concept of yoga off the mat. It was on this journey into yogic philosophy where I found my calling—serving others through nonprofit work
Karma yoga is the practice of selfless service—yoga in action off the mat. This is the "why" in why we practice.
The philosophy of yoga teaches that there is no separation, that everything is connected. Studying the eight limbs of yoga teaches that there are many ways to practice yoga both on and off the mat. Karma yoga, one of the eight limbs, is the practice of service—the discipline of selfless action. The term "Seva" means selfless service, and this is yoga in action off the mat. In my opinion, this is the "why" in why we practice yoga.
While learning more about Karma yoga and Seva, I remember asking myself how I could practice this in my own life. I was always drawn to international relief work, and I ultimately decided that I would travel to Africa to volunteer in an orphanage. I fell in love with the kids, and I saw how a little went such a long way for the children we worked with. I decided to give up my professional basketball career and start my journey into the world of service. That decision changed the course of my life.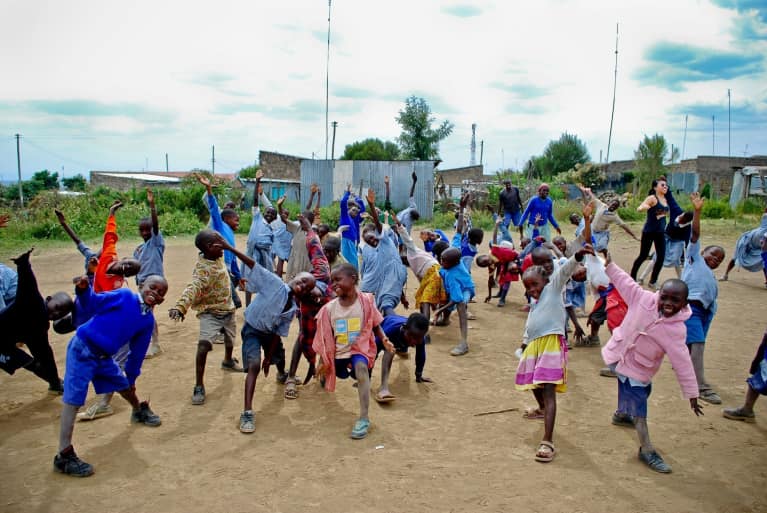 After starting the With My Own Two Hands Foundation, which helps kids receive education and basic necessities, I felt less stressed, more fulfilled, and just flat-out happy. I was doing "work" that I loved and was passionate about. I really was living my yoga practice whether or not I physically practiced that day. There is something very powerful and fulfilling in dedicating your time and energy to others.
Anyone, no matter how often they do the physical postures of yoga, can practice karma yoga in their daily lives. Here are three ways to take your practice off the mat.
Try meditating. Find a calm, relaxing place and think about things that inspire you, that pull at your heartstrings. Maybe it's a cause, a hobby, or a passion. Use meditation as a way to get clear about what inspires you to give.
Get outside your comfort zone. That is where the true magic lies. Go meet people, go experience other cultures or communities. Meeting other people who live very different lives than ours is a great tool to cultivate more empathy, understanding, and love.
Commit to giving your time, resources, and energy. Take your passion from the meditation step and find your favorite charity or go volunteer for someone in need of your help. So many charities and people are looking for help. Again, find the cause or hobby that speaks to you and turn that into your yoga practice off the mat.
Remember that yoga doesn't have to solely happen within the four corners of your yoga mat. Commit to the practice of karma yoga and be open to the possibility of more fulfillment, more love, and more connection.