13 Things You Need To Know Today (June 10)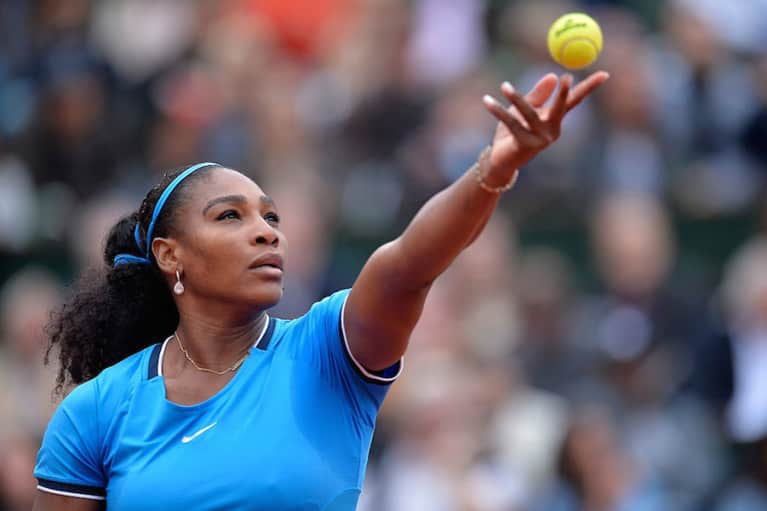 1. Serena Williams takes out her frustration on sexist guys as only Serena Williams can.
Even tennis superstars aren't immune to belittling comments from men about how they should smile more or how they're "pretty good for a girl." But at least they can fight back with a mean serve. We love watching Serena Williams do just that in this amazing video. Dudes, you've been warned. (Glamour)
2. Yoga rescues man from 15-year spiral of drugs and crime.
James Njuguna grew up in the slums of Nairobi, Kenya, and fell into a life of crime and drug abuse. But community yoga classes run by Africa Yoga Project changed his life and showed him a way out. Today, he's an instructor with the organization and hopes to inspire others with his story. Namaste! (CNN)
3. Lena Dunham dedicated a PSA to the Stanford sexual assault survivor.
Along with her Girls co-stars, Dunham's message, dedicated to the "brave survivor in the Stanford case who has given so much to change the conversation," calls for people to support all sexual assault victims. Allison Williams reminds viewers of the video, "You already have the power to create a safer, healthier environment for women to come forward, so please, support, listen, take action." (EW)
4. It's unhealthy to be too invested in your friends' relationships—and women do it a lot.
Women are prone to being overinvolved in their friends' relationships because we tend to share so much with each other. But, if you get too involved in a friend's relationship, you could end up hurting not only their relationship with their partner but your friendship as well. You're better off supporting your friends and keeping your opinions to yourself until something is really, really wrong. (Washington Post)
5. Which city in the U.S. is the most polluted?
The American Lung Association just released its annual State of the Air Report which found that a whopping 166 million Americans are at risk from unhealthy air. No city is safe from some form of air pollution, but the city that has it worst, with the highest levels of year-round pollutants and the most short-term particle pollution, is Bakersville, California. Find out where your city falls. (American Lung Association)
6. Not taking chances, British Olympian freezes his sperm over Zika concerns.
Despite reassurances from the International Olympic Committee that the risk of getting Zika while in Rio is low, athletes heading to the 2016 Games are on edge. British pole vaulter Greg Rutherford is taking a proactive approach: The married dad has banked his sperm in case the virus were to interfere with his plans to have more kids. (BBC)
7. Plant-based sweeteners could change your reduced-sugar baking game.
A new study found that sweeteners stevianna and inulin didn't change the texture of muffins and had a lower glycemic response in individuals than muffins sweetened with standard sugar. This could be a big win for those looking to keep their blood glucose levels in check while enjoying delicious baked goods. (ScienceDaily)
8. Kim Cattrall gets candid about her struggle with chronic insomnia.
After having to drop out of the Royal Court production of Linda because of her sleep issues, Cattrall has spoken up about the "tsunami" of health issues brought on by her condition. After getting stuck in a cycle of negative thoughts in anticipation of the play, Cattrall went into cognitive behavioral therapy to help herself deal. She described the process as "putting on a pair of sneakers and going into your past to get a new perspective." (Vogue UK)
9. Private companies are starting to buy up public lands—and people will suffer because of it.
Green spaces that are open to the public are getting harder and harder to come by, and commercial interests are starting to overtake what's best for the community. (Quartz)
10. Red Solo cups could soon become a thing of the past.
A new, more eco-friendly cup wants to crash the party. Loliware is an edible party glass that's made from seaweed and comes in flavors like yuzu citrus or matcha tea that are supposed to complement the drinks they hold. Matcha tea margarita, anyone? (Fast CoExist)
11. Joe Biden wrote a touching letter to the Stanford sexual assault survivor.
The VP asserted that her story would give other sexual assault victims the strength they need to fight. "I do not know your name—but I will never forget you," he wrote. (Huff Post)
12. There's big money in synthetic DNA, apparently.
A startup called Ginkgo just raised $100 million from investors to design custom living cells for companies spanning the beauty and food industries. Their technology could help them create things like rose oil or amino acids with existing DNA. (Forbes)
13. Bill Gates is using chickens to fight poverty—and you can help.
Yup, it turns out that chickens are good investments, can keep families healthy, and empower women. The Gates Foundation is working to create a sustainable poultry market system in sub-Saharan Africa, and if you read this article, watch the video (below), and answer a question over on his blog, Bill will donate a flock of chickens to a family in need. (Gates Notes)