How To Use Music To Manifest Your Dreams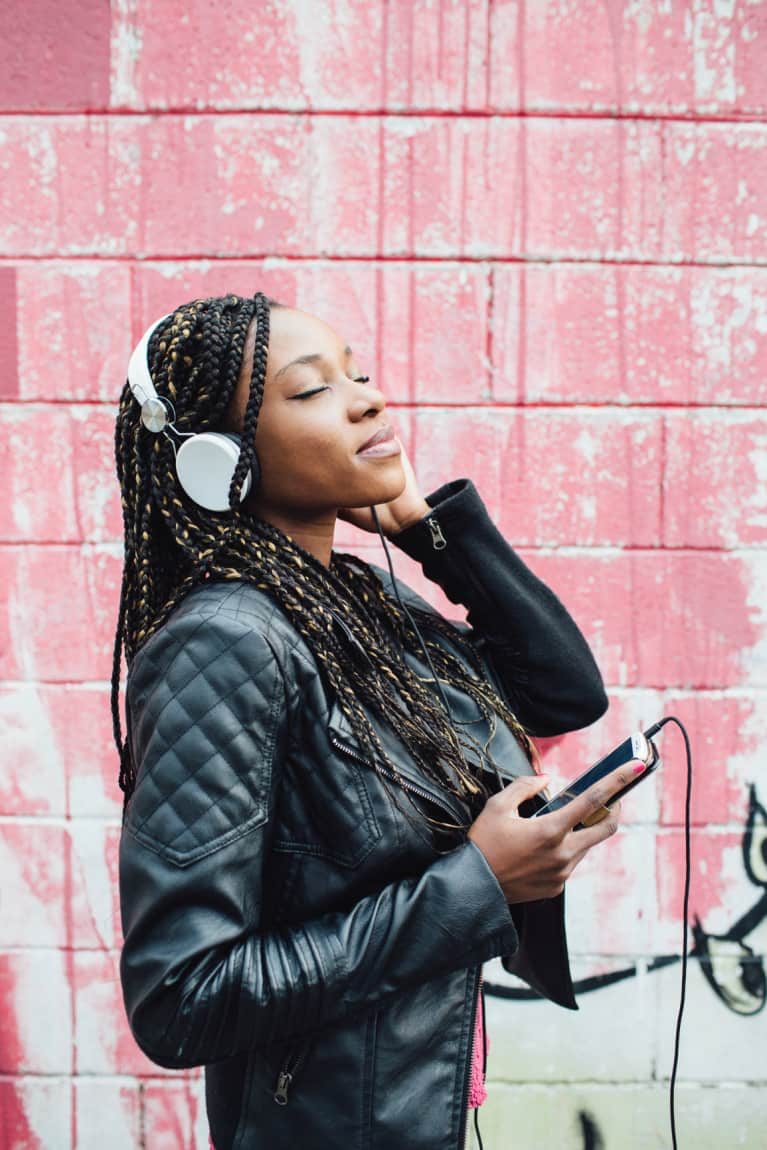 You've heard it before: You become what you repeatedly surround yourself with.
Your friends, your favorite TV show, and especially your music are actively shaping the person you'll be tomorrow. If you combined the narratives of all the stories in your music, would it paint the picture of your dream life?
Choosing good music is the easiest way to improve your life and relationships. Here's how to do it:
Just because something sounds or feels good doesn't mean it is. Most popular music is catchier than herpes, but the content is all toxic love, hookups, and invulnerability—"Bulletproof," anyone?
Take my formerly favorite song by No Doubt, "Bathwater," for instance:
"Wanted and adored by attractive women/
Bountiful selection at your discretion/
I know I'm diving into my own destruction/
I can't help it, you're my kind of man."
Awesome sound? Yes. Empowering content? Not so much.
When music suggests you're unable to control your actions or direct your own fate, it can't be good. Good things make us better people.
Good music makes us better through wisdom and empowering narratives. Take these lines from my favorite song by Noah and the Whale:
"If you can, try and get to know your parents well./
Forgive them too, they are more like you than you can tell./
When they give advice, offer sympathy/
They're just showing you who they wanted to be."
(I know. They actually make music like this.)
It's truth packed into bite-size melodic chunks. The song goes on to talk about the kind of person you'd admire, leaves you feeling upbeat and energized, and gives you advice you'd actually be well-served to live by. Classical music does the same thing on a different level, speaking truth through rhythm and harmonies.
Modern music often weaves disempowering messages into earwormy tunes—like poison that tastes good going down. Listening to it once won't make any more difference than ingesting one one-thousandth of a microgram of arsenic in your morning coffee. But with repeated exposure over time, things get ugly. We believe what we repeatedly hear.
When the message, "I'm not good enough; I'm not capable; I'm helpless," is played frequently enough, you'll begin to accept it. Then you'll unconsciously live out the message without ever seeing a connection to your music because you don't consciously listen to poison. No one does.
Repeatedly hearing wisdom has similar (but totally different) effects. Repeating music that speaks of your value and capability soon translates to your beliefs about yourself and the world. It permeates your lifestyle and relationships.
So, make the decision to listen to music that uplifts and encourages, that narrates the kind of life worth living, that inspires you to live a meaningful life. Saturate your subconscious with positive song after positive song and be amazed as your life transforms effortlessly.
2. Let go of anything that doesn't fit into your new definition of "good."
You'll up your chances of finding a healthy relationship by listening to nourishing music. No more achy-breaky bullshit. No more hookup hip-hop. And no more spineless ballads that glorify insecurity, jealousy, and drunken consolations.
It's hard, especially when these songs become part of your identity.
But which is harder: letting go of some of your favorite music, or letting go of your favorite person?
If you program yourself with toxic music, you'll live out the narratives you consume. And for 95 percent of popular music, that means falling in lust, losing the one you thought you loved, then trying to soothe your broken heart with drugs, alcohol, and empty sex.
That empty, generic sound has become what we expect—like a McDonald's cheeseburger. It tastes good going down, but once you realize what it's doing to you on the inside, that taste isn't really worth it anymore.
If you combined the stories and characters from all the music you listen to, would it resemble the life you want? If not, chuck it. Easy as pie.
3. Fill up your playlists with good, good-for-you tunes instead.
Having some quality jams on cue will ensure that you're not left staring into a music-free oblivion ('cause how scary would THAT be?). So, here are 10 of the best artists I've discovered in the past five years (and a great song from each).
They all made the list for excellent musicianship and purity of content. (Warning: There will be the occasional bogus song/album from most of these artists.) Scroll down (or click here) for a Spotify playlist featuring all 10 of these songs.
2. 5 Years' Time - Noah and the Whale
3. Colleen - Ted Leo and the Pharmacists
5. The Flood - Joshua Hyslop
6. A Nervous Tic Motion of the Head to the Left - Andrew Bird
7. Mr. Blue - Busman's Holiday (Ft. Erin Tobey)
9. 1904 - The Tallest Man on Earth
9. The Ends of the Earth - Lord Huron
And here's a Spotify playlist with all 10 songs, if that's more your speed.
If you love music like I do, you'll need something new and stimulating almost every day. But good contemporary music is rare; that's why I listen to a ton of classical music. Here are five of my favorite composers and a great song from each.
1. 6 Consolations, S. 172: No. 3 In D-Flat Major (Lento, placido) - Franz Liszt (performed by Nelson Freire)
2. Nocturne No. 2 in E-flat Major, Op. 9,2 - Frédéric Chopin
3. Valses Nobles Et Sentimentales: VIII. Epilogue - Lent - Maurice Ravel (performed by Jean-Efflam Bavouzet)
4. 2 Arabesques: Andantino Con Moto - Claude Debussy
5. Knight Moves - Chilly Gonzales
Collectively, these guys have gems you can marvel at for 17 lifetimes—I did the math.
Most people won't dramatically change their lives for fear of pain, so they cling to their same routines and pleasures, just hoping that life will change for them. That doesn't work.
If you want a dramatically improved life (and relationship), you have to do something differently. Start by taking an honest look at your music collection. Set a standard worth setting, toss out the stuff that no longer serves you, and fill your life with positive vibes.
Related reads: