A Naked Restaurant Is Opening In London & There's A 45,000-Person Wait List
mbg Contributor
By Emi Boscamp
mbg Contributor
Emi Boscamp is the former News Editor at mindbodygreen. She received a BA in English and minors in Spanish and Art History from Cornell University.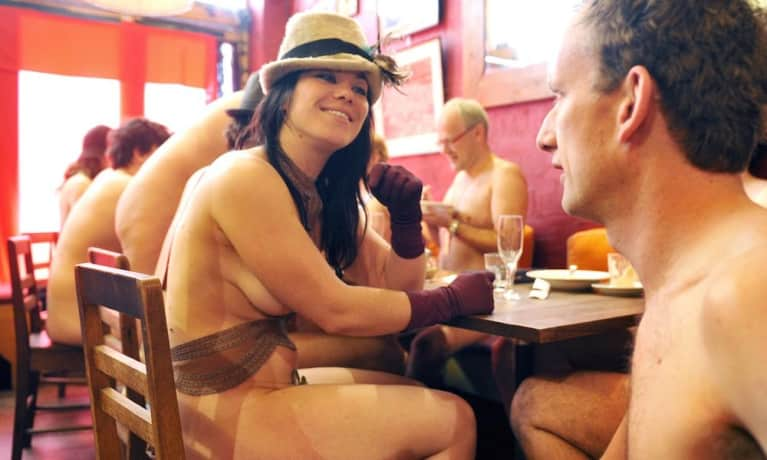 These days, as millennials eschew fast-food for organic produce, restaurants are in a fierce competition to be the most "natural." But The Bunyadi in London is the clear winner—and it's not because of its food.
It's because you dine au naturel—that is, completely naked. According to The Guardian, the city's first "naked restaurant" promises an experience that is "free from the trappings of modern life"—which means no clothes, no mobile phones and no electricity. All cooking is done with fire, and the venue is lit by a canopy of candle lights. The furniture is hand-carved, and the food is served on homemade clay plates with edible cutlery.
With the exception of those cooking (for obvious safety reasons), the staff will be clothes-free, and guests will change into a gown and can then disrobe if they so choose. There is also a "clothes" section for those who wish to remain dressed while dining.
But it is a restaurant—so what about the food?
As far as we know so far, customers will be served both vegan and non-vegan dishes along with organic wine. They claim that everything will be free of modern preservatives.
"We believe people should get the chance to enjoy and experience a night out without any impurities: no chemicals, no artificial colors, no electricity, no gas, no phone and even no clothes if they wish to. The idea is to experience true liberation," said founder Seb Lyall, in a press release on the restaurant's website.
But ... is it sanitary?
"There really aren't any extra health and safety issues to worry about by having a naked restaurant," Lyall told The Guardian, "although we got a lot of guests asking: 'Is it going to be hygienic for me to sit naked on a seat that someone else has been nude on?' We've had to point out that you will be sitting on a gown, which is effectively a cushion."
Okay, okay, but will people actually come?
"People eat naked anyway. A lot of people eat naked sitting at home," he said. "The only new thing is convincing them to do it in public." And it seems as though people are sold. The restaurant is only open for three months and seats 42 guests, which means that only 6,000 people can go—and the wait list is at about 45,000 as of right now. It opens June 11.
"At this rate, we might open it as a permanent restaurant."
Here's to hoping no one spills ever anything hot on their lap!