13 Things You Need To Know Today (June 9)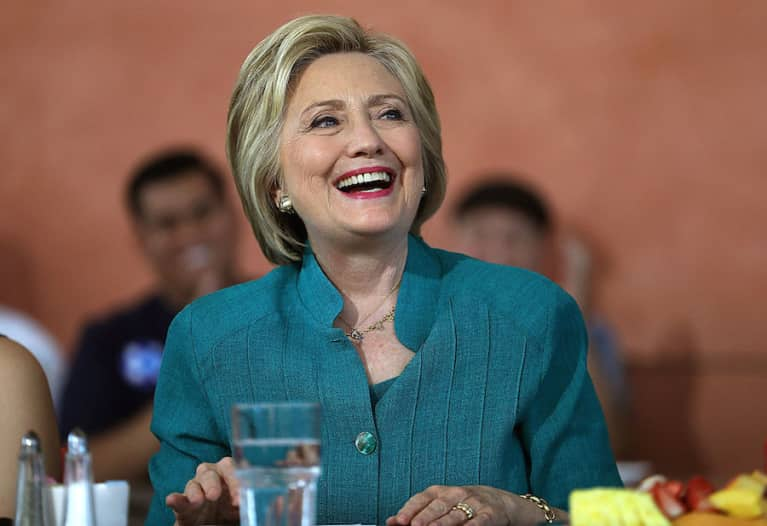 1. Hillary Clinton has a message for the girls of America.
After her victory in California on Tuesday, the first female presidential candidate tweeted a photo of herself with a little girl, captioned, "To every little girl who dreams big: Yes, you can be anything you want—even president. Tonight is for you." Clinton is on her way to shattering, as she so eloquently put it, "that highest, hardest glass ceiling." (The Cut)
2. Here's why the Stanford rape victim wants to remain anonymous.
In a moving statement, she explained, "I don't need labels, categories, to prove I am worthy of respect, to prove that I should be listened to. I am coming out to you as simply a woman wanting to be heard. For now, I am every woman." (KTVU Fox2)
3. Companies are working to make ocean trash trendy.
In celebration of World Ocean Day yesterday, Adidas announced that it's releasing 50 pairs of sneakers made from upcycled ocean trash. Boutique sunglasses company Norton Point also unveiled a sneak peak at its new sustainable sunglasses made from ocean plastic. (Racked/Mental Floss)
4. Maria Sharapova has been banned from tennis for two years following doping scandal.
Sharapova failed a drug test at the Australian Open, testing positive for a drug called meldonium. Sharapova claims to take it for her health, and the International Tennis Federation believes her. They're still suspending her for two years, however, as punishment for not staying informed about the "banned substances" list. (ESPN)
5. Looking to cut down on your energy bill? Just move to Chile.
The country's solar industry has boomed in recent years, and now it has more renewable energy than it knows what to do with. Power companies have begun giving away their surpluses for free. (Bloomberg)
6. Scientists are testing a fizzy drink that could help fight cancer.
We can all agree sugary sodas are awful, but scientists may have a way to make carbonated drinks help with cancer treatment. The trials have only been tested on mice so far, but the results look good. Filling fizzy drink bubbles with oxygen could help make pancreatic tumors more susceptible to chemo treatment. Whoa, science rocks. (Vice)
7. D.C. unanimously voted to change the city's minimum wage to $15.
It now joins California and New York. Unions have been targeting the capital for a $15 minimum wage bump, hoping to send a message to the rest of the country during an election year. (Washington Post)
8. London is opening its first "naked" restaurant.
The Bunyadi promises an experience that is "free from the trappings of modern life"—which means no mobile phones, no electricity, no modern preservatives in the food, and absolutely no clothes. But will people actually go? The restaurant is only open for three months and seats 42 guests, which means that only 6,000 people can go—and the waitlist is at about 45,000 as of right now. So, yeah, it looks like people really do want to dine in the nude. (mindbodygreen)
9. Norway is the first country in the world to ban deforestation.
Norwegian lawmakers just made the groundbreaking decision to ban the clear-cutting of trees. Now, they're working to find ways to source products like palm oil, soy, and timber in a more environmentally responsible manner. (CNN)
10. Will chicken restaurants overtake the traditional steakhouse?
The poultry's popularity has been on the rise for years, with red meat on the decline. It's suggested that chicken could go beyond your average weeknight stir fry and be put in the luxury category, replacing steak with premium, farm-to-table "heritage breed" birds. But the question is: Would you pay $100 for a chicken? (Gothamist)
11. Miranda Kerr's diet, fitness, and beauty regimen is something we can definitely get behind.
Sure, she's a super #blessed supermodel, but she does indulge her cravings—which include triple-cream goat cheese—from time to time. So, how does she stay in such amazing shape? She lives by the 80/20 diet, does a lot of squats, goes to Pilates, and absolutely loves Kundalini yoga. Oh, and a quick beauty trick she swears by? Scrubbing her body with sand. (mindbodygreen)
12. San Francisco residents may have to start paying for climate change out of pocket.
A new proposed bill calls on Bay Area residents to pay a $12 annual fee that will go directly toward initiatives to protect local shorelines from coastal flooding. (Fast CoExist)
13. Here's what you should know about sugar.
With nutrition label updates set to feature the breakout of added (versus naturally occurring) sugars, everyone is talking about the sweet stuff. While sugar is still treated as sugar in the body, regardless of whether it came from organic evaporated cane juice or corn syrup, other factors (like the fiber in fruit) can make a big impact on health. (NYT)