Do Dessert Right: Raw Blueberry Lavender Cheesecake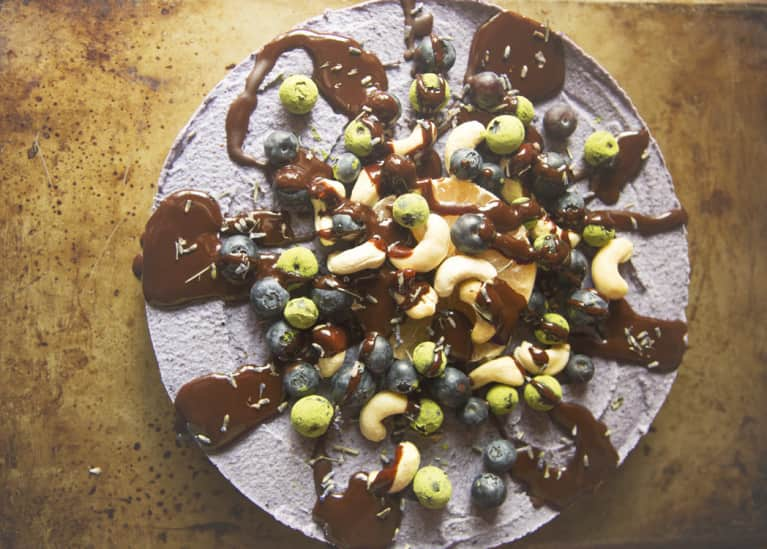 I'm not much of a baker, but raw desserts I can do—especially raw cheesecakes like this Blueberry Lavender Raw Cheesecake. It's full of nourishing ingredients, so eating a slice for breakfast wouldn't make me think twice!
This is best made for a group of people who will devour it in one evening, as the fruit topping doesn't do too well with freezing and thawing again. The raw cheesecake does need to be stored in the freezer to keep its shape.
If you aren't making it for a big group, then you can just remove the fruit topping and store it in the fridge to serve on top of each slice as you eat it throughout the week.
Raw Blueberry Lavender Cheesecake
Ingredients for the crust
½ cup raw sunflower seeds
8 medjool dates
½ cup shredded coconut
¼ teaspoon Himalayan rock salt
Ingredients for the filling
2 cups raw cashews, soaked
1 cup frozen blueberries
1 teaspoon camu camu powder
⅓ cup raw honey
½ cup coconut cream from top of the can
2 drops lavender essential oil
1½ tablespoons raw cacao powder
2 tablespoons coconut oil
1½ tablespoons maple syrup
Pinch of sea salt
¼ cup raw cashews
¼ cup fresh blueberries
1 teaspoon dried lavender
1 slice grapefruit
½ teaspoon matcha powder
Preparation
1. Prepare an 8-inch springform pan by tracing a piece of parchment paper and then cutting out the circle to fit the bottom of the pan.
2. Add crust ingredients to a food processor and turn on high until mixture resembles crumbs and when pressed between fingers sticks together.
3. Press crust mixture into base of springform pan and set in the freezer to chill while preparing the filling.
4. Cashews for filling should be soaked overnight. Place them in a food processor along with frozen blueberries, camu camu powder, raw honey, coconut cream, and lavender essential oil. Turn on high until creamy and smooth.
5. Smooth out on top of crust and place back in the freezer for about 4 hours to set.
6. To make the chocolate topping, whisk together the raw cacao powder, coconut oil, maple syrup, and sea salt on a small pot over medium-low heat until melted and blended well. Set aside.
7. Peel a grapefruit and slice in opposite direction of pieces. Place one slice on the middle of the cheesecake.
8. Place the matcha powder and about half the blueberries in a small bowl and gently shake until they are coated well and evenly.
9. Place cashews and blueberries on top of cheesecake and drizzle with chocolate. Finish by sprinkling with dried lavender.
10. Cut into 8 to 10 slices and enjoy.