3 Visualization Exercises I Used To Get Through The Hardest Physical Challenge Of My Life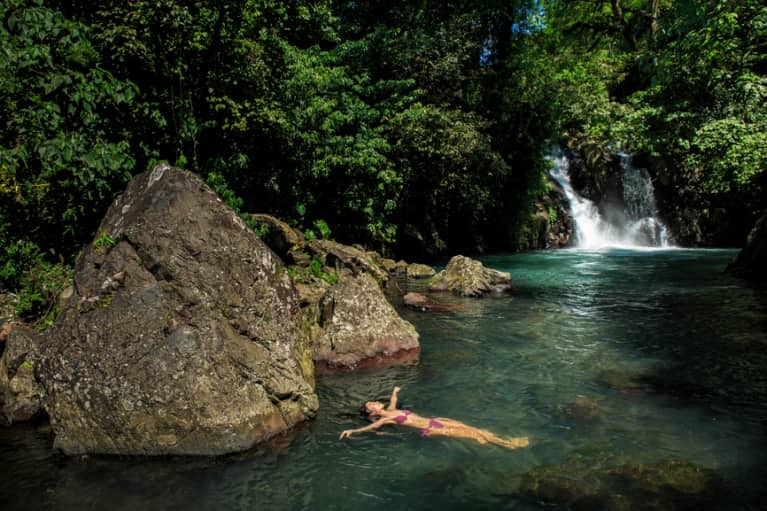 Our editors have independently chosen the products listed on this page. If you purchase something mentioned in this article, we may
earn a small commission
.
I recently completed the 50-hour SEALFit Kokoro Camp in California and the 36-hour Mill Gym Cadre Camp in Western Australia, both within three weeks of each other. These experiences are meant to be some of the most challenging—physically for sure, but also mentally and emotionally—that athletes ever go through.
For a long time, these goals felt impossible. But, as the saying goes, "when the student is ready, the teacher appears." My teacher, in this case, was SEALFit CEO Mark Divine, via the online Unbeatable Mind Academy.
In addition to my hard-core physical training and careful attention to recovery, I began to work on myself from the inside out. This involved visualization training completed after morning yoga or before going to sleep.
Research has shown how visualization rewires your brain. Specifically, the brain's reticular activating system (RAS) brings attention to anything that will help you achieve your goal. You subconsciously develop solutions to achieve your goal, like randomly coming up with new ideas in the shower. And you get motivated to place all of your focus and attention into achieving that goal.
Visualization required patience. Working out is goal-orientated and measurable, but "working in" is usually nonmeasurable. Yet it creates little shifts that change everything. It's like Kokoro yoga teacher Greg Amundson says, "If you're flying a plane and steer off course by even the slightest degree, you'll end up many miles from your intended destination."
My little shifts manifested in a growing self-belief. By the time I arrived at Kokoro and the Cadre Camp, I was prepared for the verbal harassment and mind games of the instructors. I'd already won in my mind, even though I was about to face the hardest challenges of my life.
These three visualizations from Divine's Unbeatable Mind training worked for me. I tapped into these feeling of strength and stillness during low or chaotic moments in both camps. But they shouldn't just be limited to the hardest workouts ever; they can be used anytime you're facing a challenge and need a mental boost to get you through it.
Close your eyes and imagine walking along a path in nature. You see an open door and walk down the steps into a sacred place—only accessible to you. You keep counsel with two mentors (alive or dead) and watch footage of yourself accomplishing a major life goal.
Close your eyes and imagine walking alongside a choppy stream in the woods—this represents your "busy" mind. Notice the breeze, sunshine, clear sky, and animals who are in harmony with you. The stream widens to a clear, tranquil pond. You feel compelled to swim and find yourself slowly sinking to a resting place at the bottom of the pond. Feeling protected, all feelings of fear wash away. This stillness represents the deepest part of your soul. With gratitude, you float to the surface. Feeling rejuvenated, you walk along the path by which you came.
Mentally project yourself to accomplishing a major life goal. It could be losing 40 pounds, winning the CrossFit Games, or getting through Koroko camp. Anything of significant importance. See yourself as a vibrant person glowing from your efforts. You're physically strong, mentally alert, powerful, respected, energetic, present, good-looking, grounded, and centered. The sun is shining. The sky is clear. You note the date and the time.
Everything feels perfect. You knew this day was coming. You acknowledge all your work and massive action to transform your dream into reality. You accomplished your goal by first creating it in your mind, and it was just a matter of playing it out on the screen of life. You feel and express gratitude to all those who supported you on the journey: loved ones, family, and peers. You smile and give them a hug. This accomplishment was the work of a lot of people, and you're just carrying the flag.
Interestingly, my Future Me visualization was near identical to the reality I achieved at Kokoro—and no, I don't think that's a coincidence.
Related reads: