How Becoming a Plant-Based Chef Transformed My Life & Career as a Dietitian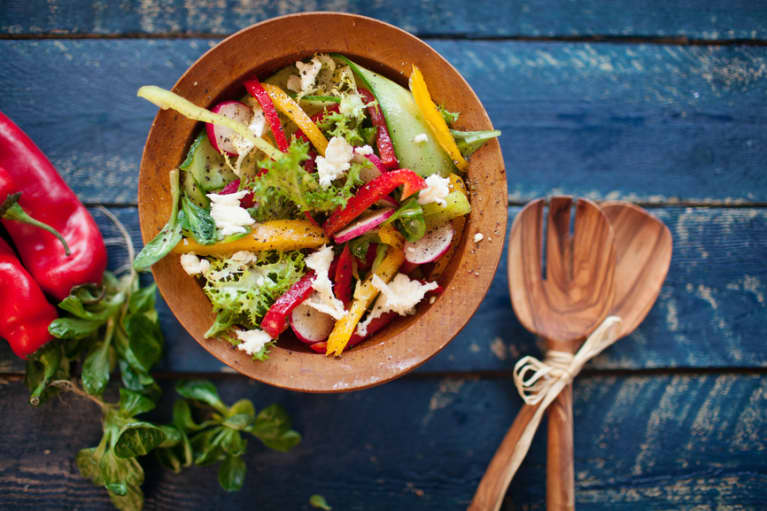 As told by Maribeth Evezich, MBA, MS, RD.
I'm an integrative dietitian living in New York City. My work involves educating healthcare professionals in lifestyle medicine protocols. Our end goal is preventing or reversing chronic disease. In this model, lifestyle change and nutrition are the MVPs. I love my industry.
Dietitians have a reputation for focusing on what you should NOT eat with bland, generic recommendations around 'acceptable' foods. But, we all need to be inspired, even excited about healthy food. This is particularly important today. The packaged food industry, celebrity chefs and media stars—often with no nutrition background—are engaging the public and greatly influencing how people eat.
In fact, a celebrity chef's presentation was actually the catalyst for my culinary school decision. Having lost a significant amount of weight, this chef promoted herself as a 'nutrition expert'. She enthusiastically recommended saving calories by cutting fat and adding artificial sweeteners.
Appalled, I became adamant that as a nutrition professional, I needed to have a stronger voice about how to translate nutritional recommendations into the kitchen and leverage the phytonutrients in whole foods. Having considered culinary school on and off for decades, the idea finally moved to the forefront.
New York City has several accredited chef training programs, but Natural Gourmet Institute for Health and Culinary Arts is unique not only in the city, but in the entire country; it was the first and remains one of the only health-supportive cooking schools with an emphasis on local, organic, and sustainably sourced ingredients. Like my own dietary preferences, the program is primarily plant-based, but not vegan.
Once I realized that NGI was my obvious choice, I found out about a partial scholarship for dietetic professionals for which I applied and was awarded. I was overwhelmed. A nearly 30-year-old dream was coming true!
Stepping up my kitchen skills
Before culinary school, I considered myself a decent cook, but I needed to expand my skills and ingredient knowledge to fully execute and promote the "Food as Medicine" concept. The real challenge? Taking away cream, butter, eggs, and gluten while making healthy food that doesn't look or taste like "health food".
The key to delicious, health-supportive cooking is not simply taking away 'the bad', but providing alternatives. This is where NGI helped me most as a cook. I learned how to boost the flavor profile of a dish with things like umami, a taste which I had previously found intimidating. I've learned techniques to thicken, emulsify, and develop appealing textures and dynamic, colorful plating with or without animal products.
I've also studied the culinary aspects of different health practices like raw foods, macrobiotics, and Ayurveda. In short, the NGI program gave me a robust bag of tricks.
Combining research with real food
Building upon my nutrition training, the program is making me a more impactful health professional. People can access the most recent findings in nutrition research, but can they actually apply this research in their kitchen?
Consider turmeric—a current media darling. Few westerners cook with this intriguing spice beyond the occasional dash of curry powder, but since starting the program, I've been developing a growing portfolio of recipes featuring this healing ingredient. I'm also researching and writing about phytochemicals and sharing my knowledge of how to select, prep, and cook whole foods to maximize their health benefits.
Completing NGI's Chef's Training Program has been a life-changing experience. But, it's no small commitment. Between class hours, an internship, and other requirements, it's a 750+ hour investment over about a year for the part-time program. Also, working full-time in tandem meant hitting the pause button on my personal life, being a time management master, and stretching the school's flexibility to make-up classes in order to avoid work conflicts.
If you're a nutrition professional thinking about culinary school, consider the following:
You need a strong passion to see it through to the end—and, ideally, the support of your family or significant other.
Culinary nutrition is a very new field and it will likely grow along with the functional medicine industry.
Age is not an excuse for not pursuing a dream!
Can you imagine not ever going to culinary school? Surprisingly, waking up every Saturday morning at 7 a.m. for class after a busy work week felt like a treasured gift. My only regret is not doing it sooner.
If you believe in the "Food as Medicine" concept, you will love NGI.