No, You Don't Have To Feel Grateful All The Time. Here's Why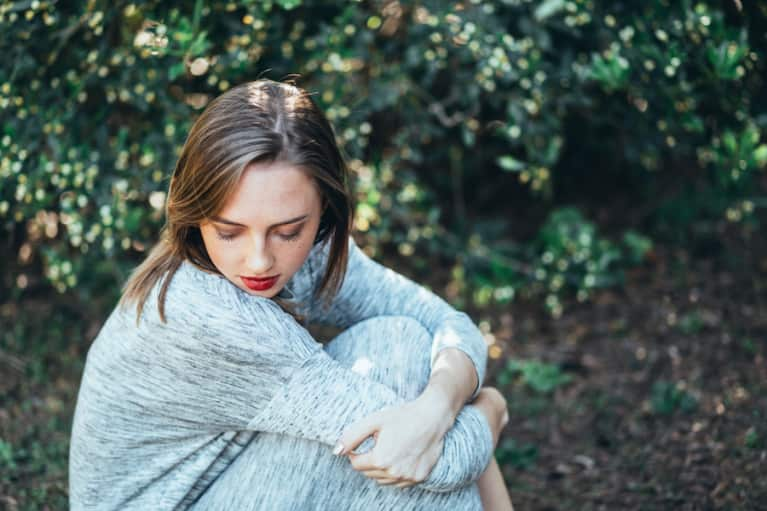 "I should be grateful." If I got a mala every time I hear those words, I'd have a lot of beads.
Just recently, a woman said this phrase after spending several minutes crying. Underneath her words, all I felt was her anger and sadness.
Like many of us, somewhere along the way, she was told that she's supposed to be happy and grateful for what she has: grateful for all the opportunities that life has presented her, grateful for the little time she has for herself.
She was told to shy away from expressing her true emotions and to spend her time reciting affirmations that she didn't necessarily believe in instead.
As I listened to her story, I recognized a pattern that has played out in my own life. It goes something like this:
I feel sad.
I'm not supposed to feel sad.
There's no reason to be sad.
I'm not that kind of person.
My life is great, I should be grateful.
We judge, reason, analyze, and rationalize our feelings in an attempt to feel in control, yet we often forget that our feelings are there for a very good reason.
When we allow ourselves to naturally express how we're really feeling, a shift occurs and new feelings tend to show up.
Eugene Gendlin, a former professor at the University of Chicago phrased this idea so eloquently in saying the following:
"When a feeling is felt, it changes. Most people don't know this. They think that by not permitting the feeling of their negative ways they make themselves good. On the contrary, that keeps these negative static, the same from year to year. A few moments of feeling it in your body allows it to change. If there is in you something bad or sick or unsound, let it inwardly be, and breathe. That's the only way it can evolve and change into the form it needs."
A few moments of feeling anything but grateful in your body allows it to change.
Imagine giving yourself time to feel whatever you're really feeling. Imagine shelving the judgment, analysis, and rationalization for just a few moments.
Here are a few techniques to help you release any sort of false gratitude and get closer to your true feelings:
Most of us don't express ourselves fully because we don't feel safe doing so. Find a space in your life where you can fully express, whether it's in your car (one of my favorites) or at a close friend's place. Go somewhere where you feel totally comfortable being totally honest with yourself.
Think about someone in your life who you can always depend on to be your friend, even through difficult times. Ask this person if they would be willing to be with you as you express how you're actually feeling.
Once you get the yes, try out a simple sharing exercise. Set a timer for three minutes and say aloud, "I feel ________." Don't stop until the timer goes off, and let yourself share without a filter, even if the words don't make sense right away.
3. Ask yourself, "What wants to be expressed right now?"
While this might seem like a weird question, try it on for size. Ask yourself what feelings are waiting to be expressed, and, without judgment (or with a little less judgment than usual), let yourself answer honestly. You might find yourself laughing, screaming, crying, yelling, grunting, or just staying silent. Embrace whatever comes.
Related reads: