A Mineral-Rich Beet + Basil Juice You Can Make Without A Juicer
I discovered the powerful benefits of juicing in my first year of nutrition school, and I've been committed to my juicer ever since! Juicing is the fastest way to get a concentrated amount of nutrients into the system in the shortest, yummiest amount of time.
After a stroll through my local farmers market, I was inspired to make this particular juice by the incredible beauty and bright colors of the fresh, organic produce.
I was looking for something refreshing, hydrating, sweet, and remineralizing —perfect for a warm summer day—and so I concocted the Organic Beet + Basil Hydrator for us to enjoy!
For more beet recipes, check out "The Cleansing Power of Beets: 10 Delicious Recipes for a Healthier Liver."
Pro Tip: Remember to keep your juicing ingredients organic. Juices run right through our digestive systems and we want these ingredients to be as clean as possible; otherwise, you're giving yourself a pesticide injection, and that's just not a good time.
Organic Beet + Basil Hydrator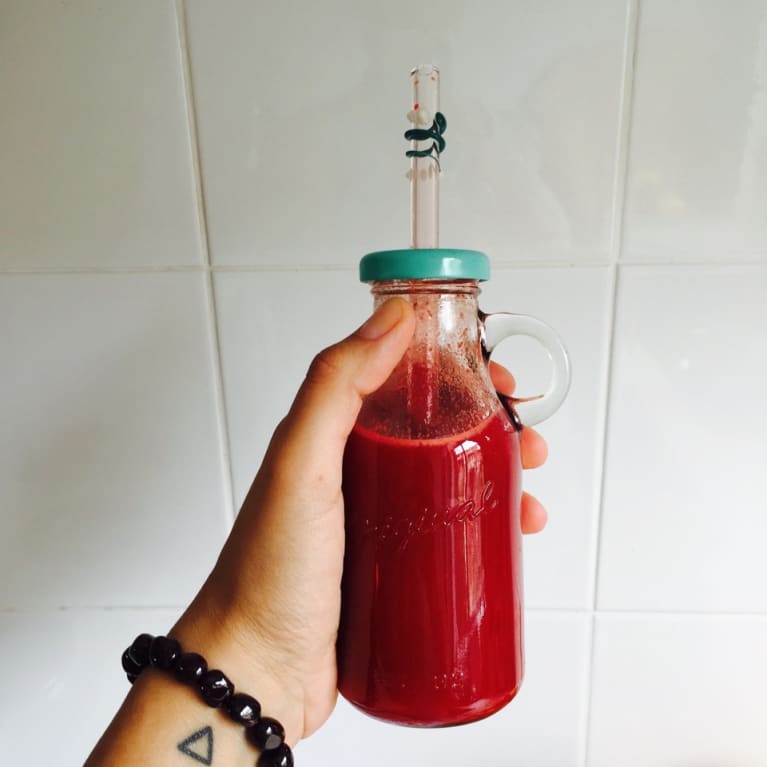 6 leaves organic basil
4 organic navel oranges
1 small organic beetroot
1 large organic carrot
1-inch (2½-cm) piece of organic ginger
Preparation
1. Peel the oranges and toss them along with the rest of the ingredients into your juicer. Pour into a glass, serve, and enjoy.
Simply toss all the ingredients into a high-powered blender and blend until smooth, then strain and squeeze through a nut-milk bag, et voilà—juice!