13 Things You Need To Know Today (June 7)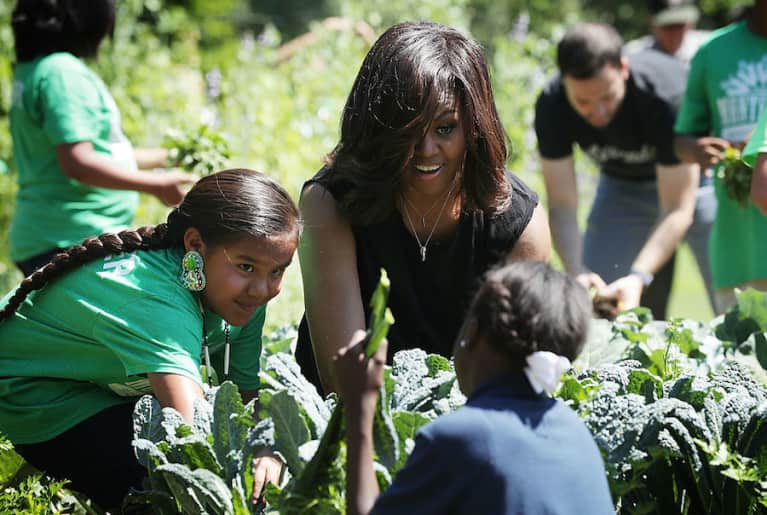 1. FLOTUS and friends announced a powerful new women's movement.
Yesterday on Instagram, first lady Michelle Obama announced the United State of Women—a summit to be held this month in Washington, D.C., to address issues such as the gender pay gap, AIDS, violence against women, and more. The promo video was packed with celeb-activists like Oprah, Meryl Streep, Tina Fey, and Jessica Williams, to name a few. (The Cut)
2. An expert explains how to tell if your child is transgender and what you can do as a caring parent.
Parents who rigidly interfere with the development of their transgender children can cause some seriously bad outcomes like mental health issues and in some cases, suicide. So what's the key take-away for preventing this? Pay attention to your kid. Notice the "persistent cues" that they're giving, take them seriously, and don't try to make them someone they're not. (Vox)
3. Hitting puberty earlier can raise the risk of depression for girls.
Earlier development of breasts was correlated with both a higher risk of depressive symptoms and more depressive symptoms. The correlation wasn't seen in the male subjects going through puberty. But it doesn't stop there: Dr. Jane Mendle, a clinical psychologist in the department of human development at Cornell University, said that since early puberty is "a challenge and a stress," anxiety, disordered eating, and self-injury are risks for girls, too. (NYT)
4. How did the Greatest get his famous physique?
According to Muhammad Ali's longtime trainer, the boxing legend didn't lift weights; he didn't want his muscles to bulk up and restrict his movements. Instead, he focused on core work (like crunches) and cardio (like running and jump rope) to help him float like a butterfly and sting like a bee. (Men's Fitness)
5. Monsanto says they have a plan to feed the world.
The agricultural giant pledged last year to become carbon neutral by 2021 and firmly believes that it can feed the planet. While the company is consistently criticized for its hand in the rise of GMOs, it believes that, "chemicals have a place in agriculture, but they're a tool that has been overused." (Fortune)
6. Maisie Williams skewers a headline for its objectifying nature.
Called out on the sheer dress she wore to a masquerade ball supporting the NSPCC, Williams rewrote the offending headline and posted it on Twitter. Instead of "going bra-less," her version said, "Game of Thrones actor Maisie Williams helps raise thousands at a Summer Masquerade Ball for @NSPCC." Bravo. (BuzzFeed)
7. More Americans are saying yes to liquid breakfasts.
Nearly 40 percent of people say that with busy schedules it's easier to get nutrients from drinks like prepackaged shakes, smoothies, and Soylent. Aside from the fact that getting all of one's nutrients from a straw isn't the most joyful of experiences, grab-and-go options aren't always the best. While it's possible to live off of liquefied food-like substances, it may not be the best for optimal health, although we always encourage a homemade green smoothie. (Quartz)
8. Is cacao the new party drug?
Forget MDMA and cocaine. People are reportedly snorting lines of cacao to get high now (which gives new meaning to the phrase "nose candy"). If you've consumed cacao before, you might have noticed that you got an instant burst of energy from it, which makes sense since it's a great source of manganese, magnesium, iron, zinc, and potassium. No, we don't know if it's safe yet—and no doctor is going to recommend snorting anything—so reap the energy-boosting benefits by ingesting it the old-fashioned way with these three recipes. (mindbodygreen)
9. Beer packaging is getting an eco-friendly revamp.
Saltwater Brewery in Florida is now making biodegradable six-pack rings from wheat and barley left over from the brewing process. Unlike traditional plastic packaging, these rings will be safe for fish to eat. (Quartz)
10. The new Miss USA represents our country in more ways than one.
Deshauna Barber, a 26-year-old Army commander from the nation's capital, was crowned Miss USA on Sunday night in Las Vegas. She wowed the crowd during the event's question-and-answer segment, stating that women in combat are just as tough as men. (CBS News)
11. Beehive thieves are causing quite the buzz in California.
It takes more than 2 million beehives to pollinate California almonds. Thousands of beehives were stolen in California during this year's pollination season—a felony that can result in jail time. "For the growers, this is their entire livelihood. If someone steals their bees, it hurts their crops." (NPR)
12. Women are nearly twice as likely as men to suffer from anxiety.
Sigh. And the reason, of course, is very unclear. Also, men and women under the age of 35 are more likely to be affected by anxiety than older people. Stephen Buckley, the head of information at mental health charity Mind, said, "The reasons for experiencing anxiety vary from person to person but might include having low self-esteem, trying to take on lots of different responsibilities or past and childhood experiences.'" (The Guardian)
13. Santiago is stepping up its public transportation.
By 2017, the city of 2.5 million commuters will power the majority of its subway system using renewable energy—60 percent will come from solar panels, and 18 percent from wind farms. (Fast CoExist)