5 Ways Yoga Helped Me Manifest The Life Of My Dreams
mbg Class Instructor & Yoga Teacher
By Caley Alyssa
mbg Class Instructor & Yoga Teacher
Caley Alyssa is a internationally renowned Los Angeles–based yoga teacher. She is a Certified Holistic Health Coach by the American Association of Drugless Practitioners, and has completed multiple yoga trainings, including Yoga Works 200-hour Teacher Training, Dharma Mittra 500-hour Teacher Training, and Yoga Tree 200-hour Teacher Training, among others.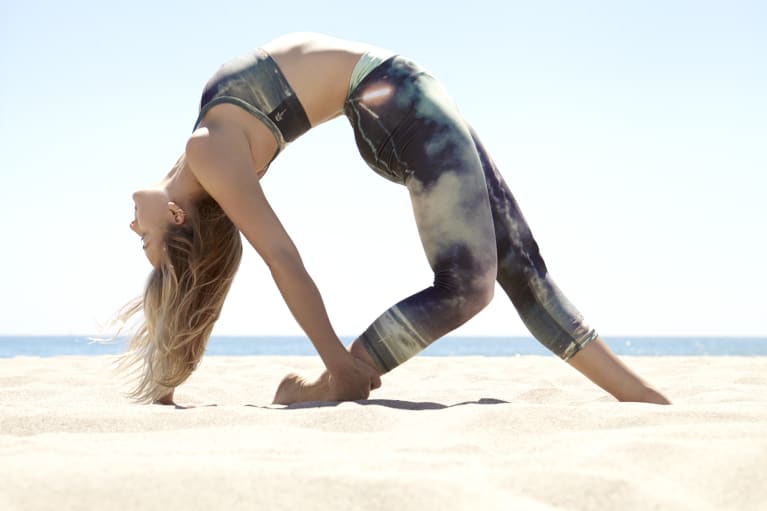 In the beginning, for most of us, yoga is a physical practice. Whether you come to yoga for a workout or a work-in, you will eventually and inevitably get BOTH. Yoga helped me transform my life. I was able to transition from working a 9-to-5 job in finance to having the job of my dreams; more than that, I moved as gracefully as possible through a divorce, found my way in a new city, and built a compassionate and aware community of support. It was't always easy, but yoga helped guide me through.
Here are the five major transformations yoga has helped me achieve that have been instrumental in manifesting the life of my dreams:
1. I feel comfortable in my own skin.
For me, it all started here. By learning how to control my breath and move through the physical postures of yoga, I was able to find peace for a moment. I used my breath to help slow down and control my mind, minimizing the constant chatter and crowding out any negative thoughts that arose. The physical postures helped to alleviate any dis-ease in my body, any ailment or miss-alignment. Yoga allowed me to be me AND to be OK with that.
2. I released the old and embrace the present.
The life of my dreams was never going to come to fruition if I was holding onto my past. My yoga practice helped me to get rid of all the old stuff that was weighing me down. It gave me the opportunity to let out stored up emotions I didn't even know I had. (There were many times I broke down and cried during a long pigeon pose!) Once I released those emotions, I was able to move through them—to forgive and forget whatever I needed to in order to move forward and write my new story.
3. I remain calm amid chaos.
One of my biggest obstacles to success was learning how to control my emotions. Through my practice, it became easier for me to be an observer instead of a reactor. By remaining in difficult postures for long periods of time, I was challenged to find my center, where I could keep my cool and maintain my composure no matter what. I am still working on this one!
4. I take one step at a time in a positive direction.
I used to get so overwhelmed with all the little things that needed to happen for my dreams to come true. But instead of freezing and not making any progress toward manifesting my dream life, I learned through my yoga practice that all I needed to do was what I could. No more, no less. And each little thing I did contributed to the big vision, the big goal.
5. I built a network of supporters and encouragers.
As I started to live more authentically, to step into my power and my truth, I began to attract others who were doing the same. Like attracts like. I wanted to be better and do better, so I did. And once I did, my community responded. The people who were also manifesting their dreams were attracted to me, and I to them. We found each other and continue to rise by lifting others!