Give Your Jeans A Sustainable Upgrade: Brands To Feel Good About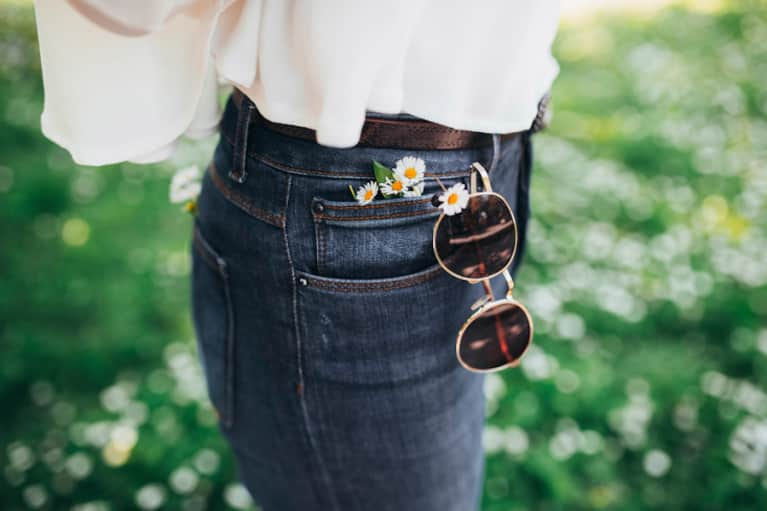 It doesn't get much more American than denim, so we're ringing in this Fourth of July with six jean options that you can feel good about wearing. Red, white, and blue jeans for all.
Denim production can be an incredibly dirty industry—there's the chemical pollution from dyes, the gallons and gallons of water used to grow and transport the materials, and the unethical labor conditions in jean factories across the world. But there are several brands that are working to make denim production cleaner across the board.
Here are five companies to check out the next time you're in the market for some new denim. All of them pair great style and quality with a positive environmental and social impact.
Kings of Indigo is a transparent brand that makes it easy for customers to trace every pair of its blue jeans. It reuses and recycles scrap yarns and clippings in its denim styles, and all of its jeans are made to last up to 30 years. The secret behind the brand's commitment to ensuring a long-term relationship with your jeans? They introduced a triple-R philosophy that promotes Recycling, Repairing and Reusing garments by gifting branded repair kits and organizing repair events in stores to help consumers enjoy their garment longer.
MUD Jeans is reducing the environmental impact of denim and creating a more sustainable culture around how we rock the beloved blue jean. The brand's Lease a Jean system allows you to lease your jeans—yes, just like a car—for a few months before deciding to keep them or return them to the store, where they can be recycled to make a new pair. MUD's Home Try program sends you three jean styles to choose from to help you find your perfect fit.
There's nothing like the feel of 100% organic cotton. Nudie bares it all with a transparent supply chain and uses all the hottest tech to distress some of your favorite styles. Rather than the traditional sandblasting technique which exposes workers to danger chemicals, Nudie uses lasers and ozone processing to bleach its jeans. Don't worry about splitting your pants, either. Nudie with repair your jeans for life, and recycle any denim you decide to get rid of. Its unisex styles are sure to please every member of the gender spectrum, too.
That's right; the environmentally conscious outdoor clothing brand is making some seriously good denim. (I was surprised too!) Patagonia lays out the map to trace its entire supply chain on its footprint chronicles, and always lets customers know what it's up to including when they slip up. The brand is also trying out some new, green techniques like dyeing with an alternative to natural indigo to save water and carbon dioxide.
I love how this brand is super accessible, with multiple different styles available around the world. Levi's is making big strides for the environment by reducing water use during the production process and experimenting with recycled jeans in partnership with Evrnu, a textile company based out of Seattle. They make the recycled denim by dissolving the old fabrics, sorting it into various materials and then reweaving it into an even stronger thread.