Exclusive Q&A With Dr. Frank Lipman On His Latest Partnership + What It Means For You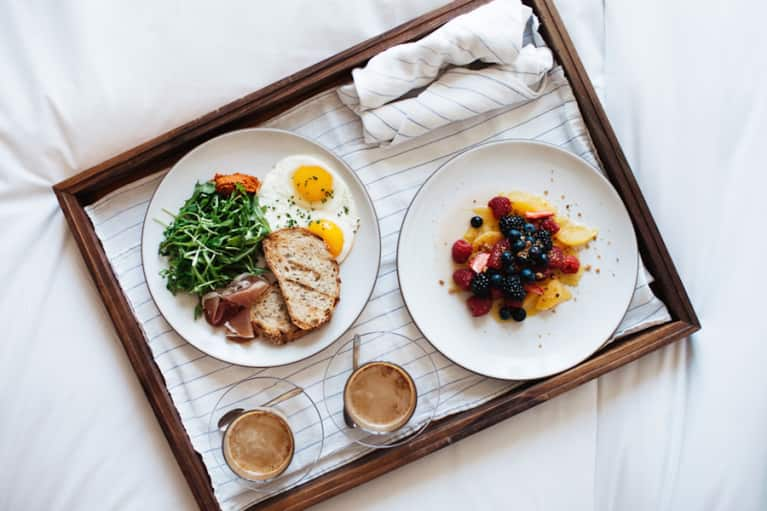 Back in 2012, Dr. Frank Lipman carried his holistic approach to health out of the doctor's office and delivered it to the masses with Be Well—a wellness company that offers supplements, cleanses, and personalized coaching.
And today, the integrative medicine expert announced plans to bring his healthy philosophies to an even wider clientele. Be Well will be teaming up with Hyatt Hotels to make it easier than ever for travelers to keep up their wellness routines on the road.
With the goal of helping guests "be their best wherever they are," Hyatt will work with Dr. Lipman to up its amenities and streamline its health services.
Starting in its New York, Chicago, and Washington D.C. Park Hyatt locations, the chain will collaborate with Be Well to offer travelers healthy refreshments, increased fitness offerings, nutritious menu options and on-the-go snacking alternatives. The partnership, which will roll out at Hyatt locations across the globe over time, will also feature wellness retreats and chef workshops.
We spoke with the master of all things integrative medicine to find out more about the news and snag some healthy travel tips. Trust us when we say you should take his advice to heart—after all, Gwyneth doesn't trust just anyone.
mbg: Why is it important for hotels to embrace wellness?
FL: The average consumer is embracing healthier lifestyles and looking to integrate healthy habits into their travel experiences. Over the next 5 to 10 years, people will come to expect wellness services and amenities and that is why Be Well is so excited to partner with Hyatt. It's fantastic that Hyatt is at the forefront of implementing wellness in such an authentic way and that they are committed to making it seamless for their guests.
What happens to your patients' health when they travel?
We see firsthand how difficult it is for patients to continue healthy habits and routines when traveling due to lack of healthy food and exercise options, travel-related stress, and sleep schedule disruptions.
How can we all stay healthier when we're on the go?
We can all stay healthier by eating well, staying active, getting rest and choosing a hotel like Hyatt which will support each of these efforts. Here are five go-to strategies to keep in mind the next time you're on the road:
Dr. Frank Lipman's top healthy travel tips
1. Pack an eye mask and ear plugs to ensure you're getting quality rest.
2. Bring magnesium citrate in case travel leads to constipation.
3. Stay hydrated. Bring along a reusable water bottle.
4. Pack healthy snacks such as nuts and seeds to avoid sugary fast-food options when hunger strikes at inconvenient times.
5. Keep up your supplement regime. The Be Well Daily Dose packets include an arsenal of tools to boost the immune system—probiotics, vitamin D, fish oil and a multi-vitamin.