How Yoga Factors Into Hillary Clinton's Campaign Strategy
When it comes to stress, few people have it worse than Hillary Clinton. Apart from the obviously grueling task of running for president, she's been in the public eye for nearly 40 years and has been mercilessly scrutinized for everything you could possibly imagine—her appearance, her feminism, her ambition, her personal life, you name it.
So, how the hell—if ever—does she relax?
Well, reporter Rebecca Traister from New York magazine got direct access to Hillary ahead of the Connecticut primary, and the resulting profile offered a more introspective look at the candidate.
And Traister found out that an ideal, restorative morning for Hillary involves eight hours of sleep (though she often gets no more than four or five), scrambled eggs, and a little yoga.
Yes, Hillary Clinton does yoga.
"If I get a good balance — tree or whatever — I'm a happy camper," she says. "If I have a good warrior pose that I'm really holding and looking incredibly strong?" — here she holds out her arms to the side, showing me the top half of Warrior Two — "I'm happy. I'm not good at it and would never pretend that I was, but I find it really restorative and helpful to keep my energy and flexibility going."
If it's hard to picture such a powerful, put-together, perpetually pantsuited woman getting her asana on, we've got your back: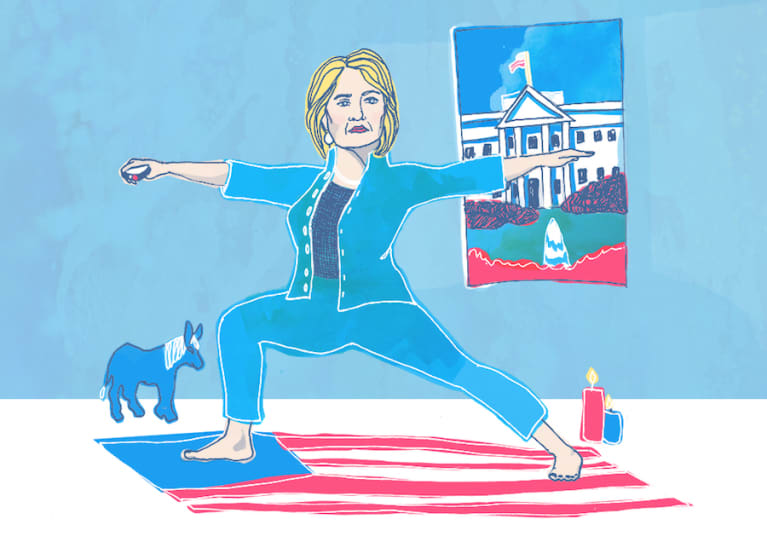 (And if you'd like to see the final four GOP candidates doing yoga—and who wouldn't?—we've got you there, too.)
As we all know, thanks to Amy Cuddy, your body language can shape who you are. So, if you pose like Wonder Woman—legs hip-width apart, hands on your hips, shoulders back, chest out—you'll be more like her: confident and powerful.
That said, is it really a surprise that Hillary gets ready for her day with a Warrior pose?