14 Things You Need To Know Today (June 2)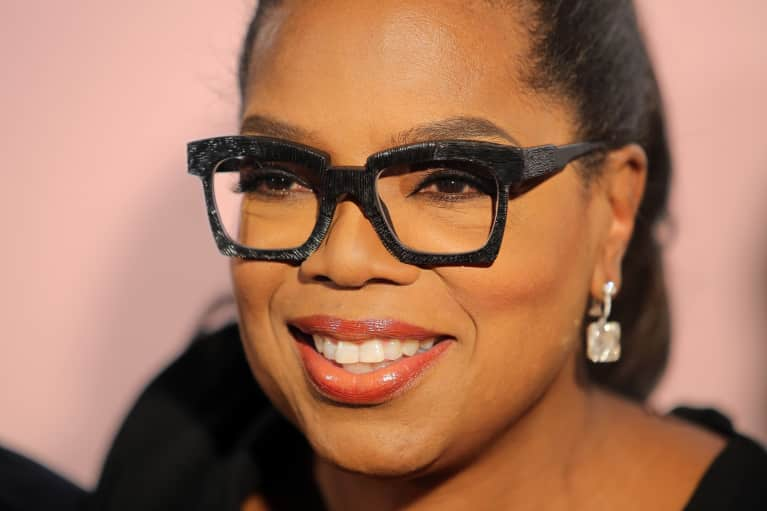 1. Oprah's world domination continues with her own food line.
The daytime talk-show and all-around media queen has filed paperwork to create a company called Oprah's Kitchen. And it looks like she's staging a full-on kitchen takeover, with a list of proposed products including everything from dairy to bacon to fruit and veg. (NY Daily News)
2. Just how good is yoga actually for your brain?
It's definitely not the first time we've heard this, but it doesn't hurt to see more proof: In a study published in the Journal of Alzheimer's Disease, a group of older adults with mild cognitive impairment took up a practice of yoga and meditation while another group did a brain-training program involving mental exercises. After 12 weeks, both groups performed better on tests of thinking—but the yoga and meditation group showed significantly more improvements in mood, visuospatial memory, and attention. (NYT)
3. This woman had to get a court order to get her own placenta back.
When a Mississippi woman told the hospital of her plans to take home her placenta, she was refused because it's considered "medical waste." While laws vary by state, there aren't many regulations in place, so it's usually up to the hospital to decide. Luckily for this mother, she had enough time to obtain the order and take home both her baby and her placenta as she intended. (USA Today)
4. The FDA proposes new sodium regulations for processed and restaurant food.
We all know the Standard American Diet could use a major overhaul, and sodium is a good place to start, with more than 70 percent of sodium consumed coming from processed foods. The suggested guidelines would call for a gradual reduction of sodium in products that are well out of the daily recommended maximum of 2,300 milligrams. While the FDA will likely get pushback from Big Food, some companies are getting more proactive. (NYT)
5. Lena Dunham is all of us when we try to meditate.
As much as we'd like it to be, meditation is not always this blissful, worry-erasing practice set in front of a multicolored dawn sky. It's f*cking hard. And that's exactly what Lena Dunham shows us in her new video for Vogue. As you can imagine, with all the responsibilities that come with being an actress-writer-director-producer-feminist leader, meditation can be pretty chaotic. She worries about what she's going to eat for dinner, if she's ready for adulthood, and what she's going to do after Girls ends. But she is always able to—albeit briefly—return to her breath. (mindbodygreen)
6. The U.S. death rate rose for the first time in a decade.
In disappointing news that surprised most health officials, preliminary data shows an unusual increase in the death rate in America in 2015. While the rate had been declining for years, experts suggest that sharp increases in Alzheimer's disease, suicides, and drug overdoses (especially among less educated whites) have fueled the recent rise. (NYT)
7. Reproductive health reform is crucial to the fight against climate change.
Women are statistically more likely than men to make eco-friendly decisions, but they're also the ones who will be more affected by the impacts of global warming. Author Madeleine Somerville argues that access to basic reproductive health services would help women around the world take greater ownership over their bodies and in turn ease the overpopulation crisis that's spurring climate change. (The Guardian)
8. Seriously? Nearly 50 percent of skin cancer survivors don't wear sunscreen.
Though they are more likely to protect themselves from the sun than people who have not had cancer, only 54 percent of survivors wear sunscreen on average, according to a recent study. Looks like we all need to lotion up a little more this summer. (The Cut)
9. Mary Lambert reveals the harsh reality of living with bipolar disorder.
The 27-year-old singer has been open in the past about living with bipolar disorder both in her music and in interviews. But she recently got even more real about her illness—by sharing a raw, honest image of herself calming down after an intense bipolar episode on Instagram. She feels it is her responsibility to destigmatize mental illness. "In my episodes, I tend to oscillate quickly between hyper anxiety, paranoia, suicidal thoughts and shame," Lambert wrote in the caption. "I am not like this every day. But I am also not glamorous and confident every day. I can exist in both spaces, and that is OK." (mindbodygreen)
10. This crazy-cool drone is being used to plant trees.
DroneSeed has created a drone arborist of sorts that can cover an acre of land with tree seedpods in only 1.5 hours. These pods contain fertilizers and pesticides that help the trees grow into a full-blown forest. (Fast CoExist)
11. Adele is NOT into having her concerts recorded.
She said to a fan at her stadium show in Verona, Italy, "I want to tell that lady as well, can you stop filming me with a video camera? Because I'm really here in real life; you can enjoy it in real life rather than through your camera." Boom. #Mindfulness (ABC)
12. Who's most likely to be affected by celiac disease?
Previously, most experts thought that celiac, an autoimmune disorder in which gluten causes damage to the small intestine, was most common among white Americans with European ancestry. Not so, says a new study. In fact, it's most prevalent among those whose ancestors came from India's Punjab region. Other surprising news: Celiac was found in men and women equally—regardless of ethnicity—even though past studies suggested it was more common in women. (HealthDay)
13. A popular actress in Iran caused an uproar by baring a feminist tattoo during a news conference.
Taraneh Alidoosti (called "the Natalie Portman of Iran") unleashed a host of criticism and support when she let what appeared to be a tattoo of a raised fist—known as a feminist symbol—peek out of the sleeve of her dress. In response to the uproar, she tweeted that she is, in fact, a feminist but refused to confirm whether or not she actually had such a tattoo. (That she has a tattoo of some kind is pretty obvious in the photos, but Photoshop is a real thing.) (NYT)
14. Soon, being transgender will not be considered a mental disorder in Denmark.
The parliament health committee says Denmark plans to declassify being transgender as a mental illness. It's being called a move to put pressure on the World Health Organization, which still perplexingly classifies transsexualism as a mental disorder. (The Guardian)