How To Totally Surrender During Savasana + Why It's So Important
mbg Class Instructor & Yoga Teacher
By Caley Alyssa
mbg Class Instructor & Yoga Teacher
Caley Alyssa is a internationally renowned Los Angeles–based yoga teacher. She is a Certified Holistic Health Coach by the American Association of Drugless Practitioners, and has completed multiple yoga trainings, including Yoga Works 200-hour Teacher Training, Dharma Mittra 500-hour Teacher Training, and Yoga Tree 200-hour Teacher Training, among others.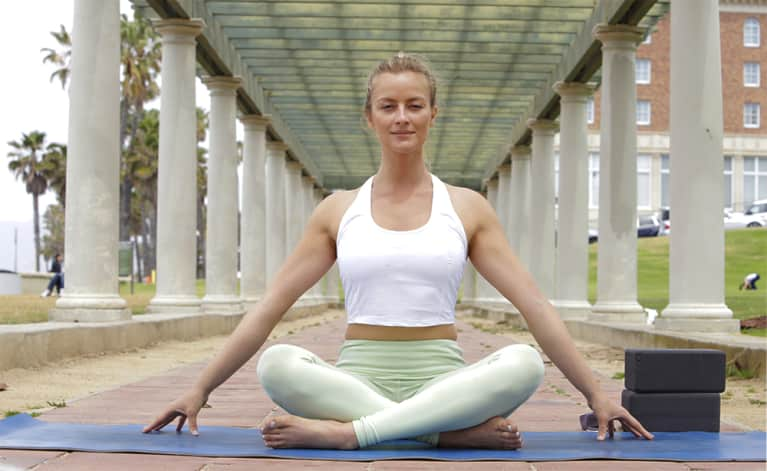 The art of rest and relaxation is becoming more and more valuable in our extremely fast-paced lives and more and more challenging as constant stimuli and distractions bombard us from every angle. Learning how to create space in your mind for clarity and how to block out all the noise is crucial. And, it just so happens, this process is a part of yoga's physical practice, also known as asana. It's called savasana, or "corpse pose" in English.
Savasana is the ultimate act of conscious surrender. It's practiced at the end of class, once you've moved through all the physical postures, as a way to let your mind and body relax and soak in all the benefits of your practice. Just like after a long hike, or an intense swim, your body and mind are able to find calm, peace, and rest after yoga practice in savasana.
You lie down, close your eyes, relax...and...get distracted by someone making a noise nearby. Grrrrr! The room gets quiet, you settle back in...and...start thinking about what you're making for dinner after class. How long does this savasana last, again? Are we done yet??
Is this stuff normal?
YES!
It's absolutely normal for your mind to resist deep relaxation. But there are a few important tools you can employ to help set yourself up for a successful savanna. I'm going to walk you through them:
One of the most distracting issues in savasana is discomfort. Being uncomfortable physically will cause you to wiggle, fidget, and move around instead of relaxing into savasana. So, grab a bolster to prop up your knees, make sure your lower back is comfortable, release any gripping or clenching of muscles in your body, move your clothing around so it isn't tugging on your body in any way, do whatever else it is you need to do in order to be conformable. Then, close your eyes and surrender to the pose.
Take in one final HUGE breath and hold it in for as long as you can, then exhale and completely empty your belly, releasing any last little bits of tension or effort in the body. Then, let go of the control of your breath. Let it ebb and flow naturally on its own. This will aid your mind in slowing down the racing thoughts as well as more completely relax your body.
Your mind will inevitably wander off to thoughts. As you notice the thoughts, try to just let them come and go without dissecting them, analyzing them, or attaching to them. You will start to notice these little spaces between your thoughts. As these spaces emerge they bring with them a sense of peace and quiet. Euphoria even. Over time, these little peaceful spaces will get longer and longer.
That's it! It's important to note that sometimes during savasana, you might fall asleep. That's OK! It's not the intended goal of the practice, (and, in fact, it may mean that you are slightly sleep-deprived!), but it's nothing to be concerned about. Over time, you will be able to train yourself to get the rest your body needs without actually falling asleep in savasana. Once you come out of it, take a few moments to notice how good your body feels and how peaceful your mind is. That's what it's all about!