14 Things You Need To Know Today (June 1)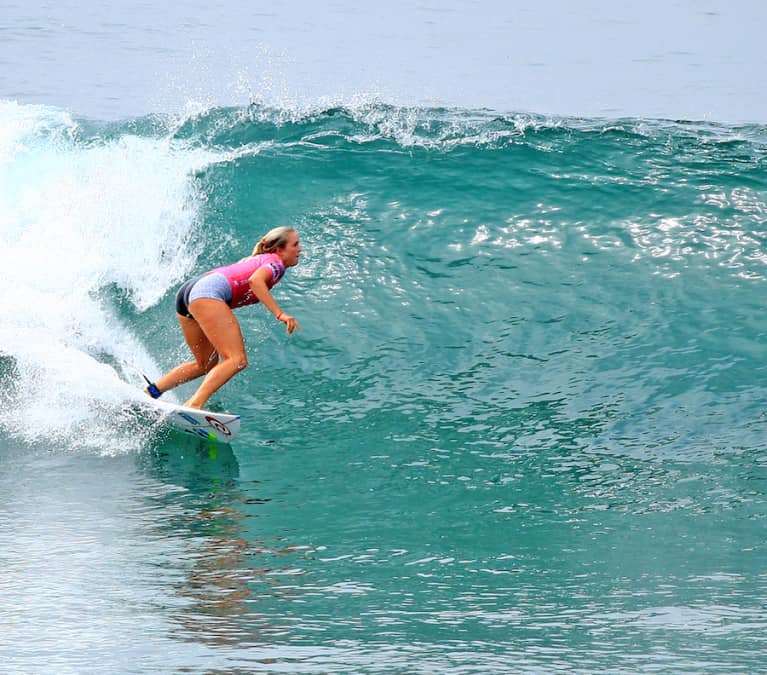 1. Shark attack survivor Bethany Hamilton beats world's best surfers in Fiji.
The 26-year-old surfer who lost an arm in a shark attack in 2003 beat a six-time world champion and the top-ranked surfer in the world during an awesome performance in the World Surf League's Fiji Women's Pro, reaching new heights in her capacity to inspire. She finished third overall as the wildcard. (NYT)
2. Owning a pooch can help ease veterans' PTSD.
They're man's best friend for a reason. In a new study, military vets struggling with post-traumatic stress disorder who were given dogs as pets—not trained service animals—showed fewer symptoms and reported lower levels of loneliness and depression. The vets were also happier overall and more physically and socially active. (HealthDay)
3. WHO doubled its suggested abstinence period for those who've traveled to Zika zones.
The World Health Organization now recommends waiting for a full eight weeks to have unprotected sex or try conceiving a baby if you've recently traveled to a country with an outbreak of Zika. It previously had suggested four weeks, but its new guidelines are now in line with those of the CDC. (CNN)
4. Extreme weather patterns could increase toxins in certain foods.
Another thing to put on the "environmental worries" list. According to a new U.N. report, certain crops like wheat and maize generate higher levels of toxins in order to protect themselves from external dangers like drought or higher than average temps. Over time, these toxins could start affecting major populations. (Scientific American)
5. Not only can Prince William do yoga—he can do it in white jeans.
In preparation for his charity match at the Audi Polo Challenge in Berkshire, England, this weekend, naturally, Prince William engaged in a little vinyasa action. Showing his commitment to his pregame warm-up, the prince kicked off his shoes, got down on all fours, and pushed any grass-stain fears aside. Because nothing creates a more fluid mallet swing than a couple of cat/cows; am I right? (mindbodygreen)
6. Food waste apps are the new dating apps.
There's a new crop of startups and corresponding apps working toward reducing food waste. Some businesses offer surplus produce at a discount while others try to match extra food with charities that can use it, but all of them are attempting to find a proactive solution to a big problem. The next step is rethinking the way we consume things in order to prevent food waste. No big deal. (Guardian)
7. New York City is now offering its staffers a suite of wellness programs.
The metropolis will spend $6.6 million to offer 300,000 city workers access to Weight Watchers as well as smoking cessation and diabetes management programs. Besides being an added work perk, the programs are estimated to save NYC $3.4 billion in health costs over the next three years. (NY Post)
8. Starbucks is now serving not just any cold brew but nitrogen-infused cold brew.
Starbucks is ready to ride the third wave of coffee. The coffee giant already makes one version of cold brew, which it brews for 20 hours, but this one has a frothier, creamier consistency (think Guinness). It'll be available in stores in Los Angeles and six other cities this summer. (LA Times)
9. The Supreme Court just made a huge ruling about our water.
The court just put the Clean Water Act—a powerful environmental law that protects U.S. waterways from pollution—under fire by subjecting future clean water cases to judicial review. Basically, it's going to be easier for citizens to contest the Act moving forward. (Vox)
10. Kristen Bell just got really real about depression.
We all know how important it is for celebrities to speak out about stigmatized topics such as mental health; with such large followings, they can really get a conversation going. That's why we're so happy Kristen Bell penned an essay discussing her experience with depression while she was in college and the support she received from her mother. (mindbodygreen)
11. Just how strong are those SoulCycle skull and crossbones really?
According to a recent study, running is better than cycling for long-term bone health. That's because running puts direct pressure on the bones, unlike non-weight-bearing exercises like spinning or swimming. No need to throw away those cycling shoes yet, though, as more research still needs to be done to prove this physical phenomenon. (ScienceDaily)
12. And just like that, kombucha becomes even more awesome.
Apparel made out of kombucha tea waste is just one example of the latest trend of transforming food scraps into fashion statements. Cutting-edge designers are also experimenting with turning pineapple leaves, coffee grounds, and citrus peels into wearable, sustainable, somewhat edible (?) clothing. (Nat Geo)
13. Pizza Hut is hopping on the antibiotic-free bandwagon.
It's the latest chain to eliminate artificial preservatives and antibiotics from its menu—albeit, only in select ingredients. The company has committed to no longer using meats containing BHA/BHT (to take effect by the end of July 2016) or cheeses with artificial preservatives (by March 2017). Chicken containing "antibiotics important to human medicine" will no longer be used as of March 2017. (mindbodygreen)
14. Terrible people attacked innocent patrons of a vegan cafe.
A vegan cafe in Georgia (the country, not the state) was the target of a bizarre attack from a neo-Nazi group wielding meat skewers and wearing sausages. While the incident sounds like a bad improv skit, this is actually an extreme example of the way people considered by Georgians as living an "alternative" lifestyle are treated. (Vice)