Tone It Up Founders Karena & Katrina Spill Their Beauty Secrets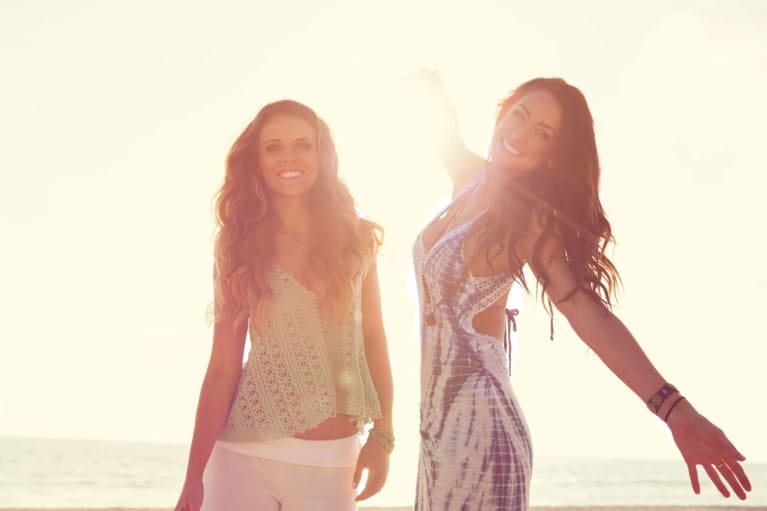 As the founders of popular fitness brand Tone It Up, trainers Karena Dawn and Katrina Scott have manifested their strong (in more ways than one) friendship and passion for a healthy lifestyle into wildly successful careers—with the beach as their office, no less. But in between their sandy workouts and fun-filled photo shoots, they find time to boost their beauty inside and out. Here's how the power pair find balance during their busy days and feel confident in their skin from head to toe.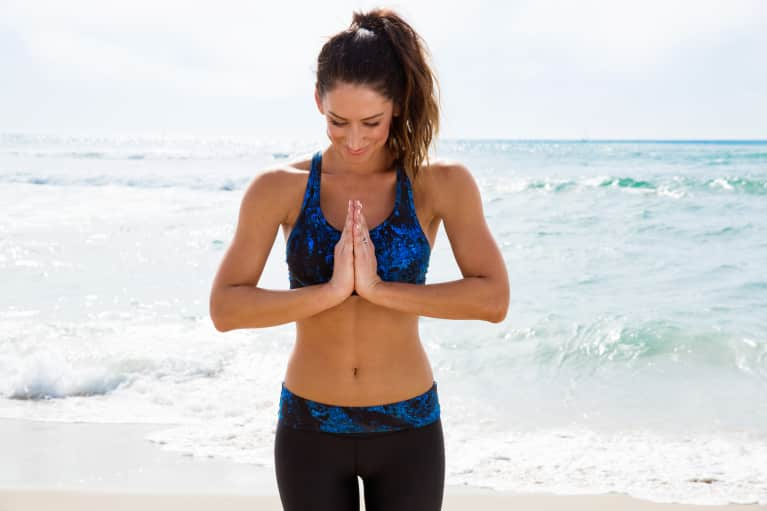 The very first thing that we do every morning is take 10 minutes or so to meditate. It's an amazing transition from sleeping to jumping into the rest of your day. We like to sit in a quiet room of our house, preferably one that gets plenty of natural light, and close our eyes. The key is to focus on your breathing and let other thoughts or emotions enter and leave your mind as they will.
At first, meditation can be difficult, but after a few weeks of practice, it gets a lot easier, and your stress levels begin to lower. Decreased stress levels slow the aging process as well as calm your mind for the rest of the day.
Your body becomes dehydrated after a night of sleeping. In order to keep our skin silky soft and muscles highly functioning, it's important to gulp down some H2O in the a.m.! We fill up an 8- to 12-ounce glass of room-temperature water and finish it before we have any coffee or breakfast. We also add in cucumber slices or a squeeze of lemon to make it more flavorful.
Working out in the morning gives you more energy and an increased metabolism for the rest of the day. We like to do yoga, go on a run, complete one of our HIIT routines, or just go on a walk with friends to grab some coffee. How ever we can fit in a good sweat sesh, we do it. Plus, working out causes your body to push out toxins by sweating. Just be sure to wash your face after!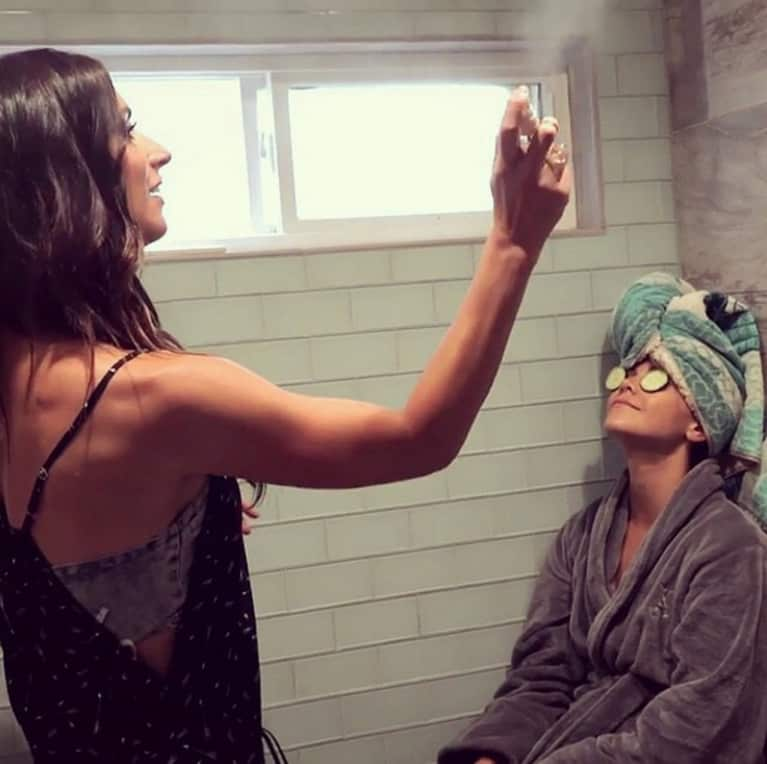 Washing your body and face after your morning workout is really important to prevent breakouts. We use a natural body cleanser that isn't too rough on our skin. We also have recently started making our own coffee scrubs by mixing 1 tablespoon of used coffee grinds with 1 tablespoon of coconut oil to slough off dead skin on our arms and legs. We love it because it increases circulation, gives your skin a glowing appearance, and temporarily reduces cellulite! Just be sure to use gentle pressure while using the scrub. It shouldn't be painful.
Feed Your Body the Good Stuff
Working out wouldn't give you beautiful, lean muscles if you didn't follow it with body-loving food. We replenish with a protein-packed smoothie using our organic, vegan, non-GMO Perfect Fit Protein. We recently came out with a new coconut flavor that makes the most amazing piña colada recipe. It's so refreshing for those summer mornings post-workout!
This is our motto from the Tone It Up Nutrition Plan that we use to guide our meals: lean, clean, and green! It basically means your plate or bowl should be filled with lean proteins (like chicken, fish, beans, or tofu), fresh green veggies, and healthy whole grains like quinoa, amaranth, or brown rice. Eating this way gives your body the vitamins and minerals it needs to rebuild your muscles, maintain healthy skin, and decrease soreness and fatigue from working out.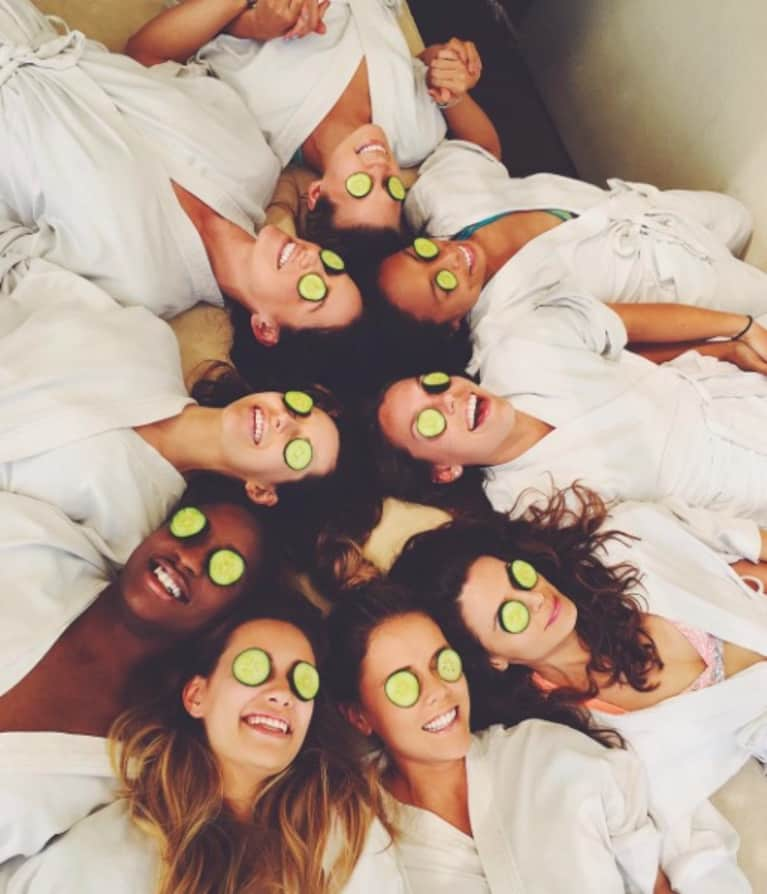 In the evening, we always apply a hydrating eye cream and Burt's Bees lip balm. We also like to give our faces a little TLC at night with our Beach Clay Masque. It uses sea algae to brighten and purify as well as ylang-ylang essential oil to rehydrate dry and stressed skin. We leave it on for 10 minutes while we brush our teeth and get ready for bed. You can even slice a few cucumbers for your eyes, lie down, and do an evening meditation for a seriously de-stressing nighttime ritual!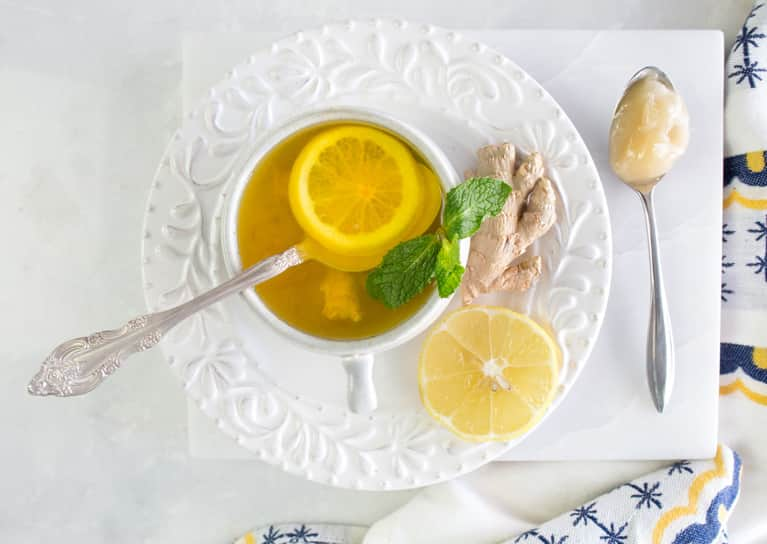 Getting seven to eight hours of sleep is so important for rebuilding muscles and preventing tired eyes and skin. For an extra dose of calming to get us ready for bedtime, we end our night with some herbal decaffeinated or lemon ginger tea. It helps us unwind and relax our minds so that we can fall asleep quickly!
Photos courtesy of Tone It Up