3 Fitness Myths That Are Holding You Back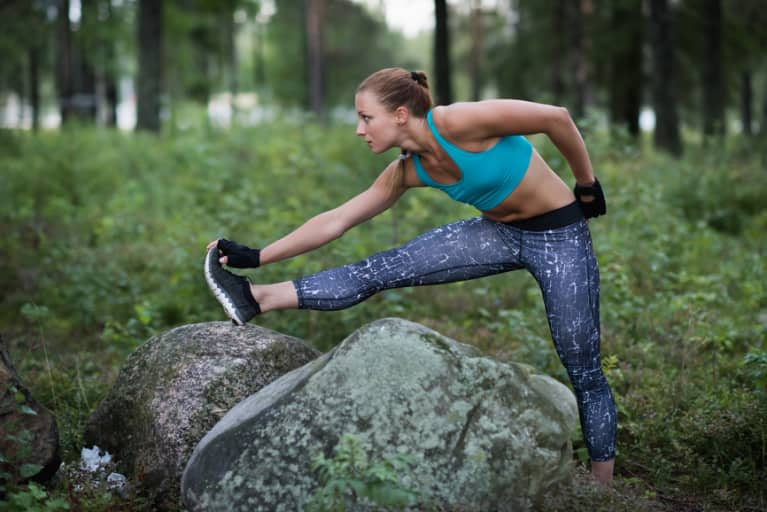 Everyone, at one time or another, has been given less-than-great advice for their health. Fitness and weight loss, due to their touchy and unique nature, have been particularly clouded with mountains of bad advice over the years. And if you are like everyone else, sifting through it can be hard, and tedious. As a personal trainer, I see my clients believing in some of the same big myths, over and over again. Here's some of the loudest, and most erroneous, advice that could be slowing down your fitness gains, and what you should do instead.
1. If I take a workout supplement, I don't have to work as hard.
This fitness myth is mostly perpetuated by the radical claims that supplements, both natural and unnatural, make. Countless supplements claim they can "speed up your metabolism" or "burn fat for you" or even "put muscle on you." This is just not true. Working out will help you speed up your fat burning, not a supplement. And eating right, and eating enough, will help you put on muscle. Besides, even if a supplement could help, there could be a trade-off. In the end, the chemicals that fill those bottles could do more harm than good to your fitness gains by damaging your glands and leading to poor health.
2. I have to go to the gym because I need weight machines to get fit.
So many people think that they need to go to the gym so that they can use all of the special machinery that is available. But lifting free weights is just as effective as, if not better than, using weight-lifting machinery. Machines do not mimic the body's natural movement, but rather, can restrict your movement and even be harmful if they are used incorrectly.
One of the biggest advantages of using free weights in place of heavy machinery is that you have the freedom to work out from your own home. Investing in your own set of weights at home can eliminate the need for expensive gym memberships. This gives you the luxury of working out on your own time, in your own home.
3. Running on the treadmill is the most effective form of cardio.
Every day I see people sweating away on the treadmill, logging long miles at one easy pace—sometimes for hours! It's no secret that cardio is pushed on us as the best weight-loss option at the gym. It's also great for your heart and your health. But not all cardio is the same; there are two types to consider. One is steady-state cardio, the type you will get just running on the treadmill, at the same speed from start to finish, for an hour a day. This type of cardio burns fat for the length of time you do it. But, the second type of cardio, HIIT (high-intensity interval training), actually burns fat for up to 24 hours after your workout.
HIIT workouts tend to be shorter but more intense than traditional cardio, and they can burn more calories through out the day. Sure, you can do them on the treadmill—but you can't just press one button and zone out to your favorite TV show. And the beauty of HIIT is that you can do it anywhere, incorporating pretty much any type of cardio: running, cycling, swimming, circuit training, you name it.
It's true that there is a lot of good fitness advice out there. But sifting through the mounds of bad advice and myths that are perpetuated over and over again can take a lot of work. These top three now-busted myths should help you realize what may be holding you back—and how to break through to the next level, no matter what your fitness goals.