A Watermelon Avocado Salad Perfect For Summer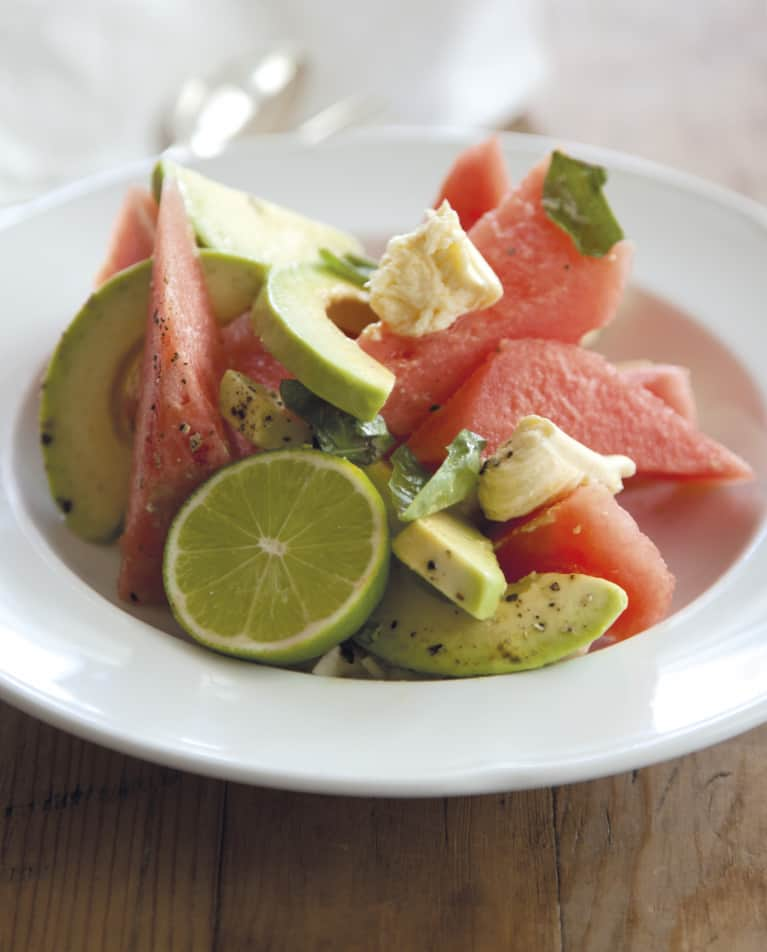 Most of us eat watermelon by itself as a juicy fruit snack, but it also works well in savory salads. This recipe makes a great summer side dish or starter. You can replace the mozzarella with feta or even blue cheese if you prefer.
Watermelon + Avocado Salad
Serves 6 to 8 as a starter
Ingredients
1 small or ½ large watermelon, cut into chunks
2 just-ripe avocados, cut into chunks
6½ oz. mozzarella or bocconcini, torn into small chunks
10 to 12 cherry tomatoes, halved (optional)
juice and finely grated zest of 2 limes
1 teaspoon very finely chopped red chili (optional)
salt and ground black pepper
a small handful of basil leaves, torn roughly
Preparation
1. Place watermelon, avocado, mozzarella or bocconcini, and tomatoes, if using, in a bowl and toss gently. Pile onto a serving platter, sprinkle with lime juice and zest, chili, if using, and salt and pepper. Top with basil leaves and garnish with lime halves.
2. Watermelon + Avocado Salad can be prepared in advance, covered, and refrigerated for up to 4 hours until needed.
This recipe is from Annabel's TV series Annabel Langbein The Free Range Cook: Simple Pleasures, screening now on PBS. The accompanying book, containing all the recipes from the series, is available now.