5 Japanese-Inspired Foods Your Body Will Thank You For Eating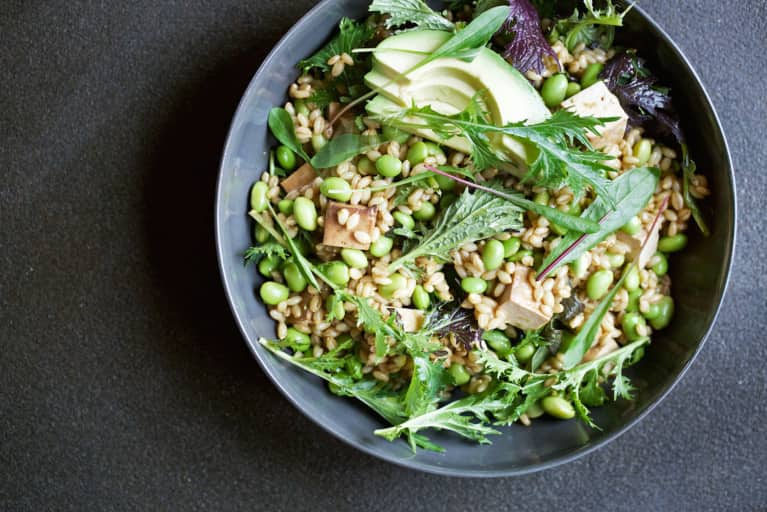 It's about tradition, not trends. In Japanese culture, the primary focus has always been on prevention rather than treatment.
You can fill your kitchen with renewing, refreshing, healing Japanese-­inspired ingredients that make you feel and look your very best.
Here are my top five nutritious, exciting, and flavorful Japanese foods to start including in your meals:
The first clue that green tea is good for us: It's GREEN.
Rich in antioxidants, phytonutrients, packed with vitamins C and E, green tea is a miracle elixir.
I love to drink my matcha traditionally, as a hot tea (it helps me to relax while meditating!) but also in my tea cakes, smoothies, and even sprinkled on fish or on chocolate. Look for quality Japanese brands when it comes to green tea and matcha powder. Don't skimp, either—you deserve it!
My absolute favorite squash of all time, kabocha squash, is also known as "winter squash" in the U.S. It tastes like a sweet, rich, chestnut­-flavored pumpkin.
It's perfect as a nutritious substitute for potatoes and is rich in fiber, vitamin C, potassium, folate, muscle-­toning iron, mood-stabilizing B­ vitamins, and beta-carotene. Beta-carotene can give skin a more attractive sun­-kissed glow, so goodbye, ­chemical self­-tanners! Just cook, eat, and nourish to glow.
I love my kabocha squash roasted with a simple tahini sriracha dip, on top of salads, added to soups, or just steamed with a touch of sea salt. YUM.
Tofu, in my personal opinion and strong cultural history, is a food for goddesses. It's made of coagulated soy and pressed into silky, beautiful cubes.
This to die for, low-­cal, naturally gluten­-free, vegan protein is the ultimate flavor sponge for delish Cali­-Japanese-inspired eats. You can buy soft, firm, or extra­-firm varieties. I do recommend purchasing only organic varieties and watching out for GMO soy.
A small 3-ounce serving of tofu serves up about 8 grams of plant-­based, high -quality protein, and with all eight essential amino acids, it's considered a complete protein, and in my book, a magical super ­staple.
Seaweed, naturally full of vitamin C, manganese, and vitamin B2, is clean eating's best friend. Konbu, or kombu, is a form of edible kelp that grows in ropes in the seas of Japan.
Konbu is widely available in health food stores and can be found for much less at your local Japanese market, These tasty sea­ veggies are so versatile. Seaweed also contains high levels of iodine, necessary for proper thyroid function (just don't overdo it; overdosing can have the opposite effect).
Also look for other varieties: hijiki, wakame, arame, and nori. (Try making these Nori Rolls, too.)
Also known as azuki beans, this beautiful red bean hasn't been popular in the United States until recently. Just 1 cup is loaded with 25 percent of your daily value for iron, 30 percent of your magnesium, 25 percent of your potassium, and a whopping 70 percent of your daily recommended folic acid.
Adzuki beans are used frequently in Japanese cooking, traditionally served with rice, and also made into sweet bean pastes to fill mochi and Japanese pastries.
I love my adzuki beans in macrobiotic salads as well as rice dishes. Call me biased, but this is my favorite bean! You can find adzuki beans dried or canned. Be sure to rinse and drain canned beans to remove excess salt.
Kiyotsukete, ne (take good care, of yourself)! xx Candice Kumai
During the past few weeks, we've shared some of Candice's favorite nutritious and flavorful recipes from her nostalgic childhood visits to Japan. Candice's next book, (releasing Summer, 2017!) will focus on her heritage, wellness, and clean Japanese methods.
Give them a try and let us know what you think! For more delish Japanese-inspired recipes, be sure to check candicekumai.com and follow her on Instagram @CandiceKumai!