14 Things You Need To Know Today (May 26)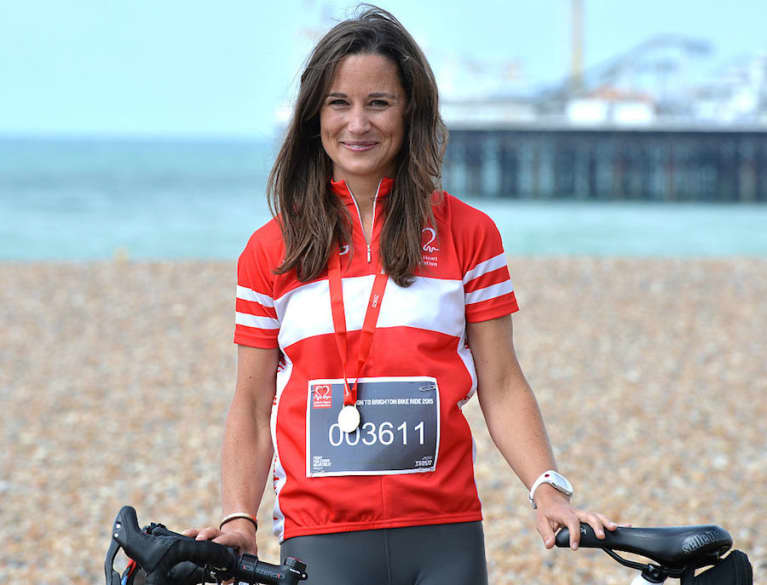 1. Pippa Middleton had an impressive finish in the Great Wall Marathon.
The sister-in-law of Prince William completed the grueling race in 85-degree heat and even won a top spot in the standings—she was the 13th overall female and came in 70th out of 876 runners. All hail the sister-of-the-duchess! (Running World)
2. Will the bathroom wars also affect people with disabilities?
Much of the current debate on restricted access to public bathrooms is focused on transgender people. But some families of people with disabilities worry that they will also be affected, since they often need to assist a disabled loved one of the opposite sex in using the restroom. (NYT)
3. Don't expect to see GMO salmon on your plate anytime soon.
Even though genetically modified seafood was approved by the FDA earlier last year, major retailers like Costco, Target, and Trader Joe's are still refusing to sell it. Could it be because three-quarters of Americans said they wouldn't eat GM fish in a recent poll? (EcoWatch)
4. In 2016, more millennials are living with parents than partners.
Yep, as of two years ago, 32.1 percent of millennials were living with parents, as opposed to 31.6 percent living with partners. The change is likely due to a decrease in cohabitation among younger people, with one in five people over 25 having never married, and also probably because we're, uh, pretty broke. (NYT)
5. Is the future of fast food an organic chicken chain?
Two ex-Costco execs, Erica Welton and Dennis Hoover, want to redefine "fast food"—starting with a fried chicken sandwich. Organic Coup is the first USDA-certified organic fast-food chain in the U.S. and just raised $7 million in an initial round of financing. What's the chicken fried in, you ask? Coconut oil, of course. (mindbodygreen)
6. Amy Schumer calls out body-shamers in an empowering Instagram.
The actress took to social media to shut down Internet trolls who left hurtful comments about a paparazzi photo that showed her in a bathing suit. "I hope you find some joy in your lives today in a human interaction and not just in writing unkind things to a stranger," she wrote. "This is how I look. I feel happy. I think I look strong and healthy." (Instagram)
7. It's not just annoying. Sharing too many pics of your baby might make you depressed.
Moms who post pictures of their kids on Facebook to get affirmation on their parenting, or the adorableness of their children, can end up feeling worse than if they didn't post anything at all if they don't get as many likes or positive comments as they expect. (The Economic Times)
8. A round of applause for these companies making products out of food waste.
As we've learned from the aquafaba phenomenon, we should pause before pouring something great down the drain. With about 40 percent of food in the U.S. going in the trash, it's interesting to see companies actually making a profit off of previously unloved food scraps and perfectly good leftovers. (NYT)
9. Fitness trackers may count calories, but they're lousy motivators.
Think that wearing a fitness tracker will encourage you to be more fit? Not according to science: A new study from Clarkson and Oklahoma State universities found that college students who were asked to wear step-counting devices walked no more than those who were secretly being tracked. Looks like true workout inspiration has to come from within—not from a gadget on our wrists. (ScienceDaily)
10. This upcoming Amsterdam village will put your neighbor's solar panels to shame.
ReGen village will be an entirely self-sufficient community that grows all its own food, produces all its own (renewable!) energy, and recycles all its own waste. "We're really looking at starting off as the Tesla of eco-villages," says project leader James Ehrlich. (Fast CoExist)
11. Baby boomers are destined for worse health than previous generations.
A study from the United Health Foundations hypothesizes that there will be about 55 percent more senior citizens who have diabetes than there are today and about 25 percent more who are obese. It's bad news for the health care costs of baby boomers, and bad news for taxpayers, too. (NPR)
12. London café hires homeless baristas to spark change.
The aptly named Second Shot café in East London is attempting to improve the neighborhood by both caffeinating its residents and tackling the issue of homelessness. By training and employing homeless baristas, they're looking to confront the problem, "one espresso at a time." (Vice)
13. Breakup marathons are now a thing—and they're helping people set new PRs.
Going through a breakup or divorce can be emotionally exhausting. But for some people, the experience can actually provide a physical boost. Sports psychologists say that training for running races during difficult times can provide an escape from negative emotions, a new social outlet, and a reason to push harder and longer. (NYT)
14. Your work ethic could be getting in the way of your mental health.
A new study out of Norway found that people who identify as workaholics are significantly more likely to have ADHD, OCD, depression, and anxiety. It did not conclude whether workaholism caused the psychiatric disorders or the other way around. (ScienceDaily)