3 Ayurvedic Secrets For Better Sleep + Healthier Digestion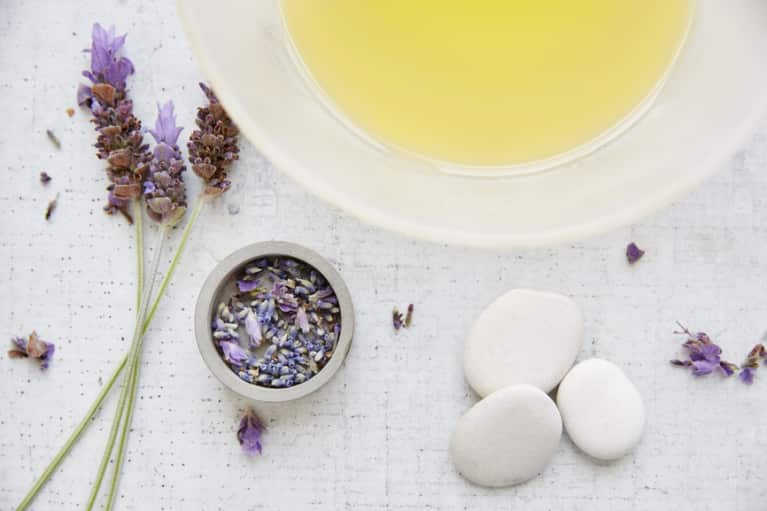 Like most people, I'm always seeking new ways to live a happier, healthier life. A little over four years ago, I discovered Ayurveda, which opened my eyes to simple, effective techniques that finally helped me find balance. I have been an avid student and practitioner ever since.
Ayurveda, a Sanskrit word that translates to "the science of life," originated in India more than 5,000 years ago. It's a practice that believes everything in the universe is connected and that health is achieved by staying in alignment with the rhythm of the world that surrounds us.
Whenever people ask me how to start incorporating Ayurveda into their lives, my answer is to keep it simple. The beauty of Ayurveda is that small tweaks can make a big difference. You don't have to do everything at once—just start by doing something.
Here are three simple ways you can incorporate Ayurveda into your life today:
1. Eat warm, cooked food.
In Ayurveda, digestion is the key to good health, and cooking food makes it easier to digest. The logic behind this is that our bodies and digestive systems are hot, so our food should be too. Ayurveda looks at our agni, or "digestive fire," as a sign of our overall well-being. Eating warm, cooked food fuels our agni instead of cooling it down.
Once you start thinking about your diet, you'll probably realize that a decent amount of the food you eat isn't warm or cooked. (Think: juices, salads, salad bars, breakfast bowls, and sandwiches.) Start becoming more aware of the cold food you're taking in, and see where you can swap out a cold juice for a soup or cold salad for sautéed veggies. A great way to get started is by cooking more warming recipes at home.
A core tenet of Ayurveda is Abhyanga, or oil massage. A daily oil self-massage can help nourish your tissues and organs and calm your nerves and mind.
Try giving yourself a full-body massage using organic almond oil before your next hot shower. Take your time and use long, vigorous strokes on your limbs and circular motions on the joints to really massage the oil into your skin.
You can also experiment with self-massage by simply oiling your feet before bed. It's a lovely self-care practice that will help ground you for a good night's sleep. Just be sure to put on socks so you don't ruin your sheets!
Establishing a sleep routine and aiming to get to bed around 10 p.m. each night is another doable Ayurvedic ritual. Pitta—one of the three Ayurvedic energy centers that govern the human body—starts kicking in around 10 p.m. Pitta is associated with digestion, so this is the time of day when the body, particularly the liver, starts to naturally detoxify and cleanse. You want to be resting during the Pitta time to let it do its work.
For those of you in New York City, WellBeings will be hosting a series of free Ayurveda workshops every Saturday in June at 9 a.m. at Athleta Flatiron at 125 Fifth Avenue (at 18th Street). The next workshop will be Saturday, June 11 at 9am and go into more detail on the Ayurveda daily routine. Click here for details and to register.