14 Things You Need To Know Today (May 25)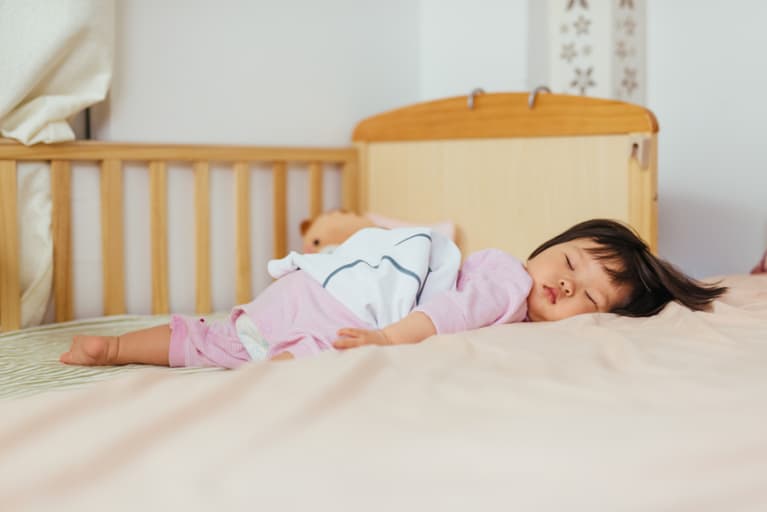 1. No, really: It's OK to let your baby cry itself to sleep.
In an Australian study, babies between 6 and 16 months old who were allowed to "cry it out" fell asleep about 15 minutes sooner than those in the control group (whose parents did not attempt sleep training), which adds support to the idea that the method is effective and does not cause stress or lasting emotional problems for babies. So, yeah, it might be loud, but it'll pay off. (CNN)
2. Can we create an antibiotic that doesn't harm the gut?
Although antibiotics save lives, they also kill off plenty of helpful bacteria that are vital to health. Now, researchers are working on an antibiotic that would target specific bacteria while avoiding the good ones that make up our microbiome. (NPR)
3. This futuristic filter is the ultimate home detox.
Molekule is a new purifier that can break home toxins down into their harmless component elements and release those back into the air. Wave that chemical air freshener buh-bye. (The Verge)
4. French lawmakers are pushing for something called "the right to disconnect."
In a chapter of the new law, called "The Adaptation of Work Rights to the Digital Era" is Article 25, which explains that information and communication technologies can potentially "have an impact on the health of workers." The law suggests that companies negotiate policies to limit the degree to which companies can encroach on employees outside of work hours. (The New Yorker)
5. You might want to think twice before using natural mosquito repellents.
While using "natural" bug repellents sounds nice in theory, they probably won't keep you protected—especially in the age of Zika. A new Consumer Reports study found that repellents with naturally derived oils did not last anywhere near as long as those made with conventional chemicals that are proven to be safe. (NBC)
6. A new law aims to provide basic rights for sexual assault survivors—for the first time ever.
Co-authored by a 24-year-old sexual assault survivor, the Sexual Assault Survivors' Rights Act would give survivors the right to have "rape kits preserved for the entire relevant statute of limitations (the limited period of time in which a survivor can file charges after an assault)," so they don't have to deal with what one survivor, Amanda Nguyen, faces: returning to the state where her assault was committed every six months so that her rape kit cannot be destroyed. (The Cut)
7. Why, oh why, is sweetgreen banning Sriracha?
According to the salad chain, "The second ingredient in Sriracha is sugar, so we removed it from our recipes, replacing it with the natural, sugar-free heat of dried chilies." It's also nixing bacon and adding portobello mushrooms and sustainably farmed steelhead as part of its newest campaign "Make America Healthy Again." You'll just have to BYO hot sauce. (mindbodygreen)
8. Almost half of people taking antidepressants aren't depressed.
A major new study finds that nearly 50 percent of antidepressant prescriptions in the U.S. were written for disorders other than depression, such as anxiety, insomnia, pain, attention deficit disorders (ADD), and even bulimia. That's causing concern among health officials since some of these off-label uses aren't scientifically proven. (TIME)
9. In news that makes you say, "REALLY?": Most Americans think burgers are good for you.
A market research group found that a surprising 82 percent of people in the U.S. would classify hamburgers as healthy. While they are a good source of protein, it's important to consider where the meat is coming from and how it's prepared before it can be deemed a nutritious meal. (TIME)
10. The term "nude" is finally starting to be applied to different skin tones.
Naja Lingerie is proving that no, nude does not have to be a dull beige color. Its latest collection of nude bras and underwear comes in seven shades to cater to women of different ethnicities. And it doesn't stop there. The company employs only single mothers or female heads of households, pushes to use more eco-friendly methods of production, and has a program that employs women in the Colombian slums to make lingerie bags that are offered with each purchase. (Racked)
11. The plant-based protein industry is taking things to the next level.
Now that good veggie burgers are a well-established commodity, companies are trying to figure out what other animal-product-laden foods they can make plant-based. It looks like oysters and blue cheese are up next, with vegan mayo brand Hampton Creek trying to fundraise $200 million to make it happen. I guess the question is, how much do you think a good vegan grilled cheese is worth? (Bloomberg)
12. Why do some couples have sex way more than others?
Take a long, hard look at the wife's personality. If she's easygoing and open to adventures, it's more likely they're getting it on quite frequently. Women are "the 'gatekeepers' of sex within relationships." At least that's what a new study says. But sexual satisfaction is, of course, a whole other story. (mindbodygreen)
13. Enda is a nonprofit that hopes to inspire social change with its high-performance sneakers.
Since Enda sneakers are modeled after Kenyan runners, the company has chosen to produce the shoes in the country and give their proceeds back to its people. "We wanted to channel the energy around running into something that can have much more of an impact on the people of Kenya," said company co-founder Navalayo Osembo-Ombati. (Fast CoExist)
14. Facebook apologizes for banning a photo of a plus-size model.
An advertisement for feminist group Cherchez la Femme that featured model Tess Holliday posing in a bikini was initially rejected by Facebook's ad team. They believed it violated their ad standards by showing body parts in an "undesirable" manner. Once the 'book realized that the ad was promoting a body-positive event, it promptly apologized, but this reveals that the bigger issue of size is still in full force. (The Guardian)