6 Ways to Create a Sacred Space While Traveling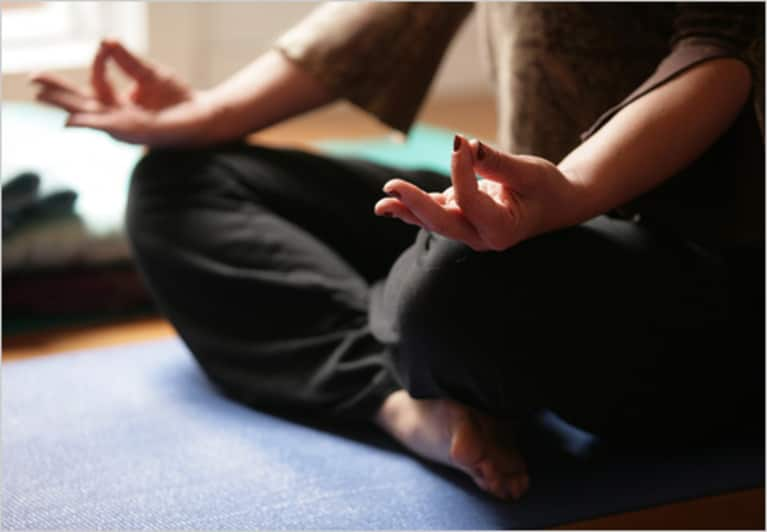 Summer has always been my favorite time of year. With the predictability of warm weather there is a sense of freedom. It's traditionally a time to take off work for more play, to travel, and to just be more spontaneous. But with this comes the feeling of being ungrounded and losing our center. While traveling, we lose our sacred space that we are used to turning to at the end of the day – our home.
As a Cancer sign who loves my home, one of my biggest challenges has been to embrace the notion that I am 'home' regardless of my physical location. This can be challenging for anyone. So here are some tips on creating a sacred space the next time you are on the go.
1. Bring Your Yoga Mat – If you have room in your suitcase or carry-on, then take along your yoga mat on your next trip. Your yoga mat can feel like your home away from home. For most of us, just seeing our mat invokes feelings of calm and peace. If you're traveling ultra-light, then improvise. Lay out some towels to create your own yoga mat. One of the wonderful aspects about yoga is that you can do it anywhere anytime without any gear necessary.
2. Do Just One Yoga Pose – Instead of feeling like you're obligated to do a whole yoga practice, just do your favorite pose. For me, as soon as my forehead hits the mat in child's pose, I know I am home. I mean really home! This is the pose that most centers and grounds me. We all have one of those poses. Do yours and it will most likely lead you to the next pose and the next…
3. Create an Altar Space – An altar can be a great way to create a sacred space at home and while traveling. Altars create an energy portal that helps connect us with Earth and Sky. Turn a nightstand, desk, dashboard, or dresser into your altar space. Bring with you a picture, stone, object, statuary, or anything that centers you and reminds you of your true self.
4. Add Music – I can remember when I was 10 years old listening to Air Supply with my headphones on family vacations. Music has always been a way for me to stay centered. With the digital revolution, this is a no-brainer. So add some nice music to your hotel room, your rental car, or your hectic plane ride to ease those times of feeling ungrounded. (Air Supply optional.)
5. Carry Your Totem – I sometimes carry with me a particular gemstone or gratitude stone in my pocket when traveling or on days that I need some extra reassurance. It reminds me of the totem that Leonardo DiCaprio carries with him in Inception to remind him whether he is dreaming, or not. A "totem" or gemstone can be a great centering device that you carry with you in your pocket or bag. This may be a stone that is personal to you, or a protective stone that you pick up for the trip.
6. Enliven Your Senses – Another way to create a sacred space wherever you are is to have some essential oils on hand. Having a bottle of essential oils or a smudge spray can be a great centering device, especially for blends that are formulated for a vibration that you are already in tune with. With a drop or just a sniff, you can feel like you again.
Traveling can be a great way to get us out of our old patterns and be introduced to new ways of being. That being said, creating a sacred space with just a few things from home can provide a grounding force to where you can be more adventurous in your travels as you eat new foods, meet new people, and try out new ways of life. Your sacred space will help you stay balanced, centered, and healthy. Try it out on your next trip.