What I'm Telling All My Patients About The Zika Virus + How To Protect Yourself This Summer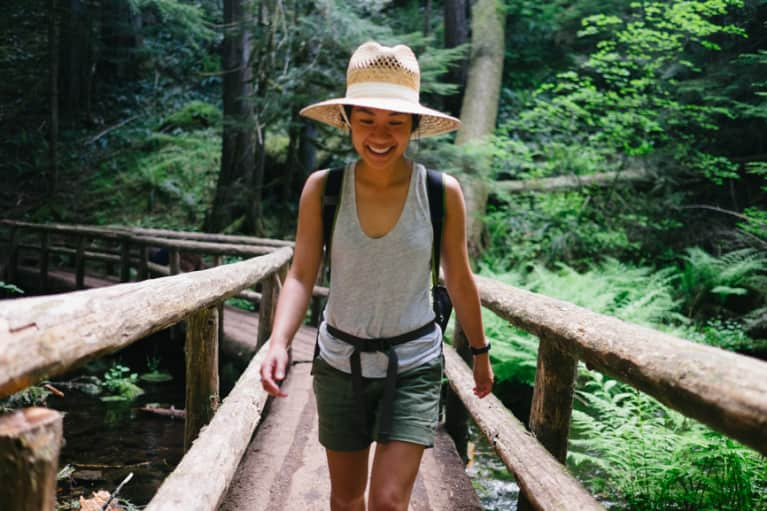 I really don't like to be the "scary" doctor. Quite the opposite—I love to use my training and knowledge to give people simple, effective, and fun ways to live well and raise healthy families. But I have to be honest: As an emergency room doctor and as a mom considering having another child in the future, Zika worries me.
I'm no stranger to infectious diseases—I've had to don a mask and start aggressive treatment for tuberculosis patients; I worked in the same hospital where the first Ebola patients in the U.S. were treated. And for just a second, I have to put on my serious ER doctor hat again. Because Zika is different: Right now there's no vaccine, and no treatment for the birth defect microcephaly. Plus, by this summer, the mosquito that carries Zika will be active throughout much of the U.S.
For now, we are all the first line of defense against Zika. So, I'd like to share what I'm telling my patients about the virus—and exactly what I'm doing in my own family to stay safe.
Quick refresher: What is Zika and why is it concerning?
The Zika virus is an infection that's transmitted most commonly through the Aedes mosquito (the same nasty bugger we can thank for spreading dengue fever). Weird fact: It can also be spread through sexual contact from infected men to their partners as much as six months after the original infection. The symptoms are usually pretty mild: slight fever, rash, red eyes, headache, or joint pain; some people even have no symptoms.
However, there are two complications of Zika that are downright scary. One is the rare Guillain-Barre Syndrome (GBS), a condition in which your body attacks its own cells, causing pain, weakness, and sometimes even paralysis. With aggressive treatment, most GBS patients can recover strength and function, but I've seen patients with GBS before, and it's not good.
The other complication, which, as a mom, scares me most, is the effect on unborn children: microcephaly. Scientists believe that when a fetus is exposed to Zika in utero, the infection stops the brain and skull from developing further. Sadly, there's no cure for microcephaly, and babies with the defect may have physical and mental disabilities for the rest of their lives.
The CDC has issued Zika travel notices across Central and South America, the Pacific Islands, and the Caribbean. Mosquito transmission has also been reported in Puerto Rico, the U.S. Virgin Islands, and Samoa.
Unfortunately, the mosquito that carries Zika will be stateside soon—throughout the South and even potentially as far north as New York and Massachusetts—as well as in Europe by late spring. Will those mosquitoes carry Zika to these areas? Right now, nobody can say.
What you should do to protect yourself:
There's currently no vaccine to prevent Zika and no medicine that effectively treats it. The only real action we can take right now is avoiding the Aedes mosquito, especially if you're pregnant or considering pregnancy.
You should avoid travel to known areas with Zika. In fact, I canceled a planned family trip to the Caribbean for this reason. The CDC states that if you've been to a country with active Zika transmission—even if you had no symptoms—you should wait at least eight weeks before attempting conception. (Men, if you've actually had symptoms of Zika, you need to wait six months.) Check the CDC travelers' site for the latest updates.
And if you live in the South or Eastern U.S., there are a number of precautions you can take at home:
This isn't the summer to leave the windows open—use A/C instead. Aedes mosquitoes love warmer weather, especially during the day and at twilight.
• Ditch birdbaths and other standing water.
Mosquitoes breed in stagnant water. I can't seem to keep potted plants alive, but this summer I'm not even going to try since the mosquitoes love these containers.
• Wear long sleeves and long pants in light colors to prevent bites.
You can also spray your clothing with permethrin (it's safe on clothes even during pregnancy, but don't apply it to your skin) to prevent mosquitoes from biting through clothing.
• Use the right repellent.
According to the CDC, the most effective combination is using permethrin-treated clothing and gear, combined with DEET (7 to 30 percent), or picaridin (20 percent) on exposed skin, which are both safe for pregnant women and children (children older than 2 months, that is, and when using DEET, stick to 10 to 30 percent concentrations). Reapply according to the directions.
With a few extra steps this summer, we can all minimize our risk of Zika. Unfortunately, Congress hasn't yet been able to agree on directing funds to fight Zika at home, so if you're so inclined, tweet to your senator and representatives: "#Zika is coming and we need to act NOW. #FundZika"
In the meantime, layer up your sleeves and pants, use repellent, and then go have an amazing summer, OK? Because no annoying mosquito is gonna break my stride.
Do you have health questions you'd like me to address in my next mindbodygreen article? Tweet them to me!
This piece was co-written with Holly Beilin.