7 Steps To A More Adventurous Life: Advice From A Traveling Nomad
It started as a four-month trip to get out of the rainy Portland winter. Just a camper van jaunt down the coast from Portland to San Diego, my wife and I declared. We had no idea we'd end up traveling for two and a half years.
During this adventure-filled time, we mountain biked all over the western U.S., parked the van and bicycle toured an unsupported 7,000 miles through 14 countries, lived in New York City for a month, volunteered at a farm animal sanctuary, and studied Spanish in Mexico. All those things followed a simple decision to leave on a journey and break out of the usual.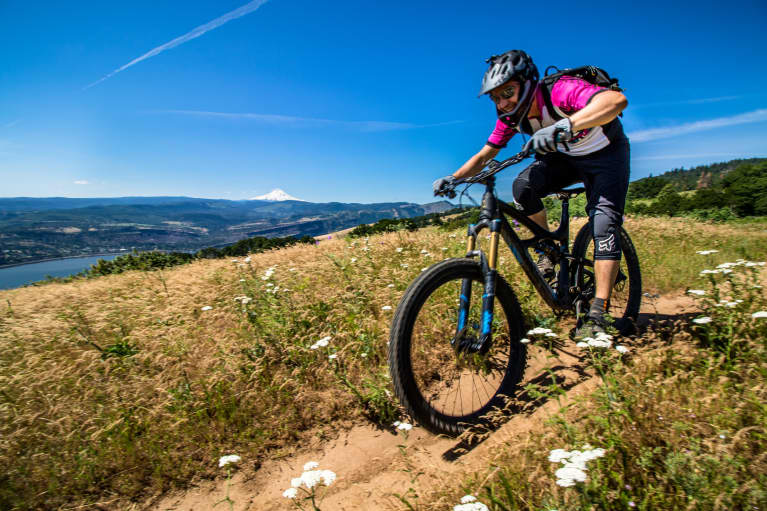 Beyond that, 30 months away created the mental space for other major life adjustments. We morphed my business to allow unlimited travel as digital nomads, shifted to a plant-based diet, met countless amazing people, and completely changed our perspective on life.
Immerse yourself in things you enjoy as much as possible, and deliberately cut out the rest.
We're not the only ones jumping into van travel. If Instagram hashtags are any indicator of the temperature of #vanlife right now, it's a flaming rocket. Tens of thousands of people are nomadic in a van or RV in the U.S. Some travel on the cheap and live on savings; others take their work mobile like I did, or find jobs along the way to fund their travel. Whether it's a return to the '60s Vanagon culture or a completely new way to live, folks young and old are jumping into the freedom and openness of life on the road.
There's just one problem: Many people can't or don't want to live in a van full-time. ("I'd choke my husband in such a small space," we've heard a few times.) Constraints like family and work also preclude traveling long-term.
Wondering how to embrace a van-life mentality in an otherwise "normal" existence at home? The answer lies in your mindset. We can all rack up brilliant experiences while rooted in one place—all it takes is looking at things through a different lens. Van Life Goggles, if you will.
Here are seven ways to find a pair of your own:
1. Downsize your space and stuff to minimize daily maintenance.
Camper vans are small, and so is the time to keep one tidy. Take that minimalist mindset into your home by checking out blogs like The Minimalists for inspiration and tips on getting started.
2. Say yes to invitations to new experiences.
Days in the camper van usually brought us to somewhere, something, or someone new. Take the time to explore new experiences on your home turf, whether it's a class, day hike, or event you'd usually never attend (think ukulele festival). It's easy to get stuck in the grind of the same commute, same restaurants, and same routine, so break it up every once in a while.
3. Say no to the busy trap.
Immerse yourself in things you enjoy as much as possible, and deliberately cut out the rest. The freedom that came with a more relaxed schedule opened my eyes to the importance of free time. In return, my creativity blossomed as I started writing, playing music, and studying photography.
4. Get outside every day.
Our van delivered us to nature's gateway on a daily basis—something that's possible at home as well. Seek nature every day, even if it's just a short walk through a city park. You'll see your body thrive and your energy levels soar as a result.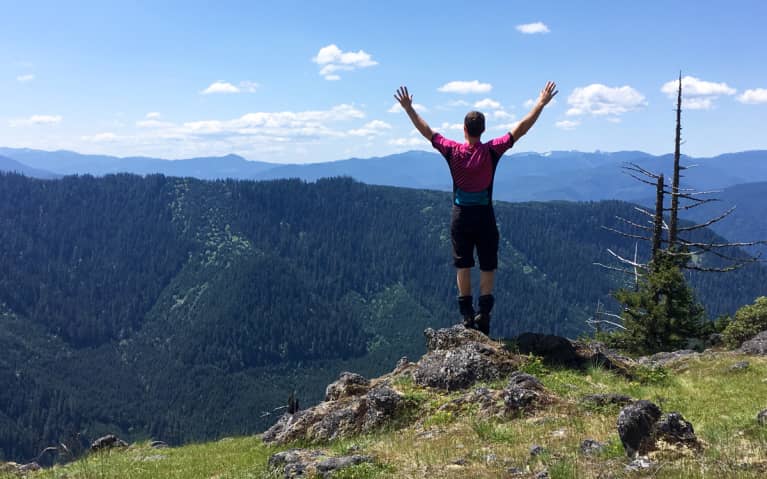 5. Connect with other travelers on social media.
We stayed with dozens of strangers through cycle touring site Warmshowers.org during our bike trips. Our blog and Instagram have generated many invites from complete strangers to meet for a bike ride or a meal, not to mention stay in one of their guestrooms. Bring this welcoming energy home by reaching out to other travelers and offering space on home-sharing websites.
6. Design your downsized, streamlined life for frequent short trips.
Once you make a plan to chase adventure, it's easy to be packed and heading for the hills in an hour. It's like putting your running shoes by your bedroom door: if you remove the little blockades, you'll find it easier to make it happen. Keep camping gear organized in containers and ready to go so you can seek out new experiences in no time.
Three years ago, the idea of building out a DIY camper van, renting out our house, and hitting the road for four months was intimidating. Now that we downsized to less stuff and our systems are more efficient, it's easy to consider new trips and ponder fresh adventures.
Even at home, looking at life through Van Life Goggles keeps me open to serendipity. After a month back in my home base of Portland, Oregon, I've already done four trips to new locations close to home and met up with multiple travelers coming through town. It keeps things fresh while we scheme the next big adventure...which isn't far off.
Related reads: