How Reiki Can Help Ease Stress & Fatigue: A Practitioner Explains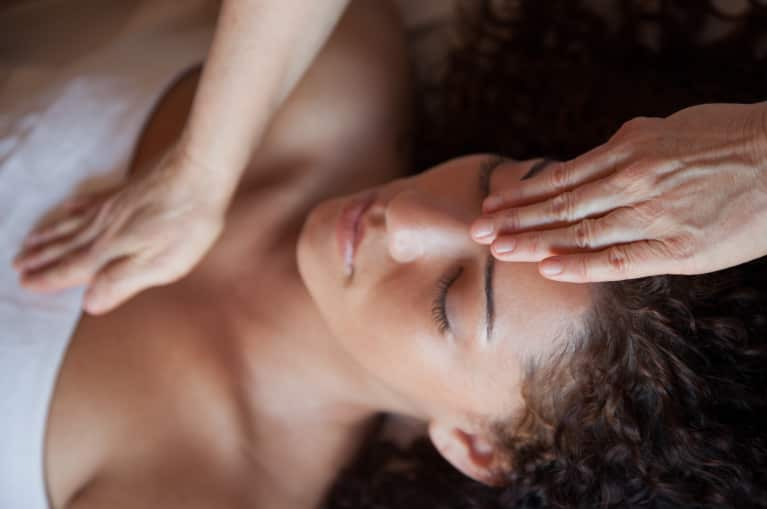 I used to constantly feel overwhelmed—like there weren't enough hours in a day. When I was in this state, everything seemed impossible. Nothing got done because I was too busy worrying to focus on the task at hand.
I, like many other urban-dwelling 9-to-5ers, tried to incorporate energy-boosting hacks into my hyper-caffeinated lifestyle (cue morning yoga, guided meditations, countless heated breaths of fire), but these strategies just shrank my time and made me feel even more exhausted.
I was frustrated and burnt out by the time I finally found my solution: reiki.
Once I started practicing energy healing, my perspective of time shifted almost immediately.
I don't need to know "if reiki really works" to know that practicing it daily has taught me to effectively manage my time and energy. Here are three lessons I've picked up along my energy healing journey:
1. Personal power lives in the present moment (and there are no hacks for being present).
Reiki energy—the life force energy that animates all living things—is subtle. It's not a booming, loud force, and that's the point. It takes quieting down my mind and turning on my awareness to tune into it. Expecting something to "happen" in a reiki session will only distract me from what's actually happening. When I'm fully entrenched in the present moment, focused on and engaged in what I'm doing—that's when time stops.
We are never more powerful than we are in the present moment. Reiki has helped to teach me how to be present, and thus, stand in my power.
2. It's essential to take care of both the body and the mind.
Getting to know what my life force energy "feels like" has helped me get a sense of when I'm overspending it by surrounding myself with draining people or pushing myself too hard. There's no sense in fighting back when I feel drained. Nobody benefits from this, certainly not me. When I listen to this feeling of exhaustion, I can find ways to support myself.
I actively try to be in my body more now that I've started reiki. Getting caught up in the mind was my way of distracting myself from my basic needs. Finding this other activity that I love and do with my hands, not my mind, creates a better balance. Spending more time in that balance has helped me to bring a more whole self to the table.
3. Emotions are just energy we can use.
As a reiki practitioner, it's up to me to act as a channel for energy to pass through. This energy flows more freely when I'm not distracted by what's happening in my mind or body. A practitioner's body is his or her tool, and the tool has to be a clear channel to work well. Therefore, it's essential for me to work through my emotions and turn them into strengths. After all, emotions, unjudged, are just energy that we can bring to the table.
Related: