Follow This Formula For Your Perfect Summer Fitness Routine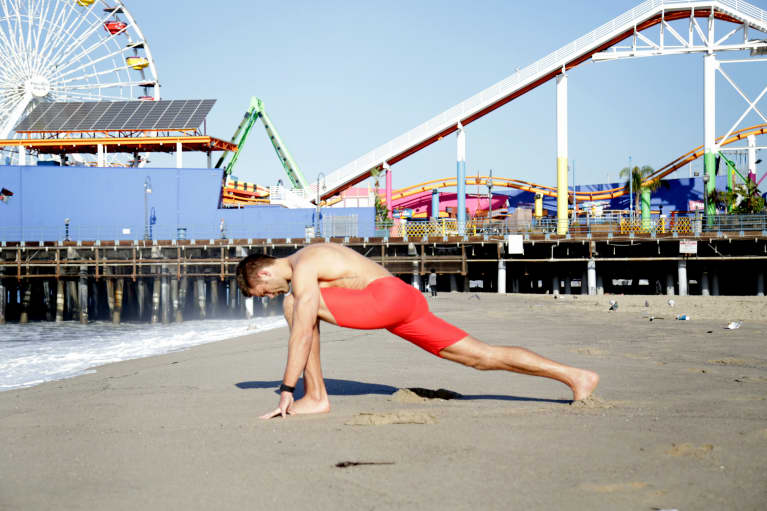 The sun's coming out and the guns are soon to follow! I am a big fan of changing up my client's workouts and utilizing nature in their training programs. We're made to be in union with nature, after all; there's just something grounding about putting your feet on wet grass or walking in the sand at the beach.
So as the summer starts to heat up, let's switch things up a bit and get outside more. I often have my clients follow the program below during the summer months because it provides a flexible framework and keeps your fitness routine fun.
Your goal: SWEAT six days a week.
Don't overthink it. For example, say you are at the lake for a few days and there's no gym or yoga studio in sight. Oh. Em. Gee. (In my best Kardashian voice.) You know what? No big deal: Give paddleboarding a shot. Maybe try water skiing. Your focus is to simply be active and enjoy life.
If you do want a bit more structure, you can follow the TMAC 2/2/2 Lifestyle Program. Here's what it entails:
High-intensity interval training (HIIT): Two days a week. This could be cross training, weight lifting, or circuit training—basically anything that gets you in your anaerobic zone (heart rate above 80 percent max) and breaks down muscle tissue. Try doing your HIIT workout outside with this beach workout, running through the entire circuit five times:A: Sand sprint for 30 secondsB: Push-ups 30 secondsC: Slow backpedal jog back to where you startedD: Bicycle crunches 30 total
Cardio/Flush: Two days a week. Think yoga, Pilates, Spin, jogging, swimming. Anything that keeps you in your aerobic zone. Summer is the perfect time to try new trails or routes for a morning jog. While you're on vacation, get to know the neighborhood with a 30- to 45-minute jog. New scenery is a great way to forget you are even working out.
Skills Day: Two days a week. I always advocate challenging your body and mind. So devote two days to learning or trying something new. Maybe it's boxing, swimming, or surfing; just keep it fun. During the summer, I suggest trying a skill set involving water. (I often get asked how I keep mass without lifting weights all the time. I reply, "Have you ever tried to catch a wave on a surfboard?!") Hire a surf instructor and take some lessons. Make it a goal to get comfortable enough so you can go out on your own. Just think what it feels like to be on a board at sunrise: It's about as a close to God as you can get. Make it a goal!
No matter how you structure your summer, just remember: Your body is made to be in motion. Keep it in motion. If you can do that and eat a diet consisting of real, whole foods, you may very well find yourself in better shape at the end of summer than you were when it began.